Welcome back to the TD Regression Deep Dive series. In this third installment, I cover the next position group: wide receivers. If you missed the first two parts, please take some time to read them as my methodology is consistent except for a couple small modifications.
TD Regression Deep Dive Series: Running Backs (Part One)
TD Regression Deep Dive Series: Running Backs (Part Two)
I broke down this process on Twitter for both
running backs
and
wide receivers
(
@MikeMeUpP
) so this may look familiar, but I will expand on some aspects I wasn't able to get into on Twitter given the character limitations. Without further ado, let's dive right in.
Step One: TD Dependency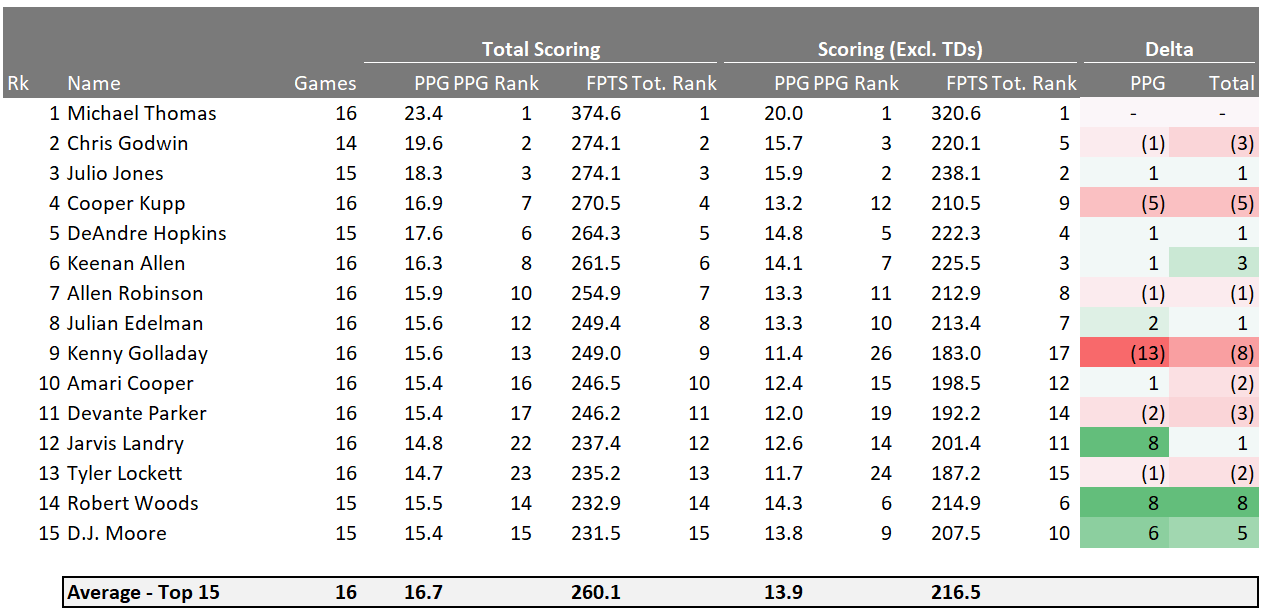 The table above shows how the top-15 wide receivers scored in 2019
including touchdowns
versus
excluding touchdowns
. The point is to show to what extent each player is dependent on touchdowns, i.e., to identify the players who are most impacted by touchdown regression.
GET IN THE GAME!
Gain Instant Access to this article and so much more.
A full year of access is only $49.99.
Try DLF Premium for only $7.99 with a Monthly Subscription.
Premium membership provides access to all of our awesome dynasty content for an entire year. You also gain access to the best dynasty fantasy football resources in the industry. Including...
• The best dynasty rankings in the industry
• Dynasty, Rookie & Superflex ADP
• Dynasty Trade Analyzer and other tools
• Our annual Dynasty & Rookie Draft Guides
• 365 days of content, tools, advice and support
• And so much more!
Want more info about DLF Premium?
Find out more
Have questions or need some help?
Contact Us
Already a DLF Premium Member?
Log in now!
TD Regression Deep Dive: Wide Receivers (Part One)