We are getting closer to the NFL Draft by the day. The anticipation for the start of the season will slowly build up throughout the summer. During this time, we are going to see a lot of players rise in value. We will also see some players fall off the map or get overlooked. Those players will tend to be promoted as sleepers by the start of the season.
Generally, sleepers are undervalued players who present some upside in fantasy by either their talent or situation. Since they are being overlooked, they are usually not considered locks to hit their potential. Some of these players will break out, but many will leave more to be desired.
The Cardinals traded for Drake mid-season last year when the team was decimated with injuries at the running back position. He stepped in and immediately produced, rushing for 110 yards and one touchdown against the 49ers in week nine. During his nine-week tenure with his new team, Drake was RB4 with 159.4 PPR fantasy points. He averaged 19.9 fantasy points per game during that time span. His eight breakaway runs of 15 yards or more was a key driver to this total.
Obviously, the fantasy industry isn't dead asleep on Drake, but the coals are hot with this guy and all we need is a little bit of lighter fluid for him to erupt. According to DLF's ADP, he's being drafted in the sixth round of startup drafts with a 62.67 ADP as the 25th running back off the board. This is excellent value considering how he performed down the stretch last season.
There's some ambiguity in the air here. He's set to be a free agent this off-season. Waters may get a little muddy if he's on another team, since it seemed like he had the perfect marriage in Arizona. David Johnson is still on the roster and even if they wanted too, his contract might make it hard for the team to move on from him since he has $16.2 million in dead cap hanging over his head in 2020.
Cardinals GM, Steve Keim is at least interested in re-signing Drake this off-season. Arizona is the ideal spot for Drake. The chemistry he has with the offense only helps both parties. It's safe to say that the Cardinals are going to attempt to re-sign Drake. There's still a chance, though, that neither side comes to an agreement.
Concussions crushed Cooks' 2019 season. He was in and out of the concussion protocol multiple times throughout the year. He even had to go to Pittsburgh to see a specialist. Unfortunately, his production sunk like a rock and he wasn't viable in fantasy during a large portion of the season. This caused his stock to plummet.
With him currently resting at a 78 ADP, Cooks has the potential to drop even further down the ranks once the rookies start transitioning into startup drafts. He has been out of sight and out of mind for many fantasy owners since he wasn't productive for a large portion of the season. Recency bias will ensue, making him a forgotten misfit toy by mid-summer. We see it almost every year with proven veterans who experience a setback. People are going to sleep on Cooks.
Entering last year, Cooks posted four consecutive 1,000-yard seasons with three different teams. He has elite top-end speed and the polished route running that screams upside. If healthy going into the season, he's going to be a major candidate to surpass the 1,000-yard barrier. He's a WR2 that will offer WR1 upside a few times over the course of the year.
With all this talk about rookie running backs and how they will impact the NFL landscape, it's easy to forget some of the younger prospects who are currently in the league. Jones periodically flashed brilliance off and on during the season. He rushed for 724 yards and six touchdowns and per FantasyData.com, ranked 13th in the league with a 4.7 percent breakaway run rate.
The Buccaneers are a major threat to invest in a running back this off-season. Especially in the draft where the running back class is about as deep as it has ever been. Depending on what happens in Tampa Bay, he's a threat to exceed expectations. He's a resilient runner, averaging 3.1 yards after contact. Not only that, but in the passing game he averaged 9.7 yards after the catch.
Jones is a player to keep an eye on this off-season. If the draft goes his way, then he could become a steal. The price tag is starting to get palatable since he's being valued as a ninth-round pick in startup drafts. The asking price will certainly drop as the off-season unfolds because this new batch of rookies is going to dilute the value away from some of the veterans.
When compared to all of the sleepers mentioned in this article, he's the one that is least likely to hit. There's just a lot of volatility within Tampa Bay's depth chart. There's a chance that he may not receive a large enough workload to post fantasy-relevant results.
The Steelers surprisingly drafted Johnson in the third round of last year's draft. He was a highly productive wide receiver prospect from Toledo. He's a very good route runner who is very quick at getting in and out of his breaks.
As a rookie last season, he caught 59 passes for 680 yards and five touchdowns. He led the team with 92 targets, equating to an 18 percent share of the team's offensive targets. This is great production for a first-year wide receiver and he should only build momentum going forward as he develops.
Johnson's potential is dependent on whether or not Ben Roethlisberger comes back healthy. His ability to sling the ball all over the field will elevate the entire passing game. This should fuel Johnson's potential to have a breakout season.
Johnson isn't a super sleeper in dynasty since he has an ADP of 94.33, but he's also not on the top of many people's list as a breakout candidate either. JuJu Smith-Schuster will cannibalize a lot of targets, but the passing volume should increase with Roethlisberger back under center.
The Steelers have another wide receiver we need to monitor. Washington played really well during the back half of the season. He ranked seventh among wide receivers with 627 air yards during the last six weeks of the season. Also, during that time he commanded a 22-percent target share. His numbers during that time period would have prorated to 56 receptions for 976 and five touchdowns for a 16 game season. With Roethlisberger back in the fold he would see an increase in catchable targets, which will certainly elevate his fantasy output.
Washington is the team's field stretcher. He's going to see a lot of deep targets. His overall workload should stabilize or increase because he will only get better. There's a lot of competition for targets in Pittsburgh, which could hurt his chances of having a WR1 season. However, he's explosive enough to provide a large impact in fantasy if given the opportunity.
Mark Ingram was the lead dog in Baltimore's backfield in 2019, rushing for 1,018 yards and ten touchdowns. He showed signs of wear and tear throughout the season. He still saddled up and played, but the 30-year-old running back has a lot of miles him.
The Ravens drafted Hill in the fourth round of the 2019 NFL Draft. He's a very electric runner with a 95th percentile burst score. In the pre-season, when he got the opportunity to see a large amount of work, he evaded ten total tackles, equating to a league-leading 107.5 elusive rating.
Once the regular season fired off, we didn't hear much out of Hill. He played mostly in a reserve role during the season. The lack of usage was expected. The team just recently signed Ingram, and we knew the Ravens planned to ride him until the wheels fall off.
It's going to be hard for the Ravens to keep Hill off the field. The hourglass is running out on Ingram and the team will eventually have to cut Hill loose to see what he can do. This is an excellent offense for his skill set. Lamar Jackson will open things up for him in the run game. The team won't need to completely lean on him, since Jackson can also move the chains via the ground. The Ravens want to establish the run, and Hill is going to see a large workload if he's on the field.
Even in limited action, he saw 15 targets on the season. He owned an 8.7 percent target share at Oklahoma State. His ability to catch the ball out of the backfield will elevate his floor and allow him to eat up yards in chunks when he gets the ball in space.
Gesicki developed right before our eyes last year. He finished the season ranking fourth in the league among tight ends with 898 air yards. We saw a major uptick in his production during the last six weeks of the season where he averaged 13.43 fantasy points per game.
The breakout was slowly emerging last year. He's technically not a sleeper anymore since his average draft position increased 72 spots from October to present, but considering the week-to-week volatility at the tight end position, he's a candidate to rise even higher. He finished the season as the TE12 in fantasy. It's not out of the question that he has the potential to finish 2020 as a top-five tight end when you take into account the fragility of the position.
When forecasting the 2020 season for the Dolphins, one thing is clear: they should have some better personnel compared to the previous season. Gesicki is either going to have Ryan Fitzpatrick chucking him YOLO balls downfield, or a rookie quarterback like Tua Tagovailoa slinging him the rock. Either way, he's going to be in position to improve his value next year.
Tight end is one of the most fickle positions in football. They typically take longer to develop compared to players at other positions. This will be his third season in the league, and we should see him take a step forward in his development. Not only should we see a rise in targets, but we could see a rise in efficiency. He only caught 57.30 percent of his targets last year. If he increases his catch rate, his overall fantasy output will rise with it.
Renfrow had a really good year for a rookie drafted in the fifth round, catching 49 passes for 605 yards and four touchdowns. He was highly efficient with a 114.3 quarterback rating while targeted. Per Pro Football Focus, he ranks 11th among all wide receivers with 2.09 yards per route run. Even though he runs 71 percent of his snaps out of the slot, he's still a very proficient route runner.
His fantasy value will be predicated on target volume and whether or not he can make things happen after the catch. He posted a well below average seven aDOT last year. In order for him to hit the WR2 range he will need to command around a 25 percent target share. He will also need to get some extra yards after the catch. Last year, 49.75 percent of his output came after the catch.
He was highly efficient as a rookie and if he continues to develop, there's a good chance that he could see a larger share of the targets. If he hits WR2 status, it's a major win for Renfrow and his dynasty shareholders.
There's a very good chance that Greg Olsen retires this off-season. If that does happen, Thomas is waiting in the wings to prove his worth. He's a highly athletic tight end prospect who has an 84th percentile burst score and a 78th percentile agility score. At 6'4″ and 259 pounds, Thomas will instantly be the team's red zone option.
DJ Moore is the team's obvious WR1 and is one of the best wide receivers in the league. Curtis Samuel is another option in the passing game fighting to steal targets. Thomas will need to maximize all of his opportunities for him to be a consistent option in fantasy.
His size-adjusted athleticism is what makes him exciting. He has the potential to be a game breaker at any given moment. If the target volume is there, he will have the potential to finish the season as a TE1
To no surprise, Haskins had an up and down rookie season. He had games where he didn't look like he belonged on an NFL field. There were times where we could tell he was slowly transitioning to the speed of the game.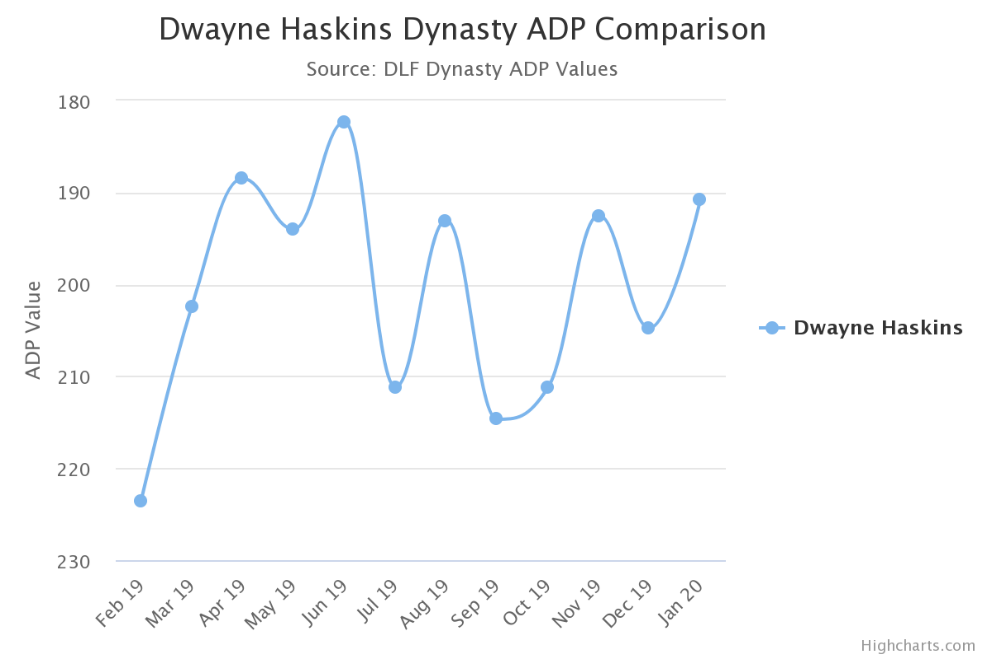 What makes him a sleeper candidate is primarily his current value heading into the off-season. He is basically free in startup drafts with a 190.83 ADP. There's a lot of room for growth when it comes to production and overall dynasty value. We should see some progress in his development in year two. He's also working with a young wide receiver corps that's getting better by the game. I wouldn't be surprised if the team adds another weapon in the passing game either through the draft or free agency.
It's highly unlikely that he has a Patrick Mahomes-like ascendance, but he does have the potential to exceed his current value or possibly sneak into high-end QB2 level territory by the end of the season.
Latest posts by Bruce Matson
(see all)