Introducing DLF's 2020 Dynasty Rookie Rankings
This might be the most exciting time of the year to be a football fan and dynasty fantasy football player. As we approach the culmination of the NFL season, we are simultaneously turning our collective attention to the incoming rookie class. The 2020 rookie class was finalized less than a week ago with the completion of the underclassmen declaration period. Our early 2020 rookie rankings are the first step in the march towards the 2020 NFL Draft. These early 2020 rookie rankings, and of course all of our dynasty fantasy football rankings will be continuously updated throughout the year and into the NFL season.
Here at Dynasty League Football, we pride ourselves on keeping you informed. Although the Senior Bowl, NFL Combine and of course the NFL Draft are all yet to come this off-season, we have released our preliminary set of early 2020 dynasty rookie rankings.
Click here to view DLF's 2020 Dynasty Rookie Rankings in full!
When it comes to a sure thing at the top of the draft, the 2020 rookie class includes a handful of players who could potentially turn into a dynasty franchise cornerstone player. Expect a heavy dose of turnover in rookie rankings and ADP in the coming months. The post-season all-star games, next month's Combine and the plethora of pre-draft workouts will all play a large role in ultimately determining how to value these players compared to each other.
Average Rank: 1.67
The junior running back from Georgia, Swift began his career as the backup behind current NFL starters Nick Chubb and Sony Michel. Once they were off to play on Sundays, Swift claimed the lead job and produced back-to-back seasons with over 1,300 yards from scrimmage. There has been some concern that the 5'9" Swift could be more of a pass-catching back, but he's shown he can be the lead back in a strong offense. With 73 career receptions, Swift does have the PPR upside dynasty owners so often chase. In a strong overall rookie class, and one that is especially top heavy at the running back position, Swift is considered the top target.
Average Rank: 2.33
When Taylor arrived at Wisconsin, most expected him to redshirt as a freshman. Instead, he forced the issue and earned the starting role, totaling over 2,000 yards and shooting up devy rankings. Taylor was a dominant force throughout his Badger career, racking up nearly 1,000 carries, the second most by any back playing just three seasons. Taylor's usage in the passing game increased this season as his 26 receptions exceeded his previous career total through two seasons. While Swift is the more popular choice, many will view Taylor as the top back in the class.
Average Rank: 3.00
Entering Alabama as a four-star prospect and the total package at receiver, Jeudy endured a quiet freshman season before exploding as a sophomore. Jeudy led his team in all receiving categories in his second season before the balance of the Crimson Tide receiving corps impacted his numbers this past season. Weighing in under 200 pounds, there are some concerns about Jeudy's size, but he is such a well-developed prospect, that shouldn't matter. He's a lock to be drafted in the first round and is the favorite to be the WR1.
Average Rank: 4.00
If Jeudy doesn't end up as the WR1 in the NFL Draft or dynasty rookie drafts, it will be because of Oklahoma's Lamb. Playing with NFL quarterbacks Baker Mayfield and Kyler Murray, along with Jalen Hurts this season, Lamb was a productive receiver in all three seasons of his Sooners' career. Despite vying for targets against current NFL pass catchers Marquise Brown and Mark Andrews, among others, Lamb put up over 800 yards as a freshman and then posted over 1,100 yards in each of the next two seasons and 32 total touchdowns.
Average Rank: 4.67
Despite over 1,300 yards from scrimmage in each of his first two seasons, Ohio State's Dobbins entered the 2019 season with many questions about his status as a future NFL player. As a junior (and with quarterback Dwayne Haskins in the NFL) Dobbins was the star of the Buckeyes offense and exploded for over 2,000 total yards. Dobbins also recorded over 20 receptions in each of his three seasons, showing he's ready to be an every-down back in the league. In many years, Dobbins would be the RB1 in the class.
Average Rank: 7.67
As shown by the average rank, this is the beginning of the second tier of rookie rankings. Higgins is the top big-bodied wideout, standing 6'4" and weighing 215 pounds. Featured in the Tigers' pass-happy offense and playing with one of the nation's top quarterbacks the past two seasons, Higgins enjoyed the best season of his career, leading Clemson with over 1,100 yards and 13 touchdowns in 2019. Higgins seems to have some untapped potential and needs to improve his route running, but that could be said for the majority of receivers entering the league. He'll be a value in the middle of the first round of dynasty rookie drafts.
Average Rank: 7.83
Already drawing comparisons to Chiefs speedster Tyreek Hill, Ruggs will test the theory of relying on market share for college receivers. Ruggs leaves Alabama with careers highs of 46 receptions and 741 yards, but what could make him an NFL first-round pick is his blazing speed and big-play ability. Ruggs hauled in24 career touchdowns despite never being higher than the third option in the Crimson Tide offense. The potential of finding the next Hill will make Ruggs an easy pick in the back half of the first round.
8. Cam Akers, RB Florida State
Average Rank: 8.17
As a decorated high school recruit, Akers entered Florida State as the top running back recruit in the country. He ends his college career as a major disappointment, but it is fair to question how much of that blame is on Akers, who still managed a pair of 1,000-yard rushing seasons. The Seminoles went through three coaches during Akers' career, while the entire program fell apart. Akers still has all the skills and talent to succeed in the league and his college struggles could make him a value.
Average Rank: 8.67
One of the few players among this group who did not enter college as a high-level recruit, Shenault broke out as a sophomore at Colorado, posting over 1,000 yards in only nine games. Injuries have been an unfortunate theme to Shenault's career and are the primary reason he could fall this far in dynasty rookie drafts. One unique plus for Shenault is his involvement in the running game, carrying 42 times in his three years for 280 yards and seven touchdowns.
Average Rank: 9.33
Texas Christian endured a terribly disappointing season in 2019, as evidenced by Reagor's across the board drop in production. After putting up 72 receptions for 1,061 yards and nine touchdowns as a sophomore, Reagor managed just 42/611/5 this season. Even worse, those numbers were enough to lead the team. Reagor is viewed as a deep threat with speedy to burn but he struggled with drops in his final college season. He's a prospect who could be in for a significant drop during the pre-draft process.
11. Justin Jefferson, WR LSU
12. Clyde Edwards-Helaire, RB LSU
13. Joe Burrow, QB LSU
14. Tyler Johnson, WR Minnesota
15. Tua Tagovailoa, QB Alabama
16. Bryan Edwards, WR South Carolina
17. KJ Hamler, WR Penn State
18. Zack Moss, RB Utah
19. Brandon Aiyuk, WR Arizona State
20. Eno Benjamin, RB Arizona State
21. Michael Pittman, WR USC
22. Antonio Gandy-Golden, WR Liberty
23. Ke'Shawn Vaughn, RB Vanderbilt
24. Justin Herbert, QB Oregon
25. Donovan Peoples-Jones, WR Michigan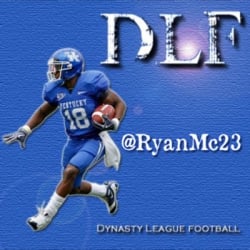 Latest posts by Ryan McDowell
(see all)