Dynasty Value Study: Deebo Samuel, WR SF
In this series, the writers here at Dynasty League Football will be diving deep into the current dynasty value of a specific player. This can actually be quite a challenge considering player value in a dynasty league can be impacted by everything from weekly production during the season to decisions players make off the field in the spring and summer months.
Luckily for you, we offer a number of valuable tools here at Dynasty League Football to measure a player's value and we'll be taking you all through many of them throughout this Dynasty Value Study series. Let's dig in!
The San Francisco 49ers made former South Carolina wide receiver Deebo Samuel their second-round pick in 2019 after he improved his stock with a strong Scouting Combine. Landing on a Kyle Shanahan-led offense was a positive sign, but competition for targets appeared tough between elite tight end George Kittle, several capable running backs and a promising second-year receiver in Dante Pettis.
On October 22, the pecking order became muddier when the 49ers traded for presumed number one receiver Emmanuel Sanders.
Fast forward to January 2020 and the situation is much clearer – and more promising for Samuel. Kittle indeed led the team in targets (107 total; 23% share) but Samuel amassed 81, good for second on the team. He and Sanders both averaged roughly 5.3 targets per game but Samuel was much more productive. Since Sanders joined the team in week eight, Samuel was fantasy's WR16, averaging 14.0 ppg, while Sanders was fantasy's WR30 at 11.6 ppg.
San Francisco appears to have an offense on the rise. Though already 24 years old, Deebo Samuel has a promising future. Let's dig into his value.
DYNASTY RANKINGS
In our top 200 overall dynasty rankings, Samuel currently ranks 49th, with a high rank of 33 and a low of 81. Samuel is ranked between fellow rookie wide receiver N'Keal Harry and wide receiver Jarvis Landry.
In our positional rankings, Samuel comes in as the WR27, between Adam Thielen and Robert Woods. He has a narrow ranking window with all but one ranker placing him between WR24 and WR27.
DYNASTY ADP
In our recently released January ADP, Samuel's ADP was 42.7, ranking him as the 41st overall player and making him the WR23. This places him between Seahawks wide receiver Tyler Lockett and Texans quarterback Deshaun Watson.
Samuel's ADP history, which can be found on his player page, shows that his current ADP is his new all-time high. This is no surprise based on Samuel's production and ascent to the top of the 49ers depth chart.
TRADE FINDER
Possibly my favorite value-related tool at DLF is our Trade Finder, which pulls trade data from actual dynasty leagues. You can also customize the data based on number of teams, scoring and starting requirements. Each of the following trades is based on typical PPR leagues with just one starting quarterback.
2020-01-15: Deebo Samuel for RB Devin Singletary, BUF
2020-01-14: Deebo Samuel, Year 2020 round 1 draft pick for QB Kyler Murray, ARI
2020-01-13: Deebo Samuel, Year 2020 round 3 draft pick for Year 2020 round 1 draft pick
2020-01-09: Deebo Samuel for RB David Montgomery, CHI
2020-01-04: Deebo Samuel for Year 2020 round 1 draft pick
These most recent trades, all taking place within the past three weeks, show a wide range of value for Samuel. In some, Samuel is an important piece of a package deal for a young superstar like Kyler Murray, while in others he is the clear target. While all of these trades may not represent it, Samuel's trade value is at its highest point ever.
DYNASTY TRADE ANALYZER
Another DLF player value tool is our Dynasty Trade Analyzer. It shows that Samuel's value aligns most closely with the 1.05 rookie pick. Other players in the same value range as Samuel include Deshaun Watson, Tyler Boyd, James Conner, Terry McLaurin, and Michael Gallup.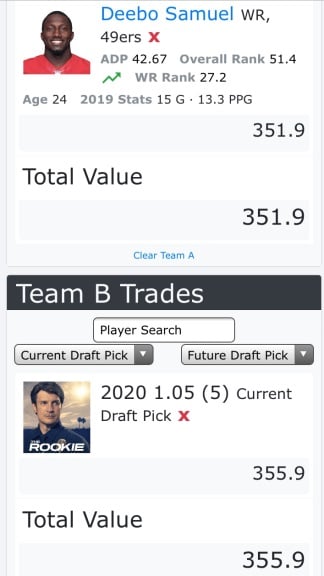 CONCLUSION
If you're viewing just one of the above DLF value tools, it becomes clear that Samuel's value is rising. When viewing the data from all tools combined, we see that Samuel is being considered and valued as a top-25 dynasty wideout.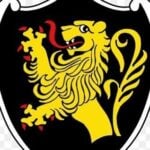 Latest posts by Frank Gruber
(see all)