Picks of the Decade: Rookie 1.10
The decade has come to an end. In the world of dynasty fantasy football, the past ten years have brought numerous changes to our hobby, but one thing has remained the same: dynasty rookie picks can be just as frustrating as they can be rewarding. Nearly every early pick alters a dynasty team, sometimes putting a team over the top on their quest for a title, while other times setting a team back years after a wasted pick.
The end of every year brings an endless supply of "best of" lists, and that is even more true when a decade concludes. While you might not care about the top songs or movies of the past ten years, this list is for you!
I've been studying the past ten years of dynasty rookie drafts, with a focus on the first round. I've ranked players, classified by the spot they were drafted, comparing all 1.01s, 1.02s and so on. I've taken into account both production and value in an effort to find the best (and worst) rookie picks of the past ten years.
ADP Notes:
The rookie ADP comes from a series of active, competitive long-standing dynasty leagues.
Our DLF dynasty ADP dates back to 2013, so the "ADP High" may not accurately represent players from early in the decade.
With all of that out of the way, let's get to the countdown.
Previous parts in this series are found at the following links: 1.12 and 1.11.
Here are the decade's 1.10 rookie picks, ranked from worst to first.
Drafted: 2019
Years in League: 1
Top 12 FF Seasons: 0
Top 24 Seasons: 0
Dynasty ADP High: 50, April 2019
During last year's pre-draft process, Iowa State's Butler was a favorite of many, including myself, who ranked him as the WR1 in the class prior to the Combine. His value tumbled quickly from there, especially after he fell to day three of the draft, the third receiver selected by the Cardinals. Still, dynasty players held onto the hype as he was still selected in the first round of early rookie drafts. A finger injury landed Butler on the injured reserve list. The sample size of receivers who missed their entire rookie season is an ugly one, though Arizona clearly needs help at the position.
Drafted: 2010
Years in League: 8
Top 12 FF Seasons: 0
Top 24 Seasons: 4
Dynasty ADP High: 128, July 2013
The first player to be selected in the decade was Bradford. The Rams made him the top overall pick of the 2010 NFL Draft. While he was the reigning Heisman winner, Bradford entered the league with concerns about his shoulder, which should have been a warning to the Rams and dynasty players that spent a top-ten pick on the quarterback. Bradford was relatively healthy during his first three seasons with the Rams but suffered a pair of ACL tears within a year and missed the entire 2014 season. After that, he bounced around with the Eagles, Vikings and Cardinals, who waived him midway through the 2018 season. He hasn't sniffed a roster since.
Drafted: 2015
Years in League: 5
Top 12 FF Seasons: 0
Top 24 Seasons: 0
Dynasty ADP High: 41, September 2015
After using a second-round pick on Abdullah, he was expected to serve as the Lions' every-down back and his value was impacted by this hype. Instead, Abdullah was part of a committee backfield as a rookie and then saw his sophomore season end after two games due to a foot injury. His third year was his best fantasy performance, but that was still only good for an RB39 rank for the season. The Lions finally gave up on Abdullah in the middle of last season and he caught on with division-rival Minnesota, where he's been a fourth-stringer over the past year.
Drafted: 2012
Years in League: 6
Top 12 FF Seasons: 1
Top 24 Seasons: 4
Dynasty ADP High: 78, July 2016
Coming out of Stanford, Fleener was setup for years of success in the NFL. Not only did he land with the Colts in the early second round, but he was reunited with his college teammate Andrew Luck. It was interesting then that Indianapolis also drafted tight end Dwayne Allen later in that same weekend. After falling behind Allen during their rookie seasons, Fleener put together four straight seasons as a mid-range TE2 or better, including the TE7 season in 2014. That sustained success made Fleener a top-75 asset in dynasty leagues. Following the 2015 season, Fleener cashed in, signing a five-year deal with the Saints, who had been trying to replace Jimmy Graham. This ideal landing spot is what really boosted Fleener's value, though he never lived up to expectations and was released after two seasons with the Saints.
Drafted: 2011
Years in League: 8
Top 12 FF Seasons: 0
Top 24 Seasons: 1
Dynasty ADP High: 30, December 2013
As a second rounder for the Ravens in 2011, Smith immediately posted a fantasy relevant season, finishing as the WR30 as a rookie. In fact, Smith was a top-30 fantasy scorer in each of his first four seasons, all with Baltimore. This strong start to his career made him a high-upside dynasty WR2 and a third-round pick in startup drafts. The free agent market was hot for Smith in the 2015 off-season and he eventually signed with the 49ers. This was a terrible situation for all involved and Smith was gone after two seasons, failing to crack the top-50 wideouts overall. From there, Smith would spend a year each in Philadelphia and Carolina before failing to find a team this past season.
Drafted: 2018
Years in League: 2
Top 12 FF Seasons: 0
Top 24 Seasons: 0
Dynasty ADP High: 47, December 2019, January 2020
Kirk entered the league in 2018 known as an exciting playmaker, but he landed in one of the worst situations to show off those skills. The Cardinals 2018 campaign was a nightmare, resulting in a new coach and new quarterback this past season. The arrival of coach Kliff Kingsbury and first-overall pick Kyler Murray quickly changed the outlook of all involved. While that did not result in a winning season, there is reason to be excited about the future. Kirk's current ADP of 47 shows what dynasty players expect for the young wideout moving forward.
Drafted: 2016
Years in League: 4
Top 12 FF Seasons: 0
Top 24 Seasons: 2
Dynasty ADP High: 45, October 2019
Boyd single-handedly tried to bring back the old third-year breakout receiver narrative. After two relatively quiet seasons to begin his career with the Bengals, Boyd exploded for over 1,000 receiving yards and a WR17 finish in 2018. This past season, he matched those numbers as he became the team's WR1 while veteran AJ Green missed the entire season. With Green now set to enter free agency, Boyd should continue to act as the top option in the passing offense. With a high ADP just inside the top-50, Boyd is a value.
Drafted: 2017
Years in League: 3
Top 12 FF Seasons: 1
Top 24 Seasons: 3
Dynasty ADP High: 40, April & June 2018
All dynasty players know that immediate production should not be expected from young tight ends, but in 2017, Engram bucked that trend, finishing as the TE5 for the season. That quickly pushed him into the top-five of dynasty ranks and had everyone chasing him. In the two seasons since, Engram has dealt with multiple injuries, missing 13 total games. His time on the sidelines has kept him out of the TE1 range, leaving his breakout rookie season as easily his best. Some seem to be growing concerned with Engram's growing injury history, while others still value him as a top-five tight end. Entering his fourth season, Engram's career could truly go either way.
Drafted: 2014
Years in League: 6
Top 12 FF Seasons: 2
Top 24 Seasons: 2
Dynasty ADP High: 5, April 2016
What a wild ride it has been for the Penn State product in his six-year career. As a rookie, Robinson dealt with multiple injuries, including a broken foot that ended his season after ten games. His second season was his coming out party, finishing as the WR6 after catching 80 balls for 1,400 yards and 14 scores. After that impressive performance, dynasty players spent the next off-season explaining how ARob would certainly regress . . . and he did. After a solid third season, Robinson played just one game in 2017, tearing his ACL in the opener. That didn't hurt his free agency bid though as the Bears scooped him up following that season. Robinson was a major disappointment in his first year with the Bears but became the clear top target this year, finishing as the WR8 for the year. At his peak, Robinson was being valued as a top-five dynasty asset.
Drafted: 2013
Years in League: 7
Top 12 FF Seasons: 3
Top 24 Seasons: 4
Dynasty ADP High: 12, March & September 2018
After seeing multiple seasons end with injuries, the Chargers talented wideout Allen developed an unfair reputation as being injury prone. Instead, I think he was just unlucky. Allen established himself as a top target for Philip Rivers immediately, posting a pair of top-36 fantasy seasons in his first two years. Then came the injuries, and the predictable value loss. In the past three seasons, Allen has not missed a game, producing at least 1,100 yards and six touchdowns in each season, and stringing together three straight WR1 seasons. As a player who has shown both a reliable floor along with high upside, it is surprising that Allen's highest ADP mark is barely inside the first round. Turning 28 soon, some are viewing Allen as a dynasty sell, making him an intriguing value for dynasty contenders.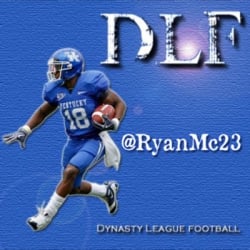 Latest posts by Ryan McDowell
(see all)