Twitter Observations: Divisional Round
With multiple NFL draft prospects playing on both teams, the 2020 National Championship between Clemson and LSU looks like a mini-combine for the actual draft. It's great for rookie draft research, even this early in the off-season, but also reminds me to not sleep on the veterans who will be on the move in dynasty leagues this off-season. Some of those veterans are below and could be coming or going from your dynasty team.
A reminder: This space will be dedicated to an assortment of things we find on Twitter and what it means for our dynasty teams. Most fantasy tweets undoubtedly have a redraft slant to them but we're here to talk about the dynasty implications.
When the Saint goes marching…out
What happens to Michael Thomas' dynasty value when Brees retires?

His value seems at it's peak now.

Should dynasty players sell Michael Thomas?

— Fantasy Philosopher (@FFrealitycheck) January 11, 2020
It's rare to find a player who not only plays at such a high level but has literally gotten better every year. That's the case for Michael Thomas who improved every season from his rookie season totals of 92 receptions for 1,137 yards to this year when he totaled 149 receptions for 1,725 yards to finish as fantasy's best receiver. He also showed he's quarterback-proof as he was still fantasy's top-scoring receiver in weeks two-eight when Teddy Bridgewater started in place of the injured Drew Brees. Thomas is just 26 and just signed a contract that will keep him in New Orleans for the foreseeable future, both factors that led Thomas to be the top dynasty receiver in startup drafts.
Dynasty Impact: The question of whether to move Thomas off your dynasty team is a fair one. It always is when you have the best player at the position. And in Thomas' case, his value literally can't go higher and each year he's on your dynasty team is another year he gets older. There's also the issue of when Drew Brees will move on (which could be sooner rather than later). But despite all that, I don't know that it makes sense to move Thomas. If you're in win-now mode, Thomas is as good as it gets and a true fantasy stud to ride to the playoffs. If you're rebuilding, Thomas is still young enough to contribute when your dynasty team is ready to make a future run. I'm a firm believer that every player has a price but Thomas may be the exception.
Spin Rodgers
Aaron Rodgers is starting to look a little bit more like 2011 Aaron Rodgers. What a ball to Graham there.

— Dan Schneier (@DanSchneierNFL) January 13, 2020
Aaron Rodgers may physically look like the Aaron Rodgers of years past but it's hard to see that in his fantasy numbers. His 4,002 passing yards this season were his lowest (over a 16-game season) since 2015. His 26 passing touchdowns are the second-lowest total in a season for Rodgers in which he played at least 15 games. But I don't think Packers fans will complain after they finished the 2019 season 13-3 and are headed to the NFC Championship game this weekend. The emphasis on a more balanced offense under new coach Matt LaFleur has made the Packers immediate winners at the expense of Rodgers' fantasy success.
Dynasty Impact: If it's not broke, don't fix it. If the Packers can keep winning while utilizing running back Aaron Jones, it's hard to see Rodgers climbing in dynasty rankings anytime soon. After starting the season fifth in our dynasty ADP, he's dropped to ninth this month and should probably stay there. Sure, he finished seventh in fantasy scoring this year but at 36 years old, he's also one of the oldest. Treat him as the low-end QB1 he is now and only trade for him if you're desperate.
Fournette Me Not
Leonard Fournette only scored three rushing touchdowns this year, but they accounted for every rushing score for the Jaguars. Those three rushing touchdowns were the lowest from a team since the 2005 Cardinals. Only 13 other teams in NFL history finished with that low of a total.

— JJ Zachariason (@LateRoundQB) January 8, 2020
It only took three seasons for the Jaguars to realize they spent a top-five draft pick on a running back but they finally did when they decided to use Leonard Fournette as something other than a two-down back. He saw 100 targets this season, 26 more than his previous two seasons combined, and converted them to 76 receptions for 522 yards. His running game didn't suffer either as he posted another 1,000-yard season and a career-best 4.3 yards-per-carry. In all, it led to Fournette's best fantasy season of his short career.
Dynasty Impact: There are, admittedly, a few potential red flags with owning or trading for Fournette. No one is quite sure who the Jaguars quarterback will be next year and they're already moving on to their third offensive coordinator in Fournette's career. But despite all that, I'm still buying Fournette at his current dynasty ADP of eighth among running backs. He'll turn 25 soon and will still be under contract with the Jaguars for at least two more years which should mean business as usual for Fournette and another RB1 fantasy season.
Travis Aggressive
Here's every player in postseason history to tally 10+ catches, 130+ yards and 3+ touchdowns in a single game:

Jerry Rice
Rob Gronkowski
Travis Kelce

— Matt McMullen (@KCChiefs_Matt) January 13, 2020
Travis Kelce just finished his fourth-straight season of 80-plus receptions and 1,000 receiving yards, a feat not even Rob Gronkowski can claim. But not even that consistency has prevented Kelce from dropping in dynasty rankings to George Kittle and getting a tough challenger from Mark Andrews. Surely, age is a factor as Kelce just turned 30. But he's still catching passes from, possibly, the greatest quarterback playing right now in Patrick Mahomes.
Dynasty Impact: Kittle will be the popular choice for dynasty teams looking to upgrade at tight end but Kelce may be the better value. Because of his age, current Kelce owners may be willing to take less than they have in the past although I don't know why. Sure, his yardage declined slightly from 1,336 yards last season to 1,229 this season and his touchdowns were cut in half from ten to five. But he was still fantasy's top tight end and, incredibly, would have also been a WR1 with the numbers he put up. With Mahomes locked in as his quarterback, there's no reason to believe Kelce can't put up these numbers for a few more years.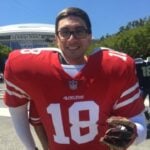 Latest posts by Michael Moore
(see all)