2020 Rookie Class: An Early Look at JK Dobbins, RB Ohio State
This year's running back class will down in history as one of the most talent-laden classes in the history of the NFL Draft. We should see multiple fantasy producers from this class. You never know, some of these players might eventually develop into future first-round startup picks. There are around four to five running backs who could easily be the RB1 in any other draft class. JK Dobbins is one of those running backs who could shake things up once he hits the NFL stage.
AS A RECRUIT
Dobbins was a four-star prospect from La Grange, Texas where he rushed for 2,243 yards and 37 touchdowns as a sophomore and 2,740 yards and 35 touchdowns as a junior. He earned a U.S. Army All-American Bowl selection in 2017.
According to 247Sports.com, he was the second-rated all-purpose back in the 2017 recruiting class with a .9791 composite score. They also had him ranked as the sixth-best prospect out of the state of Texas. He was heavily recruited and he received offers from 25 different schools. Some of the more notable programs that tried to recruit him were Alabama, Oklahoma, Florida, Penn State, USC, and Wisconsin.
COLLEGIATE CAREER
Stats courtesy of sports-reference.com.
Dobbins was rolling out of the gate, rushing for 181 yards in his first game against Indiana. Two weeks later, he compiled 172 rushing yards and two touchdowns against Army. His best performance came against Wisconsin in the Big-10 championship game where he reeled off 174 yards on the ground. During his entire freshman campaign, he only had one game with under 50 rushing yards. His 1,403 rushing yards were the most ever for a freshman running back at Ohio State.
His production dipped during his sophomore season. Ohio State was determined to give Mike Weber a larger share of the overall touches out of the backfield. Dobbins still had a successful year, eclipsing the 100-yard mark against TCU, Nebraska, and Maryland. He became the first-ever Ohio State running back to rush for over 1,000 yards in both his freshman and sophomore seasons.
With Master Teague breathing down his neck, eyeing to steal a heavy portion of the running touches, Dobbins kicked into gear and performed at such a high level that Ryan Day couldn't afford to not have him on the field. Dobbins shredded some body fat and added some lean muscle in the off-season, making him a more explosive athlete.
His junior season was the most productive season of his career with him surpassing the 100-yard threshold ten times along with six multi-touchdown games. He rushed for 714 yards in his last four games as a Buckeye. His 2,003 rushing yards were the most ever in a single season for an Ohio State Buckeye and his 21 touchdowns are earmarked as fifth-best in school history.
Dobbins is going to go down in history as one of the best Ohio State running backs of all-time. He finished his career ranked second in the program's history with 4,459 rushing yards. His 38 rushing touchdowns rank sixth all-time.
He broke out initially as an 18-year-old freshman, owning a 21.71 percent share of Ohio State's offensive production. An early break-out age provides the notion that the player has the potential to easily transition to the next level. Dobbins insinuated that during his first season with the Buckeyes since he took the reins and became a major impact player as early as his first game.
His production decreased during his sophomore season and evidently lowered his overall ownership of the team's offensive production. Mike Weber ate some of the pie that year and limited Dobbins' impact on the team's overall success.
As we all know, he went off like a firecracker this year. His elite-level 30.33 percent market share just proves that he belongs at the top of the running back heap of this year's class. His dominator rating spiked to an all-time after crossing the goal line 23 times in 2019.
ATHLETIC PROFILE
Testing results courtesy of ESPN.com
Since he is currently listed at 5-foot-10 and 217-pounds, he already has the requisite size to be a three-down back at the NFL level. Dobbins dropped his body fat percentage from 12 to nine percent before his junior season. The physique change noticeably made him a much smoother athlete.
Size won't prevent him from handling a full workload. Just from watching him play, it's easy to tell he has the necessary thickness to be able to run the ball between the tackles at the next level.
Dobbins won Nike's The Opening athletic testing in 2016. He ran a 4.44-second 40-yard dash at 201-pounds and was one of the fastest players at the opening. We all know he doesn't have elite-level speed, but he's more than fast enough to break off a long run once he hits the open field. He is around 15 pounds heavier now compared to what he weighed during the recruiting process. I wouldn't be surprised if his 40-time gets a little slower. However, he's not going to fall in Elijah Holyfield territory either. Dobbins is more than fast enough to compete in the NFL.
What I like best about his athletic testing from this time period is his 43.1-inch vertical. This measurement suggests that he is a very explosive athlete and can accelerate quickly to get to top gear. There's a good chance that he doesn't hit the 43-inch mark on his vertical come combine time since he's around 15-pounds heavier, but the tape doesn't lie, he has the burst to get through the hole and into the second level of the defense.
STRENGTHS
Burst
Balance
Vision
Solid Receiver
Has some wiggle
Short-area quickness
Moves laterally well
Excellent contact balance
WEAKNESSES
Limited power at the point of contact
Doesn't have elite-level speed
Needs to be more consistent in pass protection
DRAFT PROJECTION
He is projected to get drafted anywhere between the first and the third round of the NFL Draft. More than likely, he's going to get selected in the second round. He has been mocked as the first running back off the board in the first round in some mock drafts. Matt Miller from Bleacher Report mocked him at 22 overall to the Tennessee Titans. With his body of work from the last few years, Dobbins is definitely a candidate to sneak his way into the first round.
This year's draft class is stuffed to gills with running back talent. Anything can happen when it comes time to draft. We could see teams wait longer than usual before they select a running back because they know there are going to be suitable options in the later rounds. This will cause some running backs to fall in the draft farther than they should. This typically happens when a position group is loaded with talent. I'm not saying this is going to cause Dobbins to fall in the draft, but if he does slip to the third round that would be the main reason.
I personally feel that he will get selected early in the second round and he will be one of the first running backs off the board. There's a chance that he could jump to the first round, but with the running back position being exponentially deep this year, I believe some teams will wait before they select their running back to maximize value.
DYNASTY VALUE
There's a lot that can happen between now and the draft that could impact his stock. He should easily be a top-100 pick in the draft and his dynasty value should be rather high going into next season. I suspect he will be drafted in the same range as Mile Sanders, David Montgomery, and Josh Jacobs were selected in startup drafts last year, making him an easy top-50 pick. His dynasty value should be age insulated and he should hold his value throughout his rookie season.
There will be many factors that could influence where he goes in rookie drafts. It's hard to imagine him falling out of the first round, but it's not hard to imagine him going first overall in drafts if he gets drafted into the right situation. After everything is said and done, he should more than likely get drafted in the 1.03 to 1.06 ranges in rookie drafts. I don't see him falling past that point, but I can see him rising above the 1.03 mark if all the chips fall in the right spot.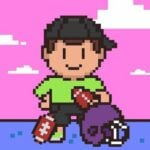 Latest posts by Bruce Matson
(see all)