All through the off-season, we work to give DLF readers an edge in their dynasty leagues. That's useless unless we can prove we're OK at actually making decent predictions. This series looks back through our final pre-season projections and sees how good or bad they were.
Dallas Cowboys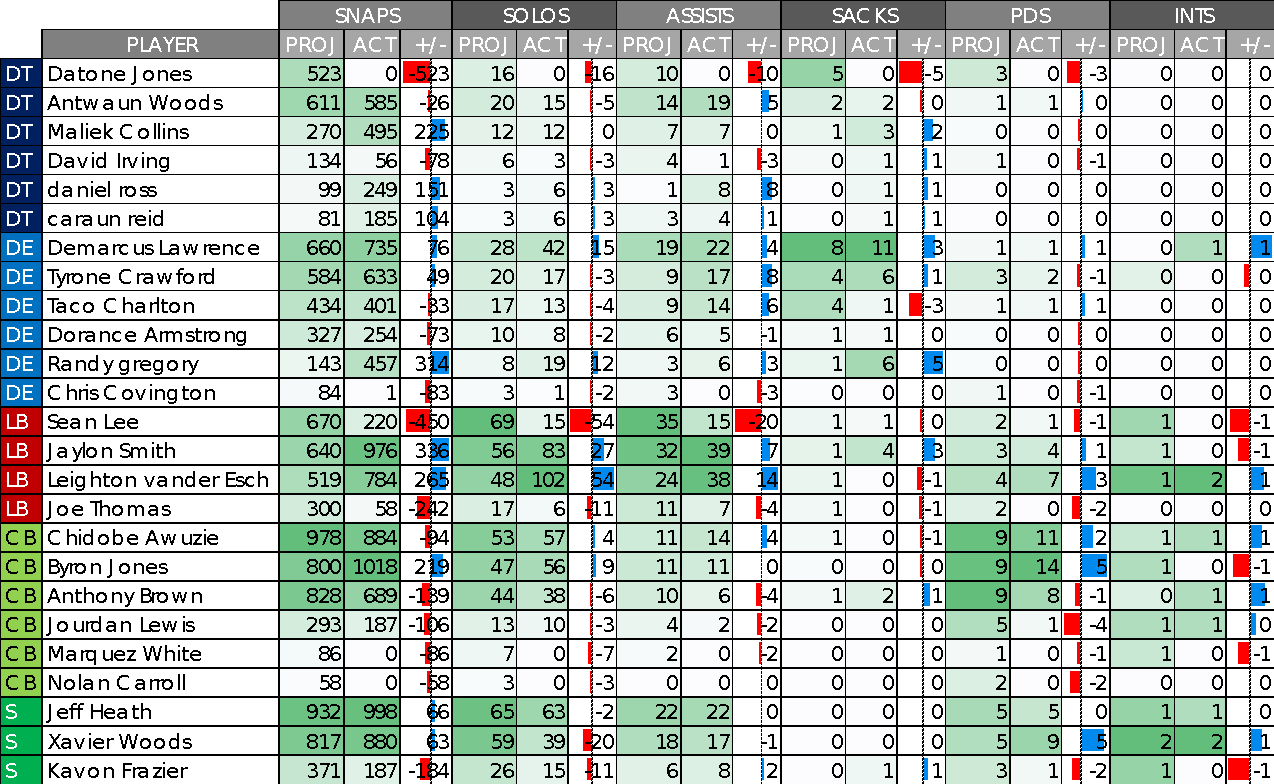 The top item isn't a good start, is it? Datone Jones missed the season on IR. The next two tackles are much better. Antwaun Woods managed just nine more total tackles than expected and Maliek Collins came in flat (albeit with two more sacks than predicted).
On the edge, DeMarcus Lawrence followed up his breakout 2017 with another excellent season. He comfortably beat the conservative projections and will be adjusted up in the future. Tyrone Crawford, Taco Charlton and Dorance Armstrong all finished close to predicted numbers (although Charlton's sack number was low) but Randy Gregory smashed his sack target with six. His return has been underreported.
At LB there's no way to make this more palatable – it was a flat our car crash. Sean Lee was predicted to be the top option, but he was injured (even) more than expected and lost his job whilst out. Jaylon Smith and Leighton Vander Esch both confounded their targets and became a star partnership. This unit goes down as a big miss.
[am4show have='g1;' guest_error='sub_message' user_error='sub_message' ]
Cornerback was much better. There were no double-digit errors anywhere in the unit (aside from snaps) with every player pretty close in all categories. The biggest error in the whole position was Byron Jones beating his solos target by none.
At safety, this was hit-and-miss. Jeff Heath was uncannily accurate. He came in exactly on-target for assists, sacks, PDs and INTs and just two solos short. Xavier Woods, however, failed to hit his solos target by a wide margin whilst managing four more PDs than expected.
New York Giants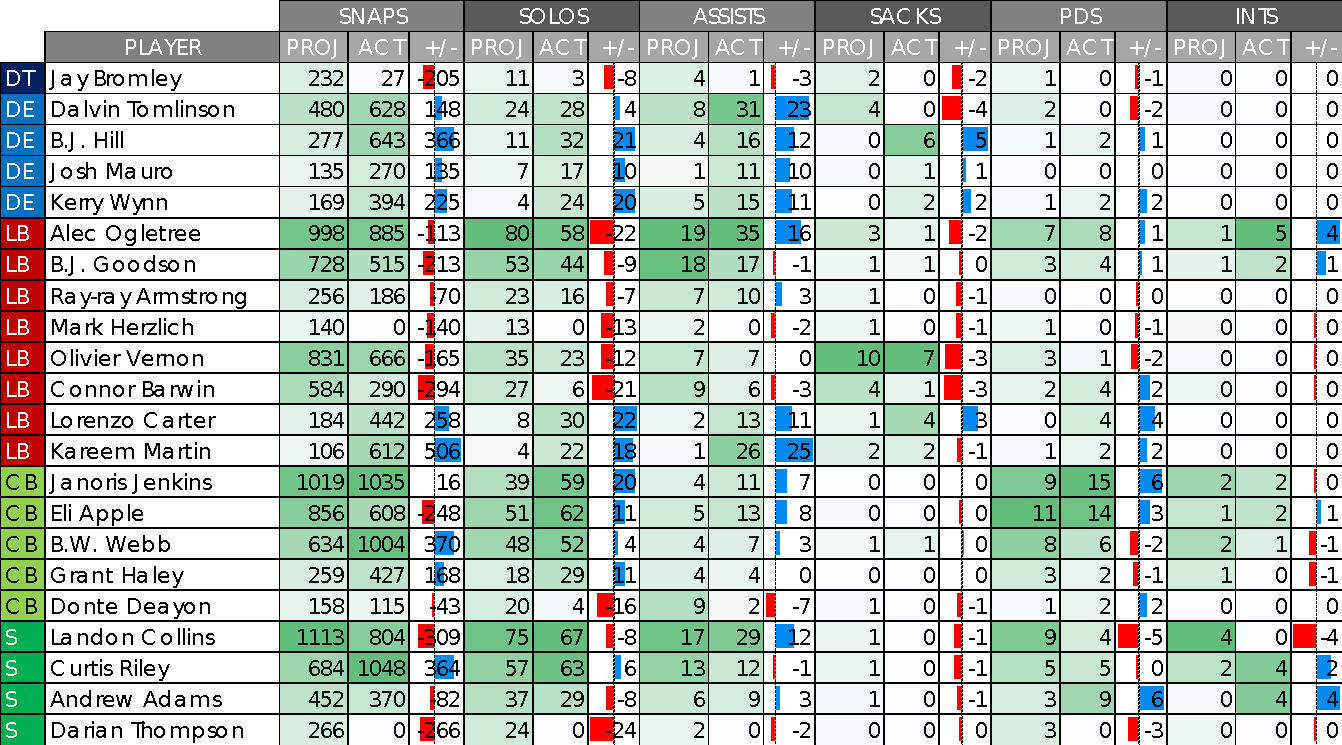 Tackle was a wasteland of wrong here. Damon Harrison was traded away mid-season which rules him null and void and Jay Bromley didn't come close.
End was better but not much. Dalvin Tomlinson was just four solos over prediction but smashed his assists target by a huge 23 whilst failing to record a single sack against a target of four. B.J. Hill, Josh Mauro and Kerry Wynn all came in far above what they were predicted. This was a bad unit.
The Giants are always a tough linebacker team to predict but it was better at least. Alec Ogletree's tackles don't look great on first glance but he recorded 93 total tackles against a target of 99. It's just the solo/assist ratio was out. B.J. Goodson was better. He was just nine solos behind and very close on everything else.
At outside linebacker, Olivier Vernon missed plenty of time but that was expected. In the end, he was 12 solos short but very close for assists and just three sacks short. On the other hand, Connor Barwin was nothing like the player he was expected to be whilst rookie Lorenzo Carter and Kareem Martin greatly overperformed. This unit was not accurately predicted.
Corner was also problematic. Janoris Jenkins had a difficult season but managed 20 more solos than expected while also greatly overdelivering on assists and PDs. Eli Apple was traded away which throws him way out, but B.W. Webb came in relatively close with his breakout season.
Safety was better. Landon Collins disappointed many of his owners but finished within eight solos of his target whilst reaching 12 more assists. Maybe his lack of interceptions or very predictable year-on-year drop in sacks spooked people. Curtis Riley delivered well as well. He was just six solos and a couple of interceptions up.
Philadelphia Eagles
Fletcher Cox was the Eagles' superstar this season. His 11 sacks were surprising but he was close on solos and bang on his assists number. Timmy Jernigan missed out through injury but Haloti Ngata was uncannily close to his predicted totals.
The Eagles' fearsome group of DEs was mixed. Brandon Gram was broadly close but his failure to turn pressure into sacks meant he finished low on that stat. Derek Barnett missed most of the year injured. He's still a huge talent. Michael Bennett and Chris Long both played more and produced more as a direct result of Barnett being out given the team used a three-man rotation instead of involving Josh Sweat more.
At LB, Jordan Hicks finished nine solos and five assists short but those don't seem too bad. Certainly, he was in the ballpark. And behind him, Nigel Bradham was bang on for solos and one assist out. Nice.
At cornerback, the Eagles were just decimated by injury. Rasul Douglas played a lot more and beat his totals but Ronald Darby, Jalen Mills, Sidney Jones and Avonte Maddox were all fairly close. How many people do you know that predicted Avonte Maddox's season?
Lastly, at safety, Malcolm Jenkins had another excellent season with 79 solos. That was significantly over what was expected. Behind him, Rodney McLeod was placed on IR and replaced by Corey Graham. Graham finished very close to the numbers expected for McLeod but they both go down as misses.
Washington Redskins
Anyone reading this column is well aware that Washington under the current regime doesn't really deliver lineman production, so it'll come as a slight surprise to you that Da'Ron Payne managed to hit a pretty impressive 35 solo tackles and 21 assists. Needless to say, that does not make him a valuable IDP asset.
At end, Jonathan Allen is a good player and proved it. His eight sacks are a good return but don't really make him startable in many leagues. Matt Ioannidis also managed some good sack numbers but should not be counted on going forward.
There was a big LB surprise with Mason Foster taking over from Zach Brown as top dog in the middle. If you flip their projected numbers, they were both close, but it doesn't work like that. Zach Vigil missed most of the season, but Shaun Dion Hamilton came on strong at the end of the season. The ex-Alabama rookie is a good stash.
On the edge, Ryan Kerrigan started very slowly with just one sack and five solos in his first five games. He finished strongly though and ended up on 13 sacks. He has 60 sacks over the last five seasons. Incredible. On the other side, Preston Smith was a solid player and finished only a handful of stats out.
Cornerback was unsettled for the team with Quinton Dunbar and Greg Stroman alternating much of the season. There was no stunning success at the position but also no big errors.
D.J. Swearinger was the only Washington safety expected to produce and it proved correct. Swearinger underdelivered with just 42 solos and the mid-season trade for Ha Ha Clinton-Dix threw everything out. Montae Nicholson and Deshazor Everett proved to be fool's gold.
[/am4show]
Latest posts by Tom Kislingbury
(see all)