Dynasty Waiver Wire: Week Three
What a fun third week in the NFL season. From the team standpoints… The Lions and Saints had big "upset" wins to improve their records, the surprising Bills and 49ers improve to 3-0, and after Sunday, we have seven winless teams who are looking for anything that could spark the team.
It was also another great day in fantasy and we saw some really big scores. Mike Evans asked everyone… "Do you remember me"?! Daniel Jones set New York on fire and showed Giants fans that you can actually throw the ball downfield with velocity (just in case they forgot over the past couple of years), Darren Waller seems to be emerging as a top tight end option every week, and Kyle Allen looked all-around better than Cam Newton has in a while. Lots of injuries to touch on as well, and I will reference some of those in the recommended players to pick-up.
So without further ado, I bring you information that could help you win a championship… or at the very least, bragging rights about the player you picked up off waivers who helped you squash your buddy in your head-to-head matchup.
Shallow (18-22 man rosters)
Fun fact: Cole Beasley has 23 targets over the first three weeks of the season and has 12 receptions for 131 yards over the past two weeks. Is it a "flashy" pickup? Nope. Can he help you in a pinch? You bet your 5'8" ginger-bearded slot WR he can. He is averaging over nine PPR points per game, and you could do worse to find an emergency replacement.
I am trying to get out all of my Buffalo suggestions early in this article. Once the laughing stock of the NFL, the #Billsmafia are 3-0 and looking like they could make a serious playoff push. Josh Allen has looked solid so far, and while his decision making can leave something to be desired, he will never stop slinging the rock which helps the pass catchers in Buffalo. While Knox only had two catches in the first two games, he was playing over half of the snaps, and he is hands down the most talented and athletic TE on the roster. He had his breakout game with three catches for 67 yards and a TD. I like him moving forward.
With Alshon Jeffery and DeSean Jackson missing time, Mack Hollins turned in a solid stat line – four catches for 62 yards on seven targets. The Eagles will play on Thursday night which means Jeffrey and Jackson may not go again, and that leaves Hollins to expand on his playing time even more.
The Donte Moncrief experiment is not going so well in Pittsburgh. He was a healthy scratch in week three after going through the "Kenny Britt school on how to drop passes". Enter Diontae Johnson, The Steelers are now 0-3 and are obviously playing for next year. This means that they will be willing to give some younger guys a shot at some playing time.
James Washington has not looked great through three weeks, and Johnson could be pushing him for more snaps in two wide receiver sets. Johnson is a longer-term investment, but one that could pay off down the road.
Many people were reminded about the Tony Pollard hype after Sunday's game. Granted it was against the Washington Sentinels… excuse me, the Miami Dolphins. Pollard showcased his skills, and is a must-add for any Ezekiel Elliot owners. Pollard may even eat into Zeke's usage if the Cowboys want to preserve Elliot for the playoff stretch.
Other "Shallow" roster players to keep an eye on:
Average (23-27 man rosters)
Williams got a surprise boost right before kick-off with a surprise start. LeSean Mccoy was involved, but did not play in the fourth quarter because of a knee injury. Williams filled in nicely, totaling 109 yards on 14 touches. If Williams and/or McCoy have to sit out any amount of time, Williams in a flex start on this high powered offense.
Zach Pascal, WR IND
TY Hilton was knocked out of Sunday's game with a hurt quad, and Pascal stepped in and showed some explosiveness, catching two balls for 53 yards and a TD. He has good size and speed, and has been in the Colts' system for a couple of years now. The pass catchers in Indianapolis besides Hilton are tough to predict week in and week out, but with no established number two receiver, Pascal could see some increased snaps and targets if Hilton is forced to miss time.
Ben Watson has fallen a bit off of the radar, but he is just a couple of years removed from a solid season in Baltimore. Antonio Brown has been cut, Julian Edelman got hurt, Josh Gordon is banged up, no more Rob Gronkowski… all of these things point to possible fantasy relevance when Watson comes back in week five from his suspension. Jump on the waiver wire a week before he is cleared to play, and you may have a solid streaming TE option on your hands.
CJ Prosise, RB SEA
Yes, that CJ Prosise. The fantasy darling that everyone just can't seem to let go of. Well, I am here to tell you the opposite. Like my good buddy Lloyd Christmas said, "Pick em up! Rashaad Penny was inactive for the game giving Prosise a good opportunity in the passing game. Then a fumble by Chris Carson in the first half, and the Seahawks trailing by a lot, gave Prosise the perfect opportunity for a large snap percentage. He caught five balls for 38 yards and could continue to see some targets as long as one of the top two backs is injured.
Darius Slayton, WR NYG
Daruis Slayton was one of my favorite late round "sleepers" from the rookie class. He had a very impressive athletic profile and got drafted by a team that didn't have a lot in the cupboards as far as wide receiver talent. With the Giants now committing to Daniel Jones, who can actually throw the ball downfield with accuracy and speed, Slayton's role as the deep threat may come with some fantasy relevance.
Other "Average" roster players to keep an eye on:
Deep (28+ man rosters)
Kyle Allen, QB CAR
I watched a good amount of the Panthers game, and was simply impressed with what I saw from Kyle Allen. It seems like a Panthers QB hasn't thrown the ball that well since 2015. It's no secret that Newton has been dealing with injuries over the past couple of years, and at the beginning of this season, he just didn't look right. Newton hasn't looked the same since 2015, and Kyle Allen is 24 years old and looked poised in the pocket.
Newton is only under contract through 2020, and even then, his dead cap money is only two million if they were to cut him next season. There is a real possibility that Allen is the starter moving forward.
I touched on it earlier in the article, but Julian Edelman was knocked out of Sunday's game and could miss some time. With Josh Gordon also getting banged up, the Patriots are short on pass catchers right now. Gordon and Phillip Dorsett have the number one and two spots locked down while Edelman is out, but Meyers would man the WR3 duties. He caught a couple of passes for 38 yards, and as we know from the Patriots, any given week could feature a different player. Keep an eye out for Meyers.
The biggest injury news of the week comes from New York, where it is reported that Saquon Barkley suffered a high ankle sprain (let's hope that is all). Typically that is a three-four week injury, which gives Gallman a small opportunity to help owners. Gallman is a 100% must add for Saquon owners, and could have some stand-alone value as well.
One of the more surprising performances on Sunday was Jordan Akins exploding for 73 yards and two TDs. The Texans have been searching for a TE for quite some time, and Akins has the athletic profile as a pass catcher to do it. Although it is only his second NFL season, Akins is 27 years old. He played four seasons in the minor leagues for the Rangers before signing with UCF.
If his chemistry with Deshaun Watson continues to increase, watch out for Akins to make an impact in the upcoming weeks.
Auden Tate didn't have the best profile for an NFL receiver going into the draft. I was told from an inside source that his 40-yard dash time wasn't as bad as everyone thought though… many people don't know that he actually ran it with an invisible 40-pound training vest on.
Tate is never gonna be a burner, but he possesses the ball well and excels at 50/50 balls, where he can utilize his 6'5" frame well. He had quite the turn around from not playing in week one, to playing in 36% of the teams snaps in week two, to then drawing ten targets and turning those targets into six catches for 88 yards.
John Ross is not a reliable receiver week in and week out, and as long as AJ Green is missing time, Tate may get a shot at more targets.
Other "Deep" roster players to keep an eye on: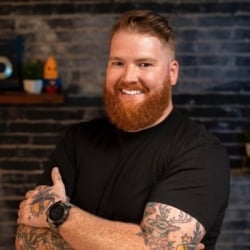 Latest posts by Levi Chappell
(see all)