Rookie Report Card: Deebo Samuel and Terry McLaurin
Each week throughout the season, I'll cover at least two rookies in the Rookie Report Card and try to always include the biggest performers from that particular week. On top of reviewing my expectations for each player coming into the league and how well he's lived up to those expectations at the NFL level to this point, I'll grade the player in three categories. Those categories are performance to date, 2019 potential and long term upside.
The series continues by focusing in on a pair of big performances from rookie wide receivers Deebo Samuel and Terry McLaurin.
Week Two Stats: Five receptions, 87 receiving yards, one touchdown receptions (seven targets)
In the months leading up to the NFL Draft, I regularly found myself watching Deebo Samuel highlights from his time at the University of South Carolina because he's such a fun player to watch. Instinctive, ultra-competitive, and willing to do whatever it takes to make a play with the ball in the air, he profiled as the type of player I like to have on my dynasty roster.
Every time I watched Samuel play in college, he appeared to play so much bigger than his 5'11", 210-pound frame and regularly made the play of the game. Out leaping cornerbacks for jump balls, racing around safeties after the catch and blasting through creases as a returner on special teams, he was often the most electrifying player on the field throughout his time in the superstar filled SEC. The question for some was how easily that playmaking ability to translate to the NFL due to his unpolished route running, inconsistent separation skills and history of hamstring injuries.
When Samuel was the third wide receiver selected in the NFL Draft ahead of AJ Brown, DK Metcalf and Parris Campbell, it cemented his status as a fringe first-rounder in dynasty rookie drafts. Landing in San Francisco with Kyle Shanahan didn't hurt either. After all, Shanahan loves versatility and toughness in his receivers and Samuel profiles as a receiver who plays both inside and outside (as well as out of the backfield) and is about as tough as they come at the position.
After an off-season full of glowing reports out of San Francisco concerning Samuel and his role early on and an impressive pre-season that included six catches for 104 yards receiving and a couple rushes for 59 yards, there was buzz that he could be heavily involved early in the season but Samuel caught just three passes for 17 yards on three targets in week one despite playing 88% of the teams' offensive snaps. In week two, Samuel played just 40% of the 49ers' snaps but posted five catches for 87 yards and a touchdown.
The most interesting part about Samuel's production to this point is how Shanahan and the 49ers have gotten Samuel his touches. Regularly using motion and bunch formations to create room for Samuel to find space and stay away from jams at the line of scrimmage, it's apparent that they are willing to get creative to get the ball in his hands. So dynasty owners should probably expect Samuel to do most of his damage on touches that happen at or around the line of scrimmage – despite his 40-yard catch on a deep dig route in week two.
No matter how those touches are generated, however, it was certainly encouraging to see how Samuel was used on Sunday. If that usage continues, Samuel could manage to find his way into fantasy relevance as a rookie. What's more likely however is that he'll have ups and downs as a rookie (as he has done through the first two weeks of his career), continue to work on his route running and release at the line of scrimmage, and dynasty owners will look to 2020 and beyond to put him in their lineups on a regular basis – hopefully at his ultimate WR2 upside.
Week Two Stats: Five receptions, 62 receiving yards, one touchdown reception (nine targets)
Coming out of Ohio State, McLaurin was seen by most as a field stretcher with above-average size (6'0", 208 pounds) for a player with his speed (4.35 40-yard dash) but lacked change of direction quickness to create separation or make plays after the catch or the killer instinct to use his athleticism and leaping ability (37.5 inch vertical) to fight for 50/50 balls. With the Buckeyes, he played in the shadow of fellow rookie Parris Campbell at times, disappeared from the game plan for stretches of games, and struggled with drops too often to get the attention of most dynasty owners.
Despite all of that, however, the Redskins made McLaurin the 12th WR selected in the 2019 Draft. Still though, dynasty owners would consistently wait until the end of the third round of rookie drafts to consider him despite the Washington depth chart's lack of established talent at wide receiver. McLaurin went as late as the fifth round of some rookie draft this off-season according to data pulled from actual rookie drafts happening on myfantasyleague.com.
Needless to say, McLaurin never really had much of a backing from the dynasty community. That's beginning to change now, however.
After hauling in five passes for 125 yards and a touchdown on seven targets in week one against the Eagles, McLaurin posted another quality stat line in week two versus the Cowboys when he reeled in five of nine targets for 62 yards, including a one-yard score at the end of the contest. He led the team in catches and yards and found pay dirt for the second consecutive week and has already put himself into the conversation of startable WR3/flex plays.
What should be most significant to dynasty owners when considering McLaurin's short and long-term upside is how he's become starting lineup worthy so quickly. Despite the shortcomings he displayed at Ohio State which appeared to limit his professional potential, his first two games have been filled with route-running savvy to find openings in the zone underneath, excellent timing and anticipation to make high-pointing contested catches away from his body and even some shiftiness and tackle-breaking ability to gain additional yardage after the catch. All that along with the deep speed to get on top of the defense that we already knew he had has added up to the most productive start for any rookie pass catcher in 2019.
Already, McLaurin has established himself as the number one receiver in Washington and the Redskins' coaching staff along with quarterback Case Keenum has made it clear that the rookie will continue to be a big part of their game plan both as a deep threat (multiple deep targets in each of his first two games) and as an underneath receiver.
Although I don't expect McLaurin to continue to put up WR2 numbers – at least consistently. I wouldn't be surprised if he remains a solid WR3 for the remainder of his rookie season. And if he continues to makes strides –as he clearly has since his days in Columbus – he could find himself valued as highly as Stefon Diggs is right now. Not bad for a late third-round pick in dynasty rookie drafts.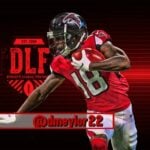 Latest posts by Dan Meylor
(see all)