The 2019 NFL draft is in the rearview mirror and we are in the midst of rookie draft season. The 2019 class offers some highly polarizing players and rankings vary across the board.
A few members of the Dynasty League Football staff looked at the early ADP for rookie drafts and made their cases for players they have higher and lower. Here is a look at the top 24: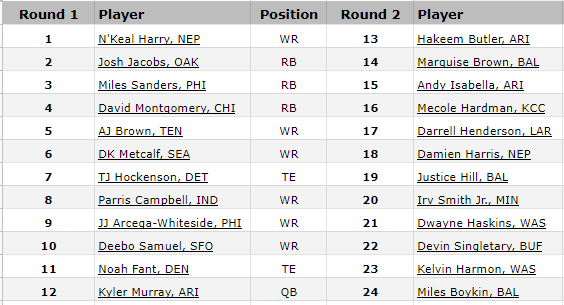 You can find the full early rookie ADP here.
Which rookies are you higher on than ADP?
As dynasty players, we know that opportunity is essential to rookie running back success. A talented player taking up limited fantasy roster space and buried on an NFL team's depth chart can challenge our patience, especially in light of positional scarcity demands requiring that we make intelligent draft pick, waiver wire, trade and lineup decisions.
In the midst of rookie fever – as we analyze and dissect collegiate production, film and a host of other factors – an intriguing player's landing spot often determines whether we're willing to reach for him. Imagine Tony Pollard and David Montgomery switched teams, Monty backing up the dominant Ezekiel Elliott in Dallas, and Pollard having a clear path to significant on-field work in Chicago. What would be the consensus ADP in these vastly different situations?
Given the importance of opportunity in the form of available (or soon-to-be-available) carries, potential snap count, and depth chart position, one player I'm reaching for this year is Devin Singletary. At first blush, it appears he must clear three big hurdles before seeing a satisfying snap count: Frank Gore, LeSean McCoy, and TJ Yeldon. Closer analysis reveals a sunnier outlook.
Gore, aside from being so good for so long, is just plain old now (in RB years), having celebrated his 36th trip around the sun as of this writing. McCoy is currently being rumored as cut-bait in light of his cap hit and age-related slow-down. Yeldon is talented and sometimes dynamic, but is not generally viewed as a three-down back, having established himself as a capable backfield receiver and backup.
Singletary's elusiveness (forcing 96 missed tackles last year), tenacity and nose for the end zone (66 touchdowns in college) – combined with his opportunity to step up while being tutored by Gore and likely working with Yeldon in a productive committee – rocket him up my board to the fourth-rated rookie running back. That is behind Josh Jacobs, David Montgomery, and Miles Sanders but ahead of Damien Harris and Darrell Henderson, both of whom have more youthful and vigorous competition for touches (specifically, Sony Michel and Todd Gurley).
In point of fact, his more immediate opportunity to regularly take the field on plays designed to maximize his prolific juke skill set puts him nearly on par with Sanders on my board. In spite of relatively disappointing Combine results, the way Singletary plays the sport and the opportunity he will have to showcase his skills makes him the player I am higher on than current ADP.
Of four years of DLF rookie ADP data, the entire dynasty community has passed on a draft's first-taken receiver throughout the first round just once — this year. Marquise Brown fell primarily due to size, a maybe-bad passing setting, and most importantly, injury concerns. On the surface, those are all valid issues, but for various reasons, they're not enough to warrant nearly this much of a drop.
First, while the history of NFL success for receivers under 5'10" and 180 lbs is quite short, so is the history of receivers at that size who share Brown's talent. And, in today's NFL, undersized weapons like 169-pound DeSean Jackson, 5-foot-8 Tyreek Hill, and even 5-foot-6 Tarik Cohen have shown that on-field talent transcends size. Now, turn on any Oklahoma game from the past two years, and you'll see one of college football's most explosive athletes and best route runners in Marquise Brown. (Though it'd be nice to have Combine numbers to verify that athleticism, Brown is blazing fast on the field by any and all indications.)
Meanwhile, many concerns about Lamar Jackson at quarterback are overblown. While Jackson had a turbulent year passing the ball, he still threw for a fine 7.1 yards per attempt, and adjusting for the depth of his throws (and before considering his receiving options), he was surprisingly decent. Plus, if anything, Jackson specializes at throwing deep passes — pretty convenient for Brown.
Finally, I don't have a lot to say for Brown's health. However, the Ravens considered that health profile, and still felt comfortable enough to invest a first-round pick in him. When any receiver after N'Keal Harry has their fair share of question marks, I'll take the guy with perhaps the highest ceiling, and with a floor that the Ravens just bet against happening.
In a weird draft class that has changed dramatically since DLF's initial mock, I'm targeting who I believe to be the safest and single best offensive talent in this year's draft — TJ Hockenson.
Some question his athleticism, but he had a strong showing at the combine and, oh yeah, he regularly does this. I've seen others use his elite blocking skills as a negative when predicting his future fantasy success, but that's flawed logic, and one I've heard before. Not only will his blocking skills get him on the field more, his ability to block does not detract away from his skills as a receiver.
In 2018, Hockenson posted a 24.4 percent College Dominator Rating, despite sharing the field with another first-round tight end selection in Noah Fant. Fant is often praised as the better receiver, but Hockenson was targeted more often this past season and he was more efficient with his targets. In his two seasons on the field for Iowa, Hockenson converted 73 and 74 percent of his targets into receptions, while Fant converted just 52 and 60 percent in the same timespan.
Hockenson's vertical route running and ability to create yards after the catch is also underrated. According to Expand the Boxscore, he generated an average of 11.9 yards per target, and had 26 percent of his touches go for 20 yards or more, the fourth highest rate in the nation among tight ends with at least 40 touches.
In Detroit, he faces little competition for the lead tight end spot, and offensive coordinator Darrell Bevell typically has used only one tight end in a prominent receiving role. There will be plenty of targets to go around as well. Detroit had 560 targets to go around last year and Matt Stafford hasn't thrown the ball fewer than 555 times in a season since 2010.
Marvin Jones has never had more than 107 in his career. Kenny Golladay's average targets per game after the Golden Tate trade would project him around 150 targets on the season. Throw in the little over 100 targets split by Detroit's running backs last year and you still have nearly 200 targets up for grabs. A few might scoff, but I would take Hockenson as high a 1.04 and rest easy knowing I have one of the best players in this draft and at one of the shallowest positions in fantasy.
Isabella is my favorite early round rookie value play. His elite prospect profile checks all the boxes of production, athleticism, breakout age, draft capital, and situation. Yet, his ADP of 15 (2.03) still presents terrific value.
Maybe it's that his production came at UMass. But this concern is mitigated by Isabella's 97th percentile College Dominator Rating and Breakout Age under 20 years old. Still skeptical? Watch what he did against the Georgia Bulldogs in Athens.
He ran the 40-yard dash at an NFL Combine-best 4.31s. Well, he is only 5-9, 188 lbs; he had better be fast. But even adjusting for size, that speed puts him in the top quartile of NFL receivers. Further, Isabella isn't just a straight line guy as shown by his 87th percentile overall athleticism.
Finally, his situation appears tantalizing. After Kliff Kingsbury confirmed the NFL Draft's worst kept secret by selecting Kyler Murray first overall, he used a second rounder on Andy Isabella. The strong implication is that Isabella will be featured in what should be a high volume passing offense. Despite being selected 41 picks after Isabella, teammate Hakeem Butler is still being selected before Isabella in rookie drafts. Take that value every time.
Tom Burroughs: Noah Fant, TE DEN
Fant entered the early draft process as the top-ranked tight end only to be overtaken by his fellow teammate at Iowa State, TJ Hockenson. Fant checks every metric box. He is 82nd percentile for college dominator rating, 85th for breakout age, and has a 128.8 SPARQ score (94th percentile). He dominated the combine, not finishing less than the 96th in his speed, burst, and agility score or his 40-yard dash (4.5s at 249 lbs!). He steps into an immediate starting role on the Denver Broncos in an offense that has a young, developing corp of receivers yet to prove themselves as reliable.
The team targeted tight ends on 19.1% of pass plays in 2018 (108 targets) despite inconsistent production and numerous injuries at the position. Rich Scangarello has departed Kyle Shanahan's offense to become the new offensive coordinator for the Broncos. He may be envisioning a similar role for Fant as George Kittle does in San Francisco.
Fant's noted limitation is his blocking ability but he may start as a primary receiver day one. Scangarello will work to get him in open space with mismatches against linebackers, then use his speed up the seam to create big plays. It would be unsurprising to see Fant with similar production as Evan Engram in his first season. He will be granted every opportunity given his draft capital and talent, and he is among the few at the position who can join the elite tier. He should be targeted in the mid-to-late first round before the lengthy tier of receivers starts to come off the board.
Follow us on Twitter:
Latest posts by Stephen Gill
(see all)