The 2019 NFL draft is in the rearview mirror and we are in the midst of rookie draft season. The 2019 class offers some highly polarizing players and rankings vary across the board. A few members of the Dynasty League Football staff looked at the early ADP for rookie drafts and made their cases for players they have higher and lower. Here is a look at the top 24: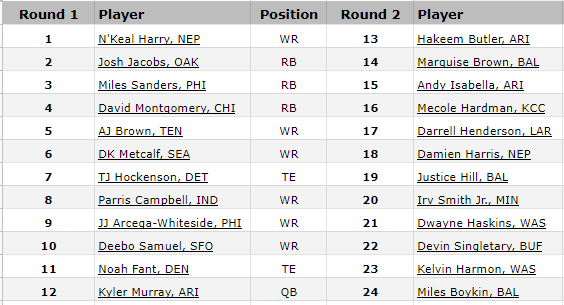 You can find the full early rookie ADP here.
Which rookies are you higher on than ADP?
As dynasty players, we know that opportunity is essential to rookie running back success. A talented player taking up limited fantasy roster space
and
buried on an NFL team's depth chart can challenge our patience, especially in light of positional scarcity demands requiring that we make intelligent draft pick, waiver wire, trade and lineup decisions.
GET IN THE GAME!
Gain Instant Access to this article and so much more.
A full year of access is only $49.99.
Try DLF Premium for only $7.99 with a Monthly Subscription.
Premium membership provides access to all of our awesome dynasty content for an entire year. You also gain access to the best dynasty fantasy football resources in the industry. Including...
• The best dynasty rankings in the industry
• Dynasty, Rookie & Superflex ADP
• Dynasty Trade Analyzer and other tools
• Our annual Dynasty & Rookie Draft Guides
• 365 days of content, tools, advice and support
• And so much more!
Want more info about DLF Premium?
Find out more
Have questions or need some help?
Contact Us
Already a DLF Premium Member?
Log in now!
Rookie ADP: Who are you Higher on?