A lot has happened to the Kansas City Chiefs' defense since the end of the season. They released Justin Houston and Eric Berry, traded Dee Ford to the San Francisco 49ers, and signed defensive backs Tyrann Mathieu and Bashaud Breeland. One big piece that has remained intact is defensive tackle Chris Jones, still on his rookie contract as a second-round pick from the 2016 NFL Draft.
Jones is coming off a sensational breakout campaign where he put up 40 combined tackles, 35 solo tackles, 15.5 sacks (third behind Aaron Donald's 20.5 and JJ Watt's 16.0), 19 tackles for loss (fifth), 29 quarterback hits (tied for fifth most), five pass disruptions, two forced fumbles, one interception, and one touchdown.
Normally this would be rewarded with a Pro Bowl selection, but Jones was snubbed from being a starter. He later declined an invitation as an alternate, but even then, he should have been on the ballot in the first place.
In IDP leagues, Jones was also a monster, ranking ninth in IDP fantasy points out of all defensive players with 152. Jones finished behind Darius Leonard (212), Donald (199.35), JJ Watt (176.6), Luke Kuechly (163.8), Corey Littleton (160.8), Bobby Wagner (156.9), Jamal Adams (156.5), and T.J. Watt (155.2). In the DLF IDP Rankings, Jones is ranked eighth among all defensive linemen (behind Joey Bosa, Danielle Hunter, Donald, JJ Watt, Melvin Ingram, DeMarcus Lawrence and Cameron Jordan).
In addition, Jones' age-24 season was a textbook year in pressure creating. DLF's own Ryan Miller created a stat called "Disruption Score", which combines sack percentage, QB hit percentage and tackle for loss percentage to quantify a pass rusher's ability to impact the opposing team in comparison to how many tackles they produced.
[am4show have='g1;' guest_error='sub_message' user_error='sub_message' ]
Chris Jones had the highest disruption score of any player in his age-24 season, according to Miller's research out of 205 eligible players. He is in impressive company as Bosa, Donald, Yannick Ngakoue, and Geno Atkins are also on the list.
With all of this in mind, where exactly should Jones get drafted in IDP leagues in 2019? Considering the talent around him is less experienced, I wouldn't be surprised to see a drop in his raw statistics. But in terms of talent, few interior pass rushers can do what he does. And when it comes time to start drafting defensive players, it would not be a bad idea at all to consider Jones as one of the first – if not your first – IDP additions.
You may have heard that in 2018, Jones broke the record for most games in a row with at least one sack, hitting that mark in 11 consecutive games. In other words, Donald, Watt and Khalil Mack do not have the record, so this is a phenomenal achievement from the now fourth-year pass rusher.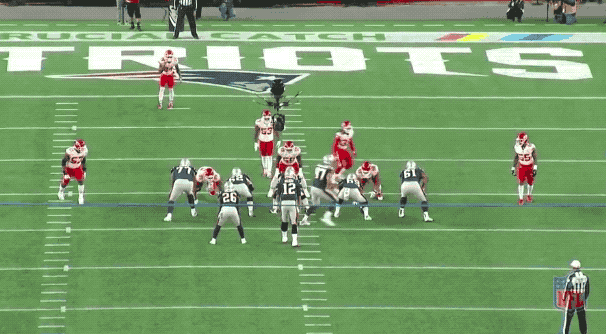 Part of what makes Jones so appealing as an IDP draft prospect isn't just his statistical production, but his versatility and explosive athleticism. In the play above, the center for the New England Patriots is assigned to pull and block Jones, but Jones' burst off the line of scrimmage is dangerously quick and gives him the edge right away. The play itself is a fake to Sony Michel, and Jones goes after him initially.
You'd think Jones would've missed his opportunity to make a play on Tom Brady, yet his reaction time is perfect and as he slips to the ground he swats the ball out of Brady's hands for a strip sack. The center ultimately recovers the ball, but Jones' quickness is what stands out here.
Jones' violent bull rush also lended itself on a few QB hits and sacks. The Arizona Cardinals offensive line in 2018 would never be confused for a first class unit – like the Indianapolis Colts – but we can just think of them as great target practice for elite pass rushers like Jones.
Against the left guard on his rush up the B-gap, Jones pushes off his left foot to create a burst, and from there he uses violent, inside upper hands on the LG, gradually pushing him before eventually opening the door for himself, strip-sacking quarterback Josh Rosen. It's an incredible display of bull rushing on Jones' part.
As the tackle for loss statistic isn't exclusive to sacks, it can (of course) involve tackles behind the line of scrimmage on running plays or screen plays. This statistic, as you may have guessed, is valuable in IDP leagues, and in 2018 Jones had an abundant 19 tackles for loss.
Above, Jones' timing against (now Tennessee Titan Roger Saffold), one of the top guards in the league, is so quick that Saffold is caught completely off guard. He uses the patented swim move on Saffold, giving him unattended access to Todd Gurley, who he takes down behind the line of scrimmage.
Jones' week 15 game against the Chargers was extremely noteworthy for how much pressure he was able to put on quarterback Philip Rivers. In fact, his eight quarterback hits on the night were tied for the third most from a single game since the QB hit stat was fully charted, going back to the 2006 season.
First of all, quarterback hits include sacks and hits after the quarterback gets rid of the football (that's a question I've gotten a lot when charting and keeping track of QB hits in my spare time). Second, J.J. Watt is an animal, as he is in first, second, and tied for third in single-game QB hits (you can watch this thread I made on his record-setting game here). Third, Aldon Smith was a legendary talent who, in my opinion, would have been on a Hall of Fame pace if not for his off-field issues.
Fourth, Chris Jones belongs in impressive company, company that he's worthy of being a part of.
My favorite play from Jones in this game came in the first quarter on a third-and-17. The Chiefs are playing a prevent defense (not to be confused with the defense they used in overtime against the Patriots in last season's AFC Championship Game), so Rivers is assigned with making a difficult throw to Travis Benjamin (running a deep slant) in hopes to move the chains.
Rivers' pass is caught by a Charger, but not the one Rivers had in mind. Jones hits Rivers as he's in the motion of releasing the pass, completely altering the ball's trajectory and making it land in the hands of Antonio Gates.
Jones' quick, violent movements and shuffling body allow him to crash through the A-gap like a tsunami, and he gets to Rivers at the right time, so while the pass is completed to a receiver, it's ultimately an empty one as the Chargers are forced to punt the following play.
The one concern for Chris Jones going into 2019 is obvious: How will he fit the Chiefs' new 4-3 defensive scheme? This might be food for thought in regards to deciding when to draft him in an IDP league. As an interior lineman, he's worthy of being at or near the pedestal of Aaron Donald, Fletcher Cox, and Akiem Hicks. But, understandably so, the possibility of switching to an edge rusher could concern some IDP Fantasy League players.
However, Jones has the explosive athleticism, violent hands, fluid movement, and overall consistent pass disrupting ability that makes me feel confident he'll continue to be a dominant force outside. Once you get your weapons on the offensive side figured out, it may be risky to consider him with one of your first IDP picks, but if 2019 is anything like his 2018 season, Jones is by far worth the investment.
He is worthy of the same attention as other dominant pass rushers. He's a game changer, a cornerstone worthy of building around but doesn't receive nearly close to the right amount of hype. As well as being a massive Pro Bowl snub, Chris Jones is the NFL's most underrated pass rusher.
[/am4show]
Johnny Kinsley is an NFL writer from Cleveland, Ohio, who graduated from Cleveland State University with a bachelor's degree in Journalism. He is the creator of The Deep Ball Project, which looks at the accuracy of quarterbacks throwing downfield passes. He also writes for various sites covering teams including the Carolina Panthers, Tennessee Titans and Miami Dolphins. He is well known for making player threads and charts on Twitter as well as humorous memes of Piccolo from the Dragon Ball Z anime.

He can be found on Twitter @Brickwallblitz.
Latest posts by Johnny Kinsley (see all)