Here's a fun bit of trivia for you: which of the following has happened more often in the last decade? A) a polar vortex has wreaked havoc on U.S. weather, or B) the Cleveland Browns have won seven games in a single NFL season?
If you bet on the dangerously impactful weather event, you'd be right!
Despite this being the case, however, there is an argument to be made for the Browns' perpetual struggles causing more pain than -60˚F wind chills. And yet, the 2018 season brought more than just unbearably cold storms; it brought hope and momentum to a long-beleaguered franchise and city, largely guided by an aggressive and opportunistic Cleveland defensive unit.
Now, as we enter 2019 and the Dawg Pound looks to build upon its success, new defensive coordinator Steve Wilks takes the reins.
Can Wilks keep this defense hot and ready, or will the Browns' emergent Individual Defensive Players (IDPs) freeze up with a new DC at the helm?
[am4show have='g1;' guest_error='sub_message' user_error='sub_message' ]
Scheme
With the former Arizona Cardinals head coach and Carolina Panthers defensive coordinator in charge, the Browns will be looking to continue their growth from over the past few seasons. How Wilks applies his defensive scheme to the personnel in Cleveland will be crucial to this ongoing success, and his scheme differs somewhat from his predecessor's.
Fortunately for the Browns' defenders, there will be no transition to yet another base defensive scheme – unlike Wilks' Cardinals, which had disastrous results.
No, like Gregg Williams, Wilks commands a 4-3 base defense (meaning there are four down defensive linemen and three linebackers), so nothing we see this season will look too unlike what we saw in 2018. Let's look at how the starting alignment will map out for this year's iteration of the team.
Below is a projected sketch of the Browns' 2019 base 4-3 defense.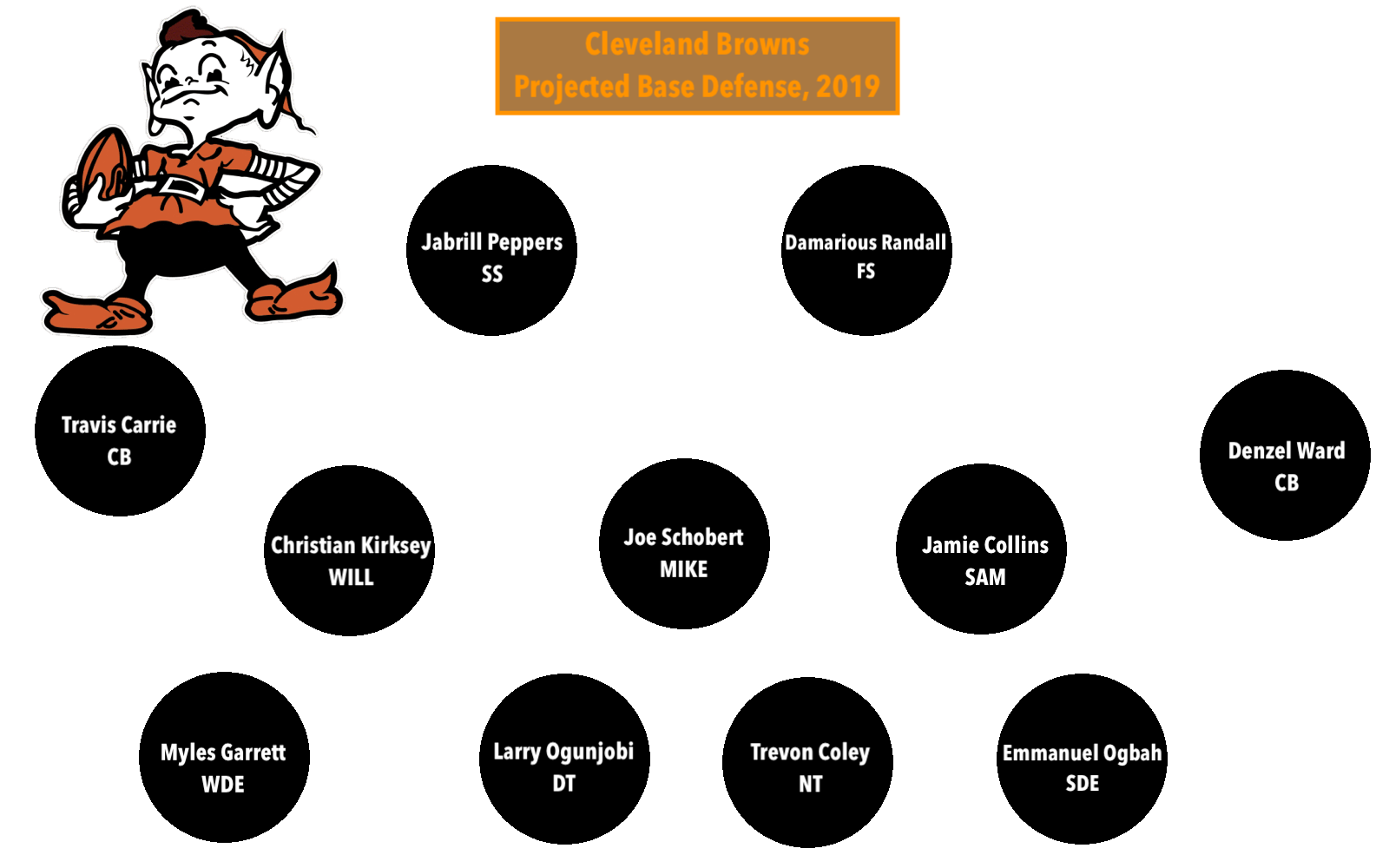 In all honesty, this alignment should look very familiar to Browns' fans and IDP enthusiasts because it's the same one that the team rolled out at the start of the 2018 campaign. The small difference between this and the end of the season is that weak-side (primary coverage) linebacker Christian Kirksey should return healthy and ready to roll, pushing rookie breakout Genard Avery back to the bench for now.
In addition, strong safety Jabrill Peppers should expect to play more of a two-deep safety position under his new coordinator. Wilks often deployed his safeties back as a zone coverage tandem, meaning Peppers won't move up into the box often.
What we really want to focus our attention on is the fact that Wilks really likes to have his nickel (five defensive backs) and dime (six defensive backs) packages out on the field in far greater proportion than other defensive schemers around. That means we should get used to seeing plenty of snaps go towards the deeper defensive back on the team. Here's my expectation for the Browns' nickel 4-2 defense.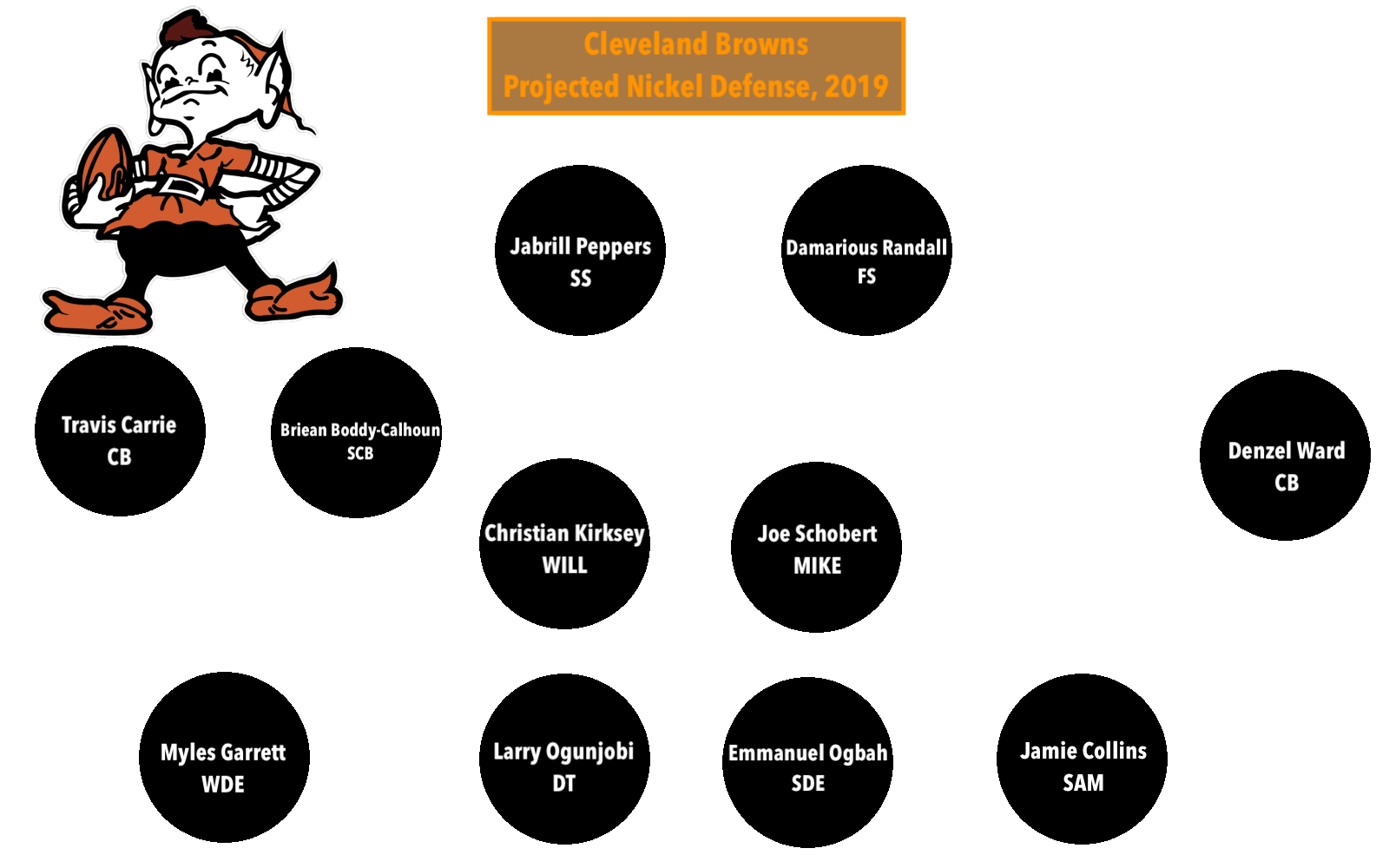 The primary change here is that nose tackle Trevon Coley will likely head to the bench (he played just 56.7 of the Browns' defensive snaps in 2018) in passing situations, while defensive end Emmanuel Ogbah will slide into the middle and strong-side linebacker Jamie Collins moves to more of a stand-up, outside defensive end position.
This will allow versatile defensive back Briean Boddy-Calhoun on to play the slot cornerback role, though there will be times the Browns drop Peppers into the slot to cover a tight end or larger receiver. In those instances, expect to see Boddy-Calhoun lining up a bit deeper in a zone safety coverage role.
When the Browns go to their dime package, expect to see Ogbah subbed out in favor of cornerback Terrance Mitchell.
Usage and Production
Much like former Browns DC Gregg Williams, Wilks seeks to generate pressure on the quarterback not through exotic play design but via the blitz (sending extra rushers). According to Pro Football Focus, Wilks' defenses sent an extra rusher on 51.1 percent of their defensive plays over the last two seasons – the highest of any coordinator in the league.
The play-calling should be fairly similar, but the big change from Williams to Wilks lies in the play design and philosophy aspects.
Briefly mentioned before, Wilks prefers to use his safeties both back deep to cover over the top, and most often deploys his defensive backs in Cover-4 looks (two cornerbacks and two safeties divide the field into quarters). This was highly uncommon under the previous regime, and zone coverage will be the hallmark difference of the Wilks tenure. This will mean that Denzel Ward will not be asked as often to follow top receivers throughout the game, which should mean a decrease in IDP value for him, as well as the obvious decrease in Jabrill Peppers' value by not seeing as many snaps in the box.
Wilks also coaches his defensive backs to use "pattern matching" (moving with the route of the receiver going through their zone) instead of "spot dropping" (running to their assigned zone and reacting from there). While more challenging to a player's instincts and athleticism, pattern matching allows for more interceptions and passes defensed than spot dropping – sort of a bend-don't-break strategy. In this link, watch safety Colin Jones (number 42 in the middle) as he adapts his zone drop to run underneath the vertical route and make the interception.
Additionally, though we mentioned that Wilks used a sub-package around 90 percent of the time with the Cardinals, he had a reason for doing so. After coming from the Panthers' linebacking corps of Luke Kuechly, Thomas Davis, and Shaq Thompson – all fairly traditional 4-3 style players – Wilks had to fit more versatile and less traditional players like safety/linebacker hybrid Deone Bucannon and edge rusher/linebacker/safety Haason Reddick into his scheme. Uncomfortable with the progressive skill sets that these players brought to the table, Wilks instead just refused to use them in the ways that suited them best, and instead changed the packages he ran.
With a trio of Schobert, Kirksey, and Collins in Cleveland, we should expect to see much more of the 4-3 base defense return to the field for Steve Wilks' defense. Wilks will still use sub-packages more often than the base-heavy Gregg Williams did, but there shouldn't be nearly as stark a contrast as it may seem.
Wrap-Up
The arrival of Steve Wilks will switch some details up for the Dawg Pound, though the rough framework remains recognizable. Expect him to use the athleticism of the defensive line to do some creative blitz disguising, possibly rushing a cornerback and linebacker while dropping a defensive end into coverage to put the opposition's blocking schemes to the test.
For fantasy purposes, the Wilks defense may muddy some of the previously straightforward roles in the secondary, boosting the slot corner's productivity (for instance) while dampening the strong safety. The focal point of production will almost certainly be the linebacking corps here, but with the aggressive and creative blitz designs Wilks draws up, the defensive ends should still thrive, as they have at every stop he's made so far.
[/am4show]
Latest posts by Joe Redemann
(see all)