All through the off-season, we work to give DLF readers an edge in their dynasty leagues. That's useless unless we can prove we're OK at actually making decent predictions. This series looks back through our final pre-season projections and sees how good or bad they were.
Dallas Cowboys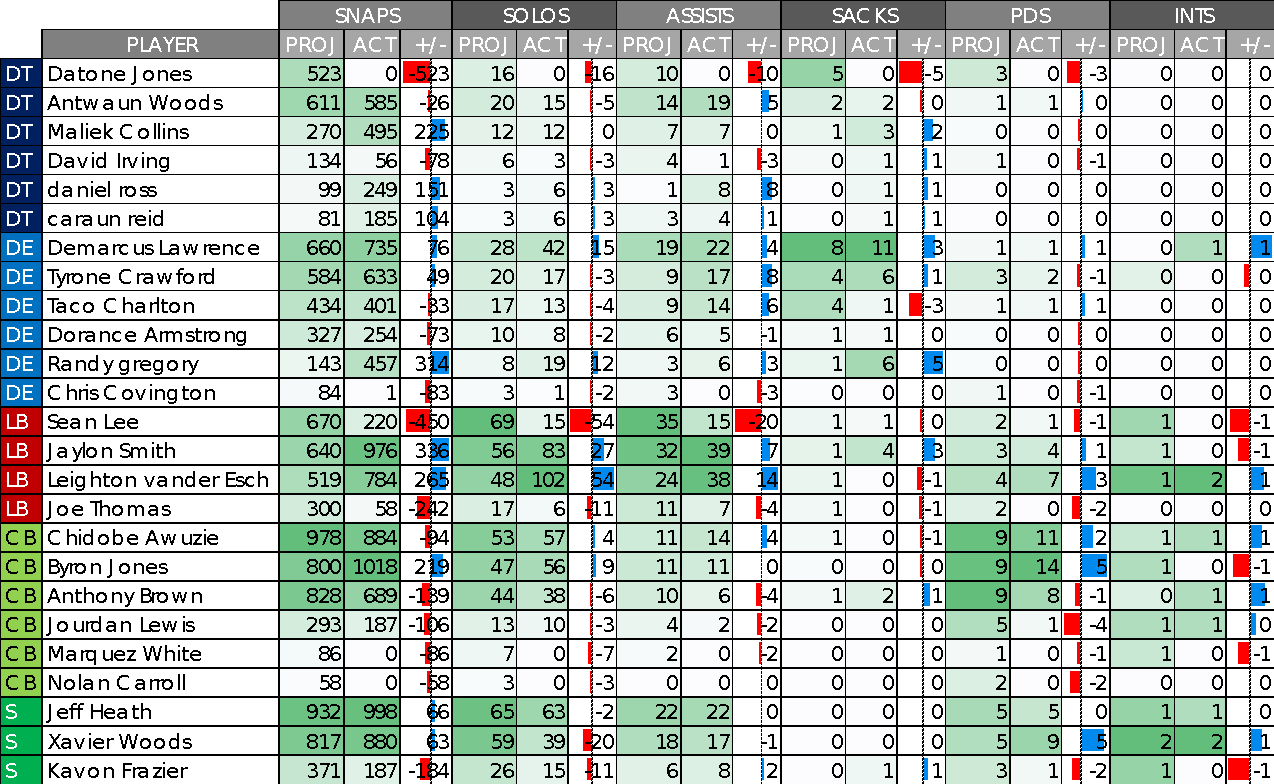 The top item isn't a good start, is it? Datone Jones missed the season on IR. The next two tackles are much better. Antwaun Woods managed just nine more total tackles than expected and Maliek Collins came in flat (albeit with two more sacks than predicted).
On the edge, DeMarcus Lawrence followed up his breakout 2017 with another excellent season. He comfortably beat the conservative projections and will be adjusted up in the future. Tyrone Crawford, Taco Charlton and Dorance Armstrong all finished close to predicted numbers (although Charlton's sack number was low) but Randy Gregory smashed his sack target with six. His return has been underreported.
At LB there's no way to make this more palatable – it was a flat our car crash. Sean Lee was predicted to be the top option, but he was injured (even) more than expected and lost his job whilst out. Jaylon Smith and Leighton Vander Esch both confounded their targets and became a star partnership. This unit goes down as a big miss.
PREMIUM MEMBERSHIP REQUIRED
Gain Instant Access to this article and much more.
Join DLF with a Monthly Subscription or Annual Membership.
Or, open a DraftKings account for only $10 and receive a full year DLF PREMIUM FOR FREE!
Join DLF Premium
Already a DLF Premium Member?
Log in now
Want more info about DLF Premium?
Find out more
Have questions or need some help?
Contact Us
Being from England Tom only discovered American Football in the late 90s. From there he's gone from casual defender to devoted obsessive and likes to delve into deep data primarily about defensive players. He spends his days trying to pretend the spreadsheets and graphs he makes about football are actually work for his day job. No-one is fooled. You can find him and his unwieldy graphs on Twitter at @TomDegenerate
Latest posts by Tom Kislingbury (see all)