In our annual 32-part Summer Sleeper series, DLF scribes identify a lightly-touted player on each NFL roster who may be worthy of your consideration. Our subjects all have varying levels of "sleeperness," but each merits a bit of in-depth discussion here in the Premium Content section.
To help everybody along, we are going to be categorizing our sleepers under one of three headings:
Super Deep Sleepers – Players who aren't roster-worthy in 12-team leagues, but are still worth keeping an eye on.
Deep Sleepers – An end of the roster player who is more often than not on the waiver wire in 12-team leagues.
Sleeper – A likely rostered player who makes for a good trade target. Their startup ADP puts them out of the top-175 or so.
Because we aren't going to give you the likes of mainstream sleepers, most of these players will undoubtedly fizzle. All we are asking is for you to keep an open mind and perhaps be willing to make room for one of these players on your bench. You never know when the next Adam Thielen is going to spring up. Feel free to add your own thoughts about our choice for the designated sleeper, or nominate one of your own in the comments below.
Every season, fantasy owners find themselves pondering this frequent question: "When should I select a tight end?" It's a one we will undoubtedly find ourselves swirling in our collective heads. Paying up for a Rob Gronkowski or Travis Kelce will allot a significant edge in the "onesie" position, but the draft pick used to acquire one of them will also warrant a heavy price. So who is a tight end talent rosterable and startable in dynasty leagues but currently free, you ask?
Significant studies have been done showing that these "onesie" positions are proven more effective when streamed. Most fantasy leagues only require one starting tight end, so rather than drafting one in the third round in a startup, we should use that equity to stock up on positions that require multiple starters like wide receiver and running back. One player who can fit the mold of a week-to-week streaming option is…
[am4show have='g1;' guest_error='sub_message' user_error='sub_message' ]
Category: Deep Sleeper
Kroft currently sits as the backup tight end on the Bengals roster behind the "other Tyler", Tyler Eifert. Eifert is a former Pro Bowler (2015) who once caught 13 touchdowns in a single season and was re-signed to a one year "prove it" contract. But here's the problem, he can't stay on the field.
In a possible 80 career games through five seasons, Eifert has only played in 39 (48%) total games. He also has never played in every game in a full season. Insert Kroft, who played well enough as the fill-in that the Bengals didn't add any more depth to the position in the off-season.
Tyler Kroft is a big bodied (6-6, 250 pound) former third round pick from Rutgers. When Eifert's 2017 season was cut short following an injury in week two, Kroft stepped in and played well in his absence.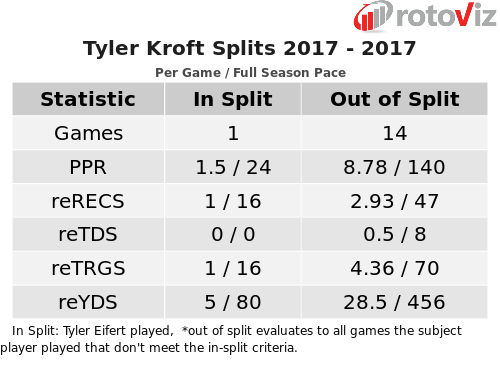 Kroft's extrapolated full season pace would have finished as the PPR TE14 on the season, making him nearly startable in all 12 team leagues.
Another fantastic piece of the puzzle is that Kroft is basically free according to our ADP data here at DLF. He isn't even registered in our June ADP, and he is behind players like Adam Shaheen, Ian Thomas, Chris Herndon, and Tyler Conklin – all players who have not yet played or who have contributed nothing from a fantasy point of view.
Graph from Kroft's DLF Player Page.
One of the things that makes Kroft appealing from a fantasy perspective is that with Andy Dalton as the quarterback, opportunity will be present, especially in the red zone. In 2017, Dalton targeted the tight ends 29% of the time in the red zone, with Kroft commanding 23% of the red zone targets on his own. His 23% RZ target share ranked him ninth in the NFL while his ten end zone targets ranked him fifth in the league. Furthermore, Kroft was extremely efficient with his targets. His 2.01 fantasy points per target were fourth in the league and his 0.41 fantasy points per route run ranked 13th.
Kroft was also a safety blanket for Dalton throws in the middle of the field. According to PFF, Dalton was "One of the better "seam" throwers in the NFL. He throws with anticipation, touch and accuracy in between the numbers where he picked up 54 percent of his big-time throws. The same skill led to six big-time red zone throws, tied for most in the league". Kroft finished third on the team in targets last year and passes to Kroft yielded Dalton his highest passer rating to one player: 129.5.
The Bengals were not a pass heavy team last year as the team only has 550 pass plays which was 25th overall. They did air it out more in the red zone though, with 57 red zone attempts (3.6 p/g, 17th overall).
Of course, this is all speculative. As long as Tyler Eifert is healthy and playing, Kroft will not see many targets and could be totally un-rosterable in all season long and redraft leagues.
But the reality of the situation is that we simply cannot rely on Eifert to be a valuable fantasy asset like he once was perceived to be. Eifert's ADP has seen a major decline since his awesome 2015 season. He was at one time going as the overall TE3 in dynasty drafts, just behind his fellow IR resident Jordan Reed.
Graph from Eifert's DLF Player Page.
As the resident Bengals fan here at DLF, I hope that Eifert can stay healthy for the duration of an entire season. He is an elite difference-maker. But when the inevitable injury occurs, and it looks like it already may be happening, Kroft will be the Tyler to own in 2018. With new tight end premium scoring (1.5 ppr) becoming all the rage lately, Kroft could be the perfect streaming option especially for his red zone prowess.
[/am4show]
Latest posts by Richard Jenkins
(see all)