There were many good games this past week. One which stood out, in particular, was the Ohio State versus Maryland game. Running back Anthony McFarland exploded in the first half, racking up over 200 yards rushing just a few minutes into the second quarter. A couple long runs fueled his hot start and helped Maryland build a lead they held for most of the game. Ohio State was fighting and clawing their way back the entire game and head coach Urban Meyer was an emotional wreck on the sidelines because of it. Quarterback Dwayne Haskins was impressive for most of the game and really held the Buckeyes together.
Ohio State tied the game late and scored a touchdown on the first possession of overtime. Maryland scored a touchdown of their own but failed on the go-ahead two-point conversion. Quarterback Tyrrell Pigrome missed an open receiver and the air was let out of the stadium. Altogether, it was a great way to kick-off another fun Saturday of college football.
You can find the final results of each week 12 game here.
Top Performers
Some of the top performers of the week
Jonathan Taylor, RB Wisconsin (321 yards rushing, 3 TDs)
Taylor is pretty good. Okay, he is really good. He tore up college football as a freshman last season and will likely eclipse each of those statistics this year. The 321 yards rushing he had on Saturday were a career high.
[am4show have='g1;' guest_error='sub_message' user_error='sub_message' ]
Anthony McFarland, RB Maryland (298 yards rushing, 2 TDs)
McFarland was a big reason Maryland led Ohio State for nearly all of their match-up. He rushed for over 200 of his 298 yards in the first 18 minutes of the game and helped Maryland build a sizeable lead in the first half. Ohio State was able to contain him better in the second half, but McFarland still had a game for the ages.
Dwayne Haskins, QB Ohio State (405 yards passing, 3 TDs, 1 INT, 59 yards rushing, 3 TDs)
Unlike his coach, Haskins stayed poised during Ohio State's comeback victory. He made play after play when his team needed it. He accounted for six touchdowns, including a passing touchdown to tie the game in the final minute and a go-ahead rushing touchdown in overtime.
Gardner Minshew, QB Washington State (473 yards passing, 7 TDs)
Minshew continues to impress and Washington State continues to win. Now up to number eight in the country, they take on rival Washington in the yearly Apple Cup. Minshew has been putting up Heisman-level numbers this season, but it will be tough to beat out Alabama quarterback Tua Tagovailoa for that honor this year.
Joshua Kelley, RB UCLA (289 yards rushing, 2 TDs)
UCLA vs. USC may not be the rivalry it once was, but Joshua Kelley put on a great performance for UCLA against their arch-rival. He carried the ball a whopping 40 times and turned it into a career-high 289 yards.
Honorable Mentions: J.K. Dobbins (203 yards rushing, 1 TD, 1 rec, 2 yards), A.J. Ouellette (196 yards rushing, 2 TDs, 2 rec, 16 yards, 1 TD), Harrison Bryant (6 rec, 138 yards, 1 TD), James Proche (12 rec, 134 yards, 2 TDs), Kennedy Brooks (171 yards rushing, 2 TDs, 1 rec, 7 yards), Kyler Murray (272 yards passing, 2 TDs, 1 INT, 99 yards rushing, 3 TDs), Kennedy McKoy (148 yards rushing, 2 TDs, 3 rec, 54 yards), Rondale Moore (27 yards rushing, 9 rec, 114 yards, 2 TDs), Trayveon Williams (167 yards, 2 TDs, 1 rec, 8 yards), A.J. Brown (9 rec, 212 yards, 1 TD), DaMarkus Lodge (9 rec, 117 yards, 1 TD), Pooka Williams (252 yards rushing, 2 TDs, 3 rec, 18 yards, 9 yards passing, 1 TD)
Poor Performers
Performances which did to live up to expectations
Vaughns has had an inconsistent season this year and Saturday was one of his poorer outings. He only secured one catch for 19 yards as USC lost to their cross-town rival UCLA. With other talented receivers on the roster, including Amon-Ra St. Brown and Michael Pittman, Vaughns will not see as many targets as many other receivers in college football. However, USC will likely need Vaughns to play much better this Saturday if they have any hope of taking down third-ranked Notre Dame.
Daniel Jones, QB Duke (158 yards passing)
The stat line was ugly, but Jones actually made a few nice plays early in the game. One play stood out in particular, in which Jones rolled to his left and delivered a deep ball just before getting knocked down by the defensive lineman. Unfortunately, his receiver dropped the ball, but the pass was on target.
Duke was just clearly over-matched by Clemson's speed and physicality and Daniel Jones found himself on the ground often in this game. I was not wowed by his performance by any means, but there were still some encouraging takeaways.
My Rankings
Last week, I provided my rankings for the projected 2019 class. This week, I give you my rankings for the projected 2020 and 2021 classes combined into one. I just participated in a two-round devy mock led by Nathan Powell that inspired me to publish these rankings. Be on the lookout for his mock in his next edition of his Devy Stock Market Series.
It seems to almost be common knowledge now among the dynasty community of how loaded the 2020 class should be, but participating in this mock really solidified how special it could be. Not to mention, the 2021 class has quite a few promising players as well. Below are my personal rankings for those two upcoming classes.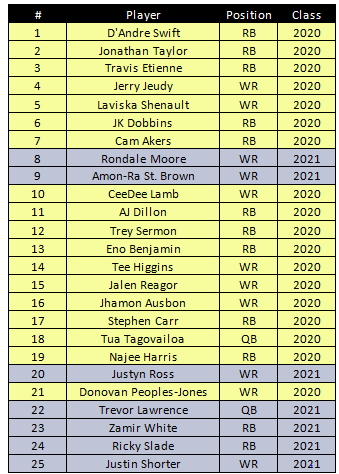 As you can see above, running backs sit atop my board, but there are still a good amount of talented receivers as well. Rondale Moore and Amon-Ra St. Brown have already impressed and climbed into my top-ten rankings as freshmen, which speaks to how talented they are considered how talented and deep the 2020 class is.
The top seven on this board, all from the 2020 class, are what I consider "elite" devy prospects. Moore and St. Brown are right there knocking on the door and will likely move into that tier if they can continue to show what they have so far.
I honestly like every player on this list, so not only will 2020 first-round rookie picks be valuable come rookie draft time, but second-rounders will be as well. If you have not already done so, start hoarding as many 2020 picks as you can. It has the potential to be a truly special class. Not to mention, some of the players in the projected 2019 class could decide to return to school and be added to the 2020 class.
You can find my full set of devy rankings here.
Marquee Match-ups
Below are some of the more intriguing match-ups on this upcoming week's slate. You can check out the full week thirteen schedule here.
1.) #6 Oklahoma @ #9 West Virginia – 10/23 @ 8 PM EST on ESPN
There should be a lot of fireworks in this one, as both teams can score with the best of them. Quarterbacks Will Grier and Kyler Murray will be key in this one and the game might come down to who has the ball last. Oklahoma running back Trey Sermon is questionable for Saturday's match-up after he left last week's game early and was seen wearing a walking boot on his left foot on the sideline. If he remains out, talented freshman running back Kennedy Brooks will get the start against the Mountaineers.
2.) #18 Washington @ #8 Washington State – 10/23 @ 8:30 PM EST on FOX
Quarterback Jake Browning is undefeated in the yearly Apple Cup and Washington has won the last five games in the series. However, it is going to be tough to beat Gardner Minshew, who has been playing at a Heisman level all year. Washington State has only lost one game all season, a three-point loss defeat to USC back in September.
3.) #4 Michigan @ #10 Ohio State – 10/24 @ 12 PM EST on FOX
Saturday will be the first time the Buckeyes will be home underdogs under coach Urban Meyer. If last week's game against Maryland sent Meyer on an emotional roller coaster, this week's game against arch-rival Michigan will likely do the same. Michigan is a very good team who is trying to solidify their spot in the college football playoffs. Ohio State needs a win on Saturday plus a little help to make the playoffs.
4.) South Carolina @ #2 Clemson – 10/24 @ 7 PM EST on ESPN
The Clemson defense, especially the defensive line, has been dominant this year. I am curious to see how South Carolina wide receivers Bryan Edwards and Deebo Samuel fare against them. Hopefully, the South Carolina offensive line can give Jake Bentley enough time to find his receivers and let them make plays.
5.) #3 Notre Dame @ USC – 10/24 @ 8 PM EST on ABC
Something tells me this game will be much closer than most think it will be. Yes, USC has been struggling lately and just came off a loss to cross-town rival UCLA. However, USC plays much better at home and will have plenty of motivation in this rivalry game. The Trojans still have talented play-makers like JT Daniels and Amon-Ra St. Brown who give them a chance in this one.
Other News/Notes
As conference championship games are on the horizon, the four playoff spots will be solidified over the next few weeks. Notre Dame can pretty much solidify their spot with a win over USC this week and Michigan can make a compelling case of their own with a win over Ohio State. Clemson is looking like the safest bet to the make the playoffs as of now. It will get really interesting if Georgia were to upset Alabama in the SEC championship.
Feel free to reach out in the comments section below or on Twitter @KyleHoldenFF with any questions as we look ahead to week thirteen of the college football season.
[/am4show]
Latest posts by Kyle Holden
(see all)