(SPOILER ALERT: If you haven't watched Game of Thrones, there shouldn't be any plot reveals and you will be able to easily follow along with the article.)
I may be mistaken, but sometimes I believe I'm too competitive for certain members of the dynasty community. Don't get me wrong, I treasure all of the friendships I've made by writing and joining new startups. Yet, the closer my camaraderie with someone, the stronger my desire to defeat them on the faux gridiron.
If I have a fantasy football alter ego, it is without a doubt one Mr. Tywin Lannister from Game of Thrones. Tywin is one of the most cunning and calculating television villains in history and is always one step ahead of his adversaries. The only concern of the patriarch of House Lannister is to do whatever is necessary to keep his namesake in power and preserve the family legacy.
While this 'take no prisoners to achieve your goal' credo has no place in everyday society, it's perfect for dynasty football. Except, you are using whatever strategies necessary (and within the rules) to bring home championship gold.
In this week's Dynasty Diatribe, I'll use two quotes from the man himself to give my own, unfiltered advice so you can achieve the goal of Tywin Lannister:
[am4show have='g1;' guest_error='sub_message' user_error='sub_message' ]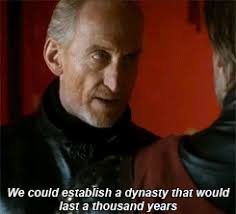 Part I: "A Lion doesn't Concern Himself (or Herself) with the Opinion of the Sheep."
The sensitivity of the fantasy football community when it comes to making trades has reached a fever point. Whether it's the false notion any trade which appears to benefit one team over the other needs vetoed or owners throwing out baseless collusion claims, the madness must be stopped. Most often, there's no impropriety at all in play, just one owner is much smarter than the other and got themselves a great deal.
No Red Wedding (Collusion)
Before I give my no-holds-barred opinion on trading, I need to be frank and clear. I am absolutely, 100% against any kind of collusion whatsoever. If you offer any monetary compensation or goods to complete a trade and/or are making secret arrangements with a fellow owner, you are truly scum! I hope you get caught and ceremoniously kicked out of the league. That is all.
The Trade Veto: A Move of Cowardice
I'm going to save the dynasty Twitter community, as well as many popular fantasy analysts who are constantly retweeted, some time. If a trade is completed with absolutely no evidence of collusion then it has no reason to be vetoed. Period. If you are jealous of another owner acquiring a player at what you see as a tremendous value; tough. Your envy is not a justifiable reason to block a trade from being completed. The trade veto has gone from being an important safeguard against shady fantasy shenanigans to a crutch for the weak, simple-minded owners in any league.
The fantasy football landscape is filled with these jealous cowards who sometimes don't even try to conceal their sinister intentions. Most often, these sorry souls will hide their selfish motives behind phrases like "for the integrity of the league," when in reality their only concern is stopping your team from improving. They are the true villains of this sport and hopefully are only the minority voice in your league. If they represent the majority and non-colluding trades keep getting voted down, ripcord out of that situation immediately!
Shop Around before Making a Final Deal Where Applicable
Many believe the "winner" of any fantasy trade is the team who receives the best player in return. While I somewhat subscribe to this notion, it isn't quite as black and white in dynasty trading. A rebuilding team will most often give up one of their best players to a title-hungry contender in return for a bevy of future building blocks. It is critical for the rebuilding owner to receive maximum value in the deal as they are most often trading their best asset. I found myself in a similar situation with an orphan roster this summer which included off-season darling Jerick McKinnon.
I sent a message to the entire league informing them McKinnon was on the block and was contacted by a contending owner who offered a 2019 first and second. I told my potential trading partner I liked the deal, but had to do my due diligence before accepting. I sent another league-wide memo stating I had received an offer (did not list the specifics) and if anyone wanted to beat it they better act quickly. The opposing owner was less than pleased I sent that message, but was even more agitated when I told him I accepted an offer of a 2019 first round rookie pick and Duke Johnson over his proposal.
I was told to "enjoy my Duke prize," and I'm guessing by the tone of his direct message it was not sincere. Look, I never said our trade was a done deal and then backed out. Had I made that statement, his anger would have been justified as that's one of the mortal sins of trading. I've been raised in a capitalistic economy and, just like pricing out a new television, I ensured I was getting the best deal. I apologized at the time, but now realize I had no reason to be remorseful.
Other owners will be angry they are not receiving a player they coveted and try to intimidate you. Never succumb to these pressures and only do what's best for your dynasty roster.
Part II: "Some battles are won with swords and spears, others with quills and ravens."
First and foremost, let me be perfectly clear about one thing. Fantasy football is not a war nor am I comparing making Sunday lineup changes on my porcelain throne to the countless sacrifices made by the brave men and women of our United States military. I thank all of them from the bottom of my heart for their service in keeping us safe in this dangerous world.
This quotation from our anti-hero, in reference to fake football, simply means it's the minute details or actions we take which can influence our successes and failures. The smart and savvy dynasty owners are able to think outside the box and give themselves every advantage when attempting to barter with league mates.
Place Trade Chips in Your Starting Lineup before Negotiating
This may sound like a cheap parlor stunt, but a recent deal where I forgot to take this action was met with "you're just trying to trade me scrubs off your bench." Yes, I was offering him Sony Michel in early October, and at that moment, Michel was not going to earn a starting spot over Alvin Kamara, James Conner, or Joe Mixon. This other owner was 0-4 and I simply wanted to say to him "I'm sorry my team isn't terrible like yours," but I controlled my emotions and resisted the urge. This move only takes a few seconds but strengthens your negotiating power as your trading partner believes you are sending them a starter as opposed to a backbencher.
Take Advantage of the Low Hanging Fruit
In the 1998 poker movie Rounders, Matt Damon's character gives some invaluable advice to dynasty degenerates: "If you can't spot the sucker in the first half hour at the table, you are the sucker." Now, by being a DLF premium member and following the analysis of the smart minds on this site, I'm confident you are not the aforementioned sucker. However, it is important you find this person in your leagues and use their dynasty ineptitude to your advantage.
Please, don't read this as "send out terrible trade offers," as this will not only offend the other owner, but could also leave you saddled with a reputation which will impede your ability to get any deal done with anyone. I'm also not advocating preying on those who are new to the dynasty format, though I couldn't fault anyone for hitting accept on any trade offers received.
These soft trade targets mentioned in the above paragraph normally have a significant amount of dynasty experience but let frivolous outside factors incorrectly influence their player evaluations.
Control Your Fandom Emotions and Know Your Opponents' Biases
(Again, before airing out my strong feeling against a football team from this particular city, I want to offer my sincerest thoughts, prayers, and condolences to all of the victims and their families of Saturday's synagogue shooting. This despicable hatred and violence have no place in our great nation and there are many ways you can help.)
I discussed this very topic several weeks ago, but it bears repeating. It is imperative for a dynasty owner to leave all prejudices of his/her fandom out of the day to day operation of their squad. While overpaying for a player from your favorite team is not recommended, it's probably more important to not dismiss adding players from those teams you despise.
The level of hatred which consumes my body every time I have to witness an indignant Steelers' fan waving their atrocious rag is real. The Browns losing their 15th straight game in Heinz Field on Sunday with those bedwetting cleanup devices as the backdrop only fuels my anger. Still, if someone sent me a reasonable offer this morning to acquire JuJu Smith-Schuster, James Conner, etc. I would not hesitate to accept the deal. In fact, I've been riding both of the above Pittsburghians in my most crucial home redraft league.
There are also instances where one of your opponents is a fanboy/fangirl of a particular player or conversely has an irrational hatred towards someone else. As my articles profiling Austin Seferian-Jenkins and Sammy Watkins might suggest, stubbornness regarding specific players is my biggest weakness in fantasy football. The only way to overcome these biases, much like my hatred of the Pittsburgh Steelers, is to not only acknowledge these feelings but ensure they don't cause you to make foolhardy dynasty decisions. Don't overspend on a favorite or give away your Sammy Watkins for pennies on the dollar while simultaneously working to pull off this feat on your opponents.
Control your Partisan Emotions and Exploit Others Who Cannot
This suggestion might be controversial, but this issue is not going away anytime soon and needs to be discussed. In these politically contentious times, it is critical for dynasty owners to not allow their partisan feelings to affect their fantasy football decisions. I fully support players, coaches, etc. on both sides of the aisle using their celebrity platform to exercise their first amendment right to free speech. Yet, any dynasty football participant who can't separate their political ideology from the goal of winning a championship is an easy mark.
An owner who was offended by Alvin Kamara's post game clothing choices a few weeks ago or is still upset over Tom Brady's friendship with President Trump must be exploited. Most often, these facts won't be enough for you to acquire a player at an extreme discount, but could be the final push these men and women need to make a deal which benefits you. Things have been thankfully quiet on the politics and athletics front lately, but with the midterm elections less than two weeks away, I doubt that continues. Use the mass hysteria from both sides of the aisle to improve your dynasty roster.
Yes, I exclusively support one party over the other (I'm not telling!), but I use this fake football game we all love as a fun distraction from the political bitterness. When it comes to fantasy football… I. Do. Not. Care. about any player's political affiliation! Literally, the only requirement for a player to join any of my dynasty squads is their ability to produce fantasy points on a week-to-week, consistent basis either right now or in the immediate future (next season). That's it! Finito! The most successful dynasty participants only care about an athlete's off-field actions as to how it will affect their availability on gameday (read: unable to play due to suspensions, internal team punishments, etc). Either use these paragraphs as leverage over your social media political warrior leaguemates or consider it an intervention if this analysis hits a little too close to home.
Conclusion
Some might not care for some of the tactics described in this article and to once again quote Gone With the Wind: "Frankly my dear, I don't give a damn." I only give a damn about one thing… Giving you the tools for your dynasty team to bring home the 'Ship. I believe the suggestions above accomplish this goal. If you disagree, reach out to me on Twitter or in the comments below and "I wish you good fortune in the wars to come."
[/am4show]
Josh has been playing fantasy football since 1995 when he was 10 years old helping his grandfather. Josh played only in redraft leagues until recently when someone told him dynasty fantasy football could feed his addiction year round. Now he's hooked! Outside of fantasy football, Josh loves having his heart broken by Cleveland professional sports teams, quenching his thirst for travel with his wife, and taking long walks with his four-legged best friend Roosevelt. Give him a follow on Twitter @joshbrickner.
Latest posts by Josh Brickner (see all)