Saturday was destined to be a day where we saw the season end for a lot of players. After all, teams had to be down to 53-man rosters by 4:00 (make sure you check out our player news page for the latest). Some tough cuts had to be made and many players where destined to see their dreams come to an end or at least be dealt a significant blow.
Instead, the biggest news come out of nowhere.
Out west, on the final play of practice for the 49ers, Jerick McKinnon's season also came to an end. However, San Francisco didn't cut their prized free agent running back whom they signed to a four-year, $30 million dollar contract this off-season.  Instead, McKinnon made a cut up field and fell to the ground in pain with the dreaded non-contact knee injury and just like that, his season ended before it began. His MRI showed a torn ACL this evening and he will be placed on injured reserve, ending his year. It's a brutal blow for a player who had just returned to the field after straining his calf muscle earlier in the preseason. Where do the 49ers go from here and what kind of dynasty impact does this have? Let's explore the dynasty ramifications for all players affected by this injury.
[am4show have='g1;' guest_error='sub_message' user_error='sub_message' ]
Alfred Morris, RB SF
The 49ers signed Alf on August 13th when the running back position was hit hard with injuries. Morris has history with head coach Kyle Shanahan from their time together with the Washington Redskins. In fact, Morris' best statistical seasons in the league were produced under the guidance of Shanahan. During their two years together (which were Morris' rookie and sophomore seasons), he totaled 2,885 rushing yards with 20 touchdowns on the ground and also posted 20 catches for 155 scoreless yards. For comparison's sake, in the four years playing for someone other than Shanahan, Morris has totaled just 2,615 yards rushing with 19 touchdowns. While I don't expect them to be able to go back to the good ol' days, I do think the familiarity and trust they have with one another is going to pay dividends. It's no secret Morris has limitations in the passing game but the Niners were never going to be a bell cow offense, even with McKinnon. Morris is likely going to be the guy on first and second down and, most importantly, the goal line. The third down work will likely come from Matt Breida (more on him in a bit).While it doesn't really move the needle for Alfred Morris' long-term dynasty value, it does immediately make him a viable low-end, short-term RB2 / strong flex play for 2018. If he's on your league's waiver wire, you need to add him immediately. Barring injury, I wouldn't be surprised to see Morris crack 900 yards and post eight to ten touchdowns. Expect his ADP to rise from the dead after this injury.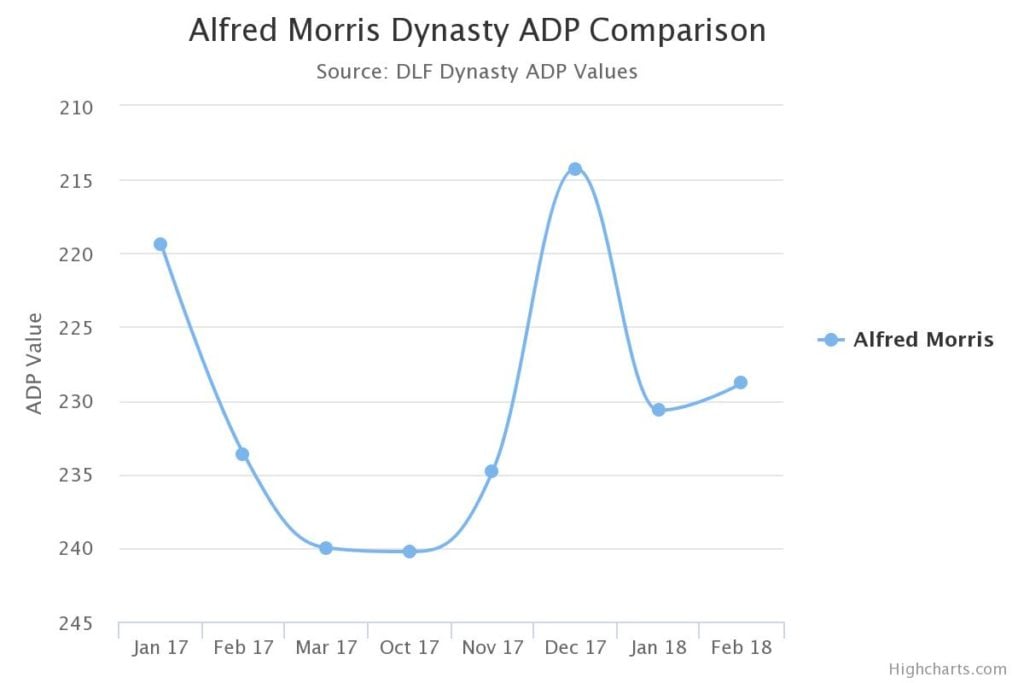 Matt Breida, RB SF
While this doesn't alter this season's outlook for Breida all that much, it does give him a slight boost. He was already slated to play some third downs and get a few drives per game in a committee attack – this will open the door for him to possibly get an additional drive each game and sprinkle in more on early downs. With a healthy McKinnon, albeit a rarity, Breida was looking at a matchup dependent flex play because McKinnon didn't have to come off the field in passing situations. With Morris now taking the early carries, Breida could be the Duke Johnson of the NFC. While we're all drinking the Kool-Aid of Kyle Shanahan and Jimmy Garoppolo, this defense isn't ready to put the offense into a lot "kill the clock" scenarios. They're going to need to score points to win games and while Breida might not get a lot of opportunities at the stripe, he will get enough work to now be considered as a low-end RB2 in those favorable matchups. Breida would have less to worry about if the Niners decide to add a running back.
Raheem Mostert / Jeremy McNichols / Kyle Juszczyk, RBs SF
Prior to McKinnon's injury, McNichols was released but could be brought back for depth purposes. He's an interesting prospect but a long shot to make an impact. Raheem Mostert was the player who beat out McNichols for the final running back spot but would need another injury to happen before seeing meaningful playing time. Kyle Juszczyk is a fullback with sure hands who pops up from time-to-time but his 2015 season in Baltimore when he scored four touchdowns makes people think he's the next Peyton Hillis. He isn't.
Jerick McKinnon, RB SF
As I mentioned earlier, the 49ers signed McKinnon to a four year, $30 million dollar contract. However, NFL contracts are never as fruitful as the reported numbers. Essentially, this contract was a one-year, $11.7 million dollar "prove-it" deal with a $5.5 million dollar roster bonus due if he was on the roster when the 2019 league year began. San Francisco had no problem using their abundance of salary cap to lure McKinnon to the bay but they structured it in a way where they can release him after the season without a major financial impact should they choose. I was personally excited to see what McKinnon could do in an offense designed to maximize his abilities but I don't know if it's going to happen now and I really don't see it happening in San Francisco. I believe he will be cut next off-season as soon as he can pass a physical. If he has a future with 49ers, I believe it'll be as a backup to a rookie or another free agent. I just don't see much of a future in an oft-injured SPARQ standout coming off a major knee injury. His ADP peaked in July at 30.83 overall, a massive 200 spots higher than it was 12 months earlier. I don't know where drafters will take him in September's mocks but I expect it'll be somewhere in 160 range, at best. If I have him, I'll stash him on my league's injured reserve but this isn't a case like Derrius Guice where I'm going to try acquiring him on the cheap.
My closing advice: hold if you must, sell if you can, buy if you're a gambling man.
Follow me on Twitter @OlingerIDP.
[/am4show]
Latest posts by Eric Olinger
(see all)