This article is one installment of a series in which I use my Observational Rushing Numbers to shed light on just how good the 2017 rookie running backs were at carrying the ball. You can find each previous article about these numbers on the series's hub, including similar articles about Leonard Fournette and Joe Mixon.
I could spend plenty of words talking about Alvin Kamara's meteoric rise. But that's not the purpose of this article. In short: Kamara's NFL career began as a third-round pick and, within one year, he rose to gain Offensive Rookie of the Year status and climbed into the first round of startup drafts. It's incredibly easy to see why these two things happened: He ran for an eye-popping, league-best 6.1 yards per attempt and added 826 yards in the passing game. Today, I'll be looking into the former achievement and examine how Kamara turned 120 carries into 728 yards by consulting my Observational Rushing Numbers.
(I've taken these tracking stats from Weeks 1-14 for each rookie running back with at least 75 carries. If you're wondering what any of the stats mean in a fuller sense, check the series glossary.)
At a glance
Four Big Stats and Class Radar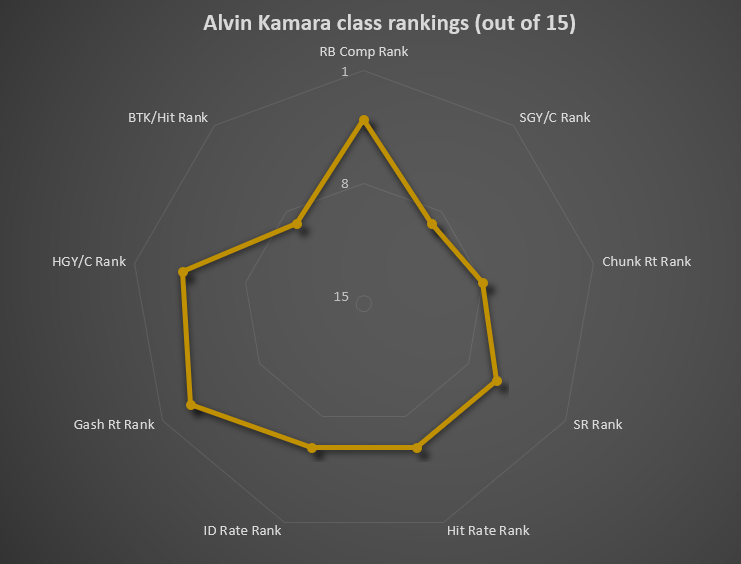 As the table and graph show, Alvin Kamara was basically a jack of all trades, master of none in the running game. He was perfectly solid at hitting holes (what Success Rate measures), which provided a level of consistency necessary to take advantage of what a superb offensive line (more on this later) offered. In terms of generating yardage, Kamara was both dangerous in the open field (what HGY/C measures) and above-average when left to his own devices (what SGY/C measures), despite ranking ninth in the class:
PREMIUM MEMBERSHIP REQUIRED
Gain Instant Access to this article and much more.
Join DLF with a Monthly Subscription or Annual Membership.
Or, open a DraftKings account for only $10 and receive a full year DLF PREMIUM FOR FREE!
Join DLF Premium
Already a DLF Premium Member?
Log in now
Want more info about DLF Premium?
Find out more
Have questions or need some help?
Contact Us
An aspiring sports executive, Steve hails from Kansas City and currently studies in Montreal. In addition to fantasy and the NFL, he enjoys college football and the NBA. Other interests of his range from video games to hip-hop to online argumentation. Reach out to him on Twitter @stephengill_ts.
Latest posts by Stephen Gill (see all)