August 30th, 2016 is a day that will live in infamy for Minnesota Vikings fans and Teddy Bridgewater's dynasty owners. On this day, it was reported that Teddy dislocated his knee, tore his ACL, and had multiple other structural knee injuries. It was also the day that his dynasty value plummeted worse than Donald Trump's approval ratings.
Diagnosis
Knee dislocation is a horrific injury that represents less than 0.2% of all orthopedic injuries and involves a likely "dashboard" mechanism of injury. The knee dislocation or Tibiofemoral dislocation is one of if not the most severe injuries in sports. It's the equivalent to being involved in a car crash and the lower portion of your leg below the knee (Tibia) runs into the dashboard of your car. Not only is this the mechanism of injury, but also the description of his diagnosis and prognosis for playing football in the future – a car wreck.
A dislocation of the knee involves many possible pathologies including damaged muscular tissue, tears to tendons and ligaments, as well as other nerves and blood vessels. The damage depends on whether the injury is an anterior or posterior dislocation.
In Teddy's case, he tore his Anterior Cruciate Ligament (ACL) which functions to prevent the lower leg from moving forward. Without a surgical repair of the ACL, Teddy would not be able to run and cut, drop back and plant, as well as make snap pocket presence decisions like he is known for. Luckily no other ligament or tendon tears were reported, although they may have undergone some trauma.
[am4show have='g1;' guest_error='sub_message' user_error='sub_message' ]
Other soft tissue structures associated with this type of injury specifically involve the popliteal artery and the common fibular nerve.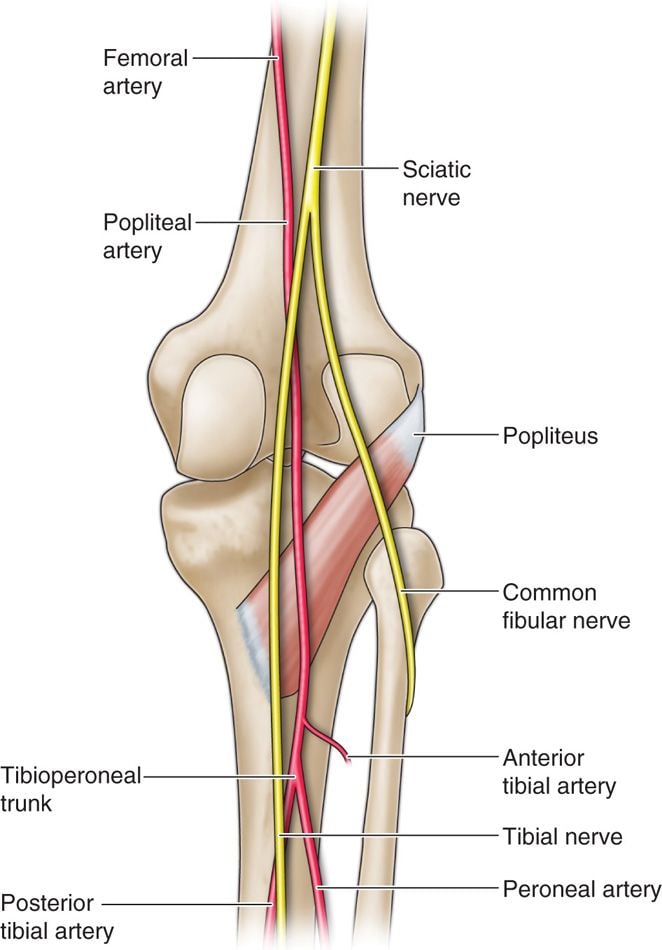 These structures provide blood flow, sensation or feeling, and contraction of some lower leg muscles. With damage to either structure, Teddy would not be able to feel portions of his lower leg or be able to use key muscles while running. If considerable damage was done to multiple structures, it puts the entire leg at risk for having to amputate it. With damage to the common fibular nerve, he would demonstrate foot drop which is the inability to raise your foot during walking or running. That would essentially end the former Minnesota Vikings quarterback's career (unless you are lucky like Jaylon Smith, linebacker for the Dallas Cowboys). Moral of the story: big shout out to the Minnesota Vikings head athletic trainer for not only saving Teddy's career, but possibly saving his leg.
Time Frame for Return to Sport
This injury is much more serious than simple kneecap dislocations which would involve a much less lengthy timetable for a return to sport. There is not a lot of data on the injury with NFL players simply because it is so uncommon and there are several variables with the injury as far as severity. Therefore, guidelines for return to play are lengthy and depend greatly on the amount of damage to the neurovascular, ligamentous, and nervous structures, the treatment protocol (surgical and rehabilitative), and the dedication level of the athlete in rehab. Many protocols note 18-24 months for a complete return.
Prognosis
While the return to physical activity prognosis may be good, the return to sport prognosis is poor. Returning to a high, competitive NFL level is even worse. If his goal were to return to his Tuesday night bowling league, I would consider taking him first overall. Taking the risk to have him as my franchise quarterback would be a different story. Since a knee dislocation is such an uncommon injury, there are few statistics or examples of athletes returning at a high level or even returning at all for that matter. The only example that comes to mind would be Marcus Lattimore, who didn't last more than two years in the NFL post-injury.
There are many unknown factors with Teddy B's knees, such as the type of dislocation, amount of soft tissue and ligamentous damage, his surgery technique and graft type, as well as his current deficiencies. All entail giant question marks as to whether or not he will return to his past self.
Current ADP
Teddy currently has an ADP of 229 in a traditional startup draft for dynasty – putting him at QB32. In dynasty 2QB leagues (Superflex), he comes in at an ADP of 141. Quarterbacks in that same range include Jacoby Brissett, Sam Bradford (don't get me started on his knees), and DeShone Kizer. This group is 'pick your poison' as far as backup quarterbacks go. I wish the absolute best for Teddy and that he could one day regain a starting QB gig, but I would not put any money on it.
Dynasty Impact
Recently, Teddy's former coach Mike Zimmer expressed his concern with the health of his former quarterback noting that the training staff still had reservations about his status. Bridgewater's once-promising ascending career is now a giant question mark with his value ranging from at best a late-round flier in dynasty superflex, to a mere worthless roster placeholder in standard dynasty. Don't get me wrong, I am the biggest Teddy supporter and a massive Minnesota Vikings fan, but I do not foresee Teddy playing an integral role as a startable quarterback in fantasy football in the near future.
[/am4show]
Latest posts by Spencer Laufmann
(see all)