The Minnesota Vikings finally have a franchise quarterback?  Wait. What!?! I feel a sense of relief washing over me like one of those old Herbal Essences commercials from back in the day (I apologize for the visual). As a lifelong Vikings fan, I don't care if we overpaid. I don't care if Cousins is #elite. I'm just thankful to stop the quarterback carousel that's been going on in Minnesota basically my entire life. Hallelujah! Can I get an amen!?! So enough about me being a fanboy – let's cut to the brass tax and get down to the facts and dynasty analysis.
Kirk Cousins has agreed to a three-year, $84 million deal with the Minnesota Vikings. This is a historical precedent for not only quarterbacks but for all players league-wide. A fully guaranteed contract like this one is the first of its kind in the NFL. It will be interesting what affect this will have on other contracts going forward. Doug Baldwin called Cousins a" hero" for all of the young players that will follow after him. We've seen so many of these massive multi-year deals hidden by the language behind them, giving teams an out along the way.
[am4show have='g1;' guest_error='sub_message' user_error='sub_message' ]
Kirk Cousins is a hero for all the young players that will follow after him. Now we need more players to bet on themselves until fully guaranteed contracts are the norm and not the exception.

— Doug Baldwin Jr (@DougBaldwinJr) March 13, 2018
Some people love to hate on Kirk Cousins, saying his stats are inflated, he didn't win enough games, he didn't elevate the players around him, or that he's not worth this kind of money. All we dynasty players really care about is winning fantasy championships and Cousins is likely going to get a bump in value with this new landing spot. Let's take a look at some impressive stats from over the past three seasons that make me believe he's locked and loaded as a QB1 in dynasty:
Cousins fantasy finishes in PPG QB12 (2015), QB6 (2016), and QB8 (2017)
Only QB in the NFL to have at least 4,000 yards, a passer rating above 90 and at least 25 TDs a year in the past three seasons
Fourth in passing yards averaging 4,400 yards
Eighth in passing TDs
Fifth in total TDs
Third in completion percentage
Fourth in yards per attempt
11 game winning drives (led the league with four game winning drives in 2017)
41 rushes for first downs
We had a debate on "The Open Bar" podcast last night about who we would rank ahead of Cousins in dynasty and between myself, @EliotCrist, @Paeno, @grabbagfantasy and @JMicCheck – we concluded that we would most likely only take six quarterbacks ahead of him. They, of course, would be Aaron Rodgers, Carson Wentz, Russell Wilson, Deshaun Watson, Cam Newton and Jameis Winston. Cousins is currently the QB13 in DLF's March ADP but I think we're about to see a nice bump in April.
You can listen to the full episode here: Open Bar Podcast
In Washington, Cousins had some nice offensive weapons over the years, including Pierre Garcon, DeSean Jackson, Jordan Reed, Jamison Crowder, Vernon Davis, Ryan Grant and Chris Thompson. He's also had a bottom feeder defense, no real running game, an injury plagued offensive line and an organization that never showed him faith or commitment. Minnesota will easily give him his best supporting cast he's had in his career.
Now with OC John DeFilippo, I expect a more aggressive downfield attach offense in Minnesota. We saw DeFilippo as the quarterback coach in Philadelphia help elevate Wentz into an MVP candidate and get the most out of his replacement, Super Bowl MVP Nick Foles. Many are expecting Cousins fantasy number to remain on par with what he's done the past three years or even regress, while I for one expect his numbers actually to increase due to his improved offensive weapons and coaching staff.
Cousins is currently the QB13 in March ADP. In 1QB leagues, I'm not paying a high cost for the position but in super flex or 2QB leagues, Cousins immediately becomes worth a high first round rookie pick consideration. I'd be willing to pay up to the 1.02 to get him in those formats if I'm in desperate need of a signal caller.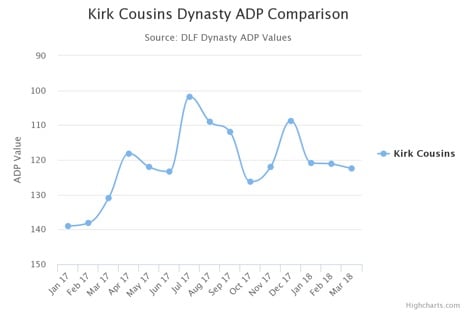 Now let's take a look at how the Cousins signing affect the offensive weapons in Minnesota:
After finishing the 2017 season as the WR9, Thielen continues to be a value in dynasty leagues. He has shown he can produce with basically any quarterback and just got a potentially huge upgrade at the position. He's currently the WR18 in March DLF ADP and continually devalued in trades. Turning 28 in August and being a UDFA has created and maintained a buying window. Let's take a look at some recent trades involving Thielen:
Diggs has flashed elite upside during his first three years in the league. He got all the way up into the top 15 overall in DLF ADP back in October after his monster start in 2017. If he can stay healthy, I think he has a chance to get back into that first round startup range once again. I do prefer Thielen from a consistency, durability and value standpoint but Diggs has youth on his side.
I personally have big concerns about Diggs' repeated soft tissue injuries and ability to stay on the field. The Cousins signing should only help Diggs' value and his current ADP is already at WR12. I have been advocating selling high on Diggs for over a year now. You might want to wait until he has a monster game or has a good start to the season (like he seemingly does every year) to sell at his peak like we saw last October.
Rudolph was been a solid but not glamorous tight end the past few years. Even in 2016 when he finished the year as the TE2, his ADP was at TE12 the following offseason. This past year he finished as the TE8 on the year and his current ADP is TE10. Rudolph always has doubt digit touchdown upside and you love that at the tight end position which showed us to be a disaster after the top four to five last year. He could be due for some positive regression and might be a good trade target if you need help and don't want to pay astronomical prices at the position.
Cook flashed in his first four games of the season last year and showed he could be a potential RB1 in dynasty before tearing his ACL. All signs show he will be back for off-season activities and that's good news for his outlook in 2018. Cook in all likelihood is the least affected by the Cousins signing but you would imagine he would benefit from both positive game scripts combined with Jerick McKinnon leaving to the 49ers in free agency. Although Dalvin isn't a great receiving back, he's shown capable of adding value in that area. Cook is currently the RB8 in ADP and I think that's just about right.
Thanks for checking out my latest article! I'm always up for some dynasty talk! You can find me on twitter @NFLDraftTalker.
[/am4show]
Latest posts by Jake Anderson
(see all)