Hi everyone and welcome to the fantasy off-season. It was a wild ride in 2017 and I'm still recovering, but there's no real off-season in the dynasty world. In the summer I made projections for every IDP in the league I thought would be relevant. You can go back and read all of the 2017 IDP Projections here.
I was right in some places. I was wrong in some places. But either way, it's important to be accountable and honest so I can figure out why and make adjustments in the future. I'll be going through every team and noting where I was right and where I was wrong. To do that I'll show what my projections were, how players actually performed, and how big the discrepancies were.
[am4show have='g1;' guest_error='sub_message' user_error='sub_message' ]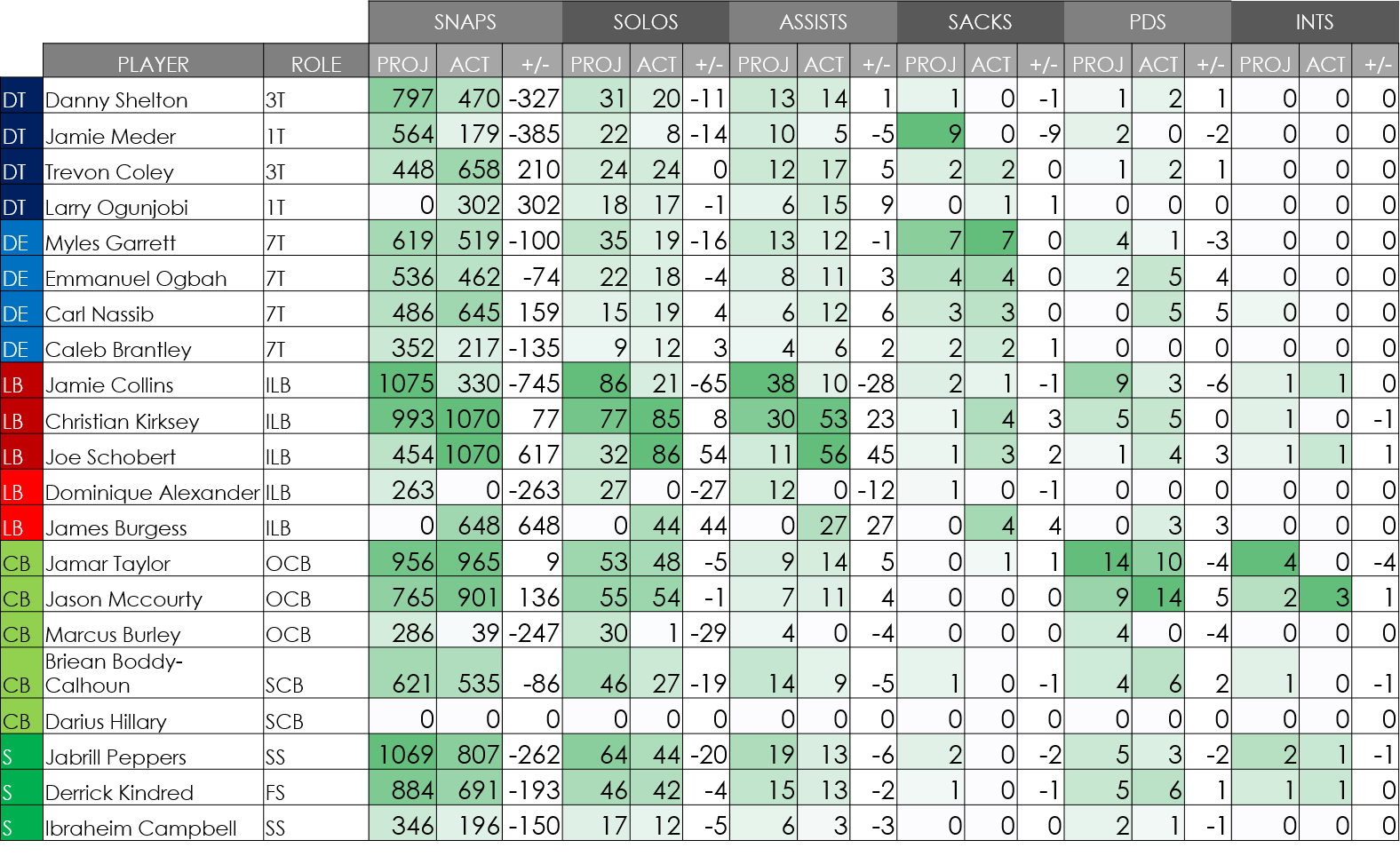 Defensive Tackle
This was one of my biggest errors of the whole season. Let's go through it. I was convinced the Browns would manage to elevate one of their interior rushers to an elite level in terms of pressure. I tried putting various players into that spot and ended up with Jamie Meder as my prediction. It didn't matter who I said it was because it was flat out wrong. The error lies in me sticking too close to the process and ignoring facts. With Gregg Williams taking over, I thought the team would be a carbon copy of his Rams defense. Of course, the Browns didn't have anyone close to Aaron Donald, anywhere on the field.
I could go through and pick out some good predictions here, but ultimately the whole unit rode on one prediction that was very far from reality.
Defensive End
This goes down again as a bit of a failure in understanding the overall scheme. I think I just underestimated Williams' willingness to rotate edge rushers.
My Myles Garrett projection was actually pretty good. I was one out on assists and bang on with his seven sacks. But I was also well over on solos. I expected 35 from the rookie and he managed just 19. Normally, that's a volume issue, but he played just 100 fewer snaps than I expected. He was just pretty inefficient when it came to making tackles.
I was far closer with other ends. With Emmanuel Ogbah I was out by just four solos, three assists, and three PDs. I was bang on with his four sacks.
I was good on Carl Nassib too. He managed four more solos, six more assists, and five more PDs. Again, I was bang on with sacks.
Linebacker
In the theme of this team, I again made a scheme error here that cost me accuracy. I thought Williams would deploy his usual (and leaguewide standard) 4-2-5 nickel base. In reality, it was a very strange unit. He kept three LBs on the field virtually the full season. The Browns gave 271 more snaps to inside LBs than any other team in the league with 3,118. The difference between the second team (the Raiders with 2,847) and the fifth team (the Bengals with 2,621) was just 239. The Browns were a crazily high base team – although given modern offenses, they did use the third LB very flexibly, by him lining up on the edge and in the slot a lot.
That in itself wasn't insurmountable, but I made another error. I thought Jamie Collins would be one of the two orthodox LBs. He was not. Whilst he was fit he was moved around a lot and spent a significant time as a pass rusher or in coverage in the slot. That meant he was never likely to reach the numbers I set for him. Him getting hurt simply put an end to my ongoing wrongness.
With Collins doing his thing, it left two traditional LB spots to fill. We all had Christian Kirksey in one of them (as did I), but I underestimated him. He came up with eight solos, 23 assists, and three sacks more than projected. His PDs were bang on, but it's too little too late.
The other spot was won by Joe Schobert in the preseason and he had an amazing year. He played 1,070 snaps (only three LBs played more than that), 86 solos, 56 assists, three sacks and four PDs. I predicted none of that. Fortunately, I did snag him from the waiver wire in most of my leagues but that's not the same.
Lastly when Jamie Collins got hurt James Burgess stepped in. I kept waiting for the bottom to fall out, but he actually did fairly well. It is worth noting that both Collins and Burgess had extremely low tackle efficiency numbers. Collins managed a tackle on 9.4% of his snaps with Burgess on 11%. As a comparison, Schobert and Kirksey were both up around 13%.
Cornerback
Finally, some success! I had Jamar Taylor and Jason McCourty as the Browns' top corners and they held those roles down whenever fit. My numbers were pretty good too.
With Taylor, I predicted 53 solos (he managed 48), nine assists (14), 14 PDs (10) and four INTs (zero). I had McCourty down for 55 solos (he managed 54), seven assists (11), nine PDs (14) and two INTs (three).
Taylor not managing a single interception was tough to see, but apart from that, I think those were excellent numbers across the board. Taylor wasn't the top corner in IDP that I thought he'd be, but he was certainly startable all year.
Safety
This position was a bit of a mixed bag. I was very close on one player and quite far out on another.
Let's start with the good news: Derrick Kindred. I had him down for 46 solos (he managed 42), 15 assists (13), five PDs (six) and an INT (bang on). Any time the total inaccuracy across four stat categories is a single figure number you're doing it right.
Jabrill Peppers was the other end of the spectrum, unfortunately. I'm going to blame this one on Gregg Williams too. Given Peppers' skillset, I thought the Browns would come up with some creative scheming to really show off his abilities. In reality, he lined up 25 yards away from the line of scrimmage in what Williams called the "angel" role. This seems bizarre to me even now. In that role, he understandably found it really tough to make plays and I was thus pretty low in most cases. He managed 20 fewer solos than I thought he would, six fewer assists, two fewer sacks, two fewer PDs and one less INT. Some of those are fine but the solos number is tough to swallow.
In summary
This was not a great team for me I'm afraid. I made a major error at tackle, misunderstood the LBs entirely and had a big error at safety. It wasn't all bad but I'm not proud of this one.
The question for the off-season will be "how much does Gregg Williams stick with his wrinkles?". Will he stick with the three LB usage? How often will Peppers be stuck stranded away from the action? Will he trust Myles Garrett to play full time or keep him fresher in a rotation? There should be another major influx of talent so it'll be fascinating to try and predict.
Thanks for reading.
[/am4show]
Latest posts by Tom Kislingbury
(see all)