In an effort to apparently ruin both fantasy and real football at the same time, the Patriots have signed restricted free agent running back Mike Gillislee to a two-year, $6.4 million offer sheet with $4 million reportedly due in 2017. The Buffalo Bills have until Monday to match it and choose to either pay big money to a backup running back or lose him and receive a fifth round draft pick as compensation. Neither of those options seems too palatable for Buffalo but such is life when you play in a division with the Patriots when they have a Super Bowl trophy and salary cap room to go along with it.
While not exactly a "poison pill" of a contract, it was clearly designed to make it extraordinarily difficult for the Bills to match it by Monday and retain the services of Gillislee. In fact, reports are already surfacing that indicate the Bills are not going to give in and instead will receive the fifth rounder from New England as compensation (though that's far from a done deal and conversations are still being had). This would mark the second year in a row where the Bills would lose a restricted free agent to New England as Chris Hogan was lost in a similar situation last season. It seems clear the Bills overplayed their hand in negotiations with Gillislee as tendering him for just $1 million more would have forced a team to give up a second round pick as compensation instead. If the Bills fail to match the offer and Gillislee ends up with New England, this will have far-reaching ramifications beyond the Bills just looking like they have egg on their face.
[am4show have='g1;' guest_error='sub_message' user_error='sub_message' ]
The Patriots backfield would be a hot mess, there's really no other way to put it. Consider that over the past year, there were no fewer than four different backs you could make a serious case for being "the one you wanted" in New England. After all, Dion Lewis was super productive and a PPR dynamo until he got hurt. LeGarrette Blount was then an absolute touchdown machine and helped many dynasty teams reach the playoffs. He then gave way to James White in the playoffs, who was the Super Bowl hero and seemingly a player on the rise. That fire was quickly extinguished this off-season when New England recently signed Rex Burkhead and paid him more money than any running back they've had since 2010. Sure, that's not confusing or unpredictable.
Enter Mike Gillislee? Really!?!
The chart below shows all these backs and their volatile ADP data and that could get worse before it gets better.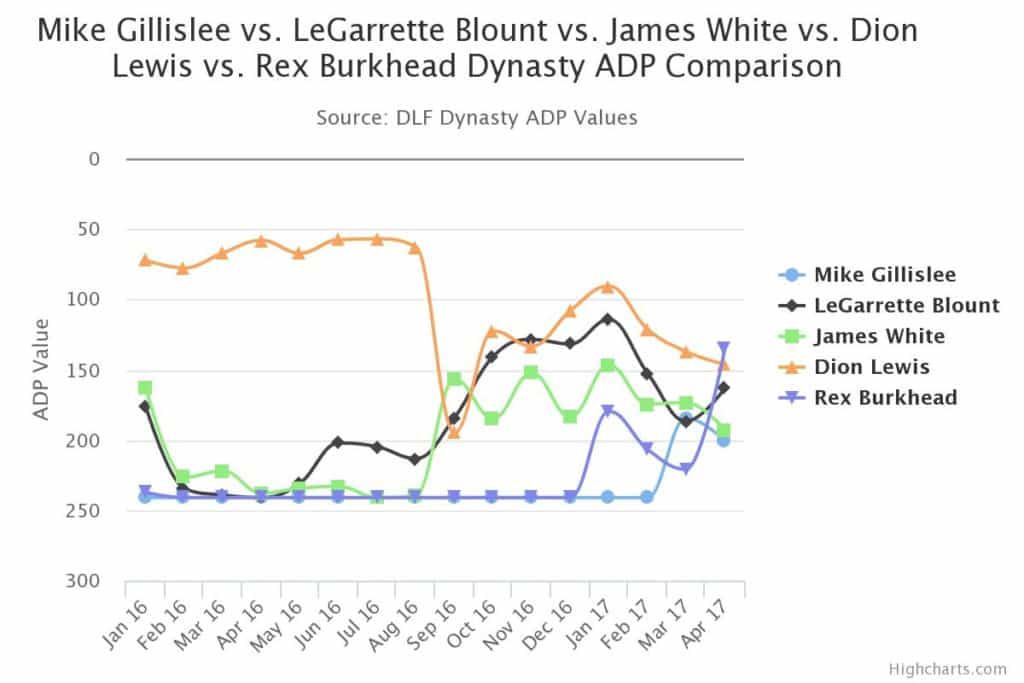 The weekly performance of this backfield would be clearly impossible to predict with Gillislee added to it. My best guess would be Gillislee getting the majority of the early down work with Burkhead mixing in as needed. White and Lewis would both be used as change of pace backs and in passing down situations. Brandon Bolden and DJ Foster would be on the chopping block and LeGarrette Blount would look to be signing elsewhere. From a real football perspective, this would give New England a stable of running backs who are versatile and effective – players you can mix and match depending on your opponent and the package of plays you want to use to attack them. In reality, this makes perfect sense. In fantasy, this would be incredibly tough to navigate and borderline infuriating. My bet is Gillislee would have the most value but would anyone really feel comfortable starting any of these players on a week-to-week basis? Just when you feel comfortable with Gillislee, the game plan is going to change the next week and Lewis or White are going to catch 12 passes or Burkhead is going to get the majority of the work. If this transaction goes through and the Bills don't match the offer sheet, I believe the values of every New England running back decrease, including Gillislee, who was looking like the next primary back for the Bills.
In Buffalo, they'd have to circle the wagons yet again. LeSean McCoy is the obvious starter and bellcow but Gillislee was great as his backup last season, rushing for 577 yards and eight touchdowns on just 101 carries. They would undoubtedly look in the draft for another runner to join Jonathan Williams, Mike Tolbert and Joe Banyard (who I've personally always liked as a deep sleeper but is now amazingly 28 years old). In fact, Buffalo would quickly become an intriguing destination for a running back in the middle rounds as they'd be again looking for the heir apparent to McCoy.
We'll stay tuned to the situation and give you updates as needed. If you have a running back on the Patriots, you're undoubtedly hoping Buffalo matches. Of course, they'll probably respond to that by bring back LeGarrette Blount and moving up in the draft to take Leonard Fournette just to make your life miserable again.
[/am4show]

Latest posts by Ken Kelly
(see all)