Low points in production are normal and happens in just about every sport. The ebbs and flows of success can also translate to other professions like the stock market, sales and factory work. There are only 16 games in an NFL season, creating a relatively low sample size to evaluate a player's efficiency in their current setting – this makes it easy for fantasy owners to overreact when a player's production dips during a string of games.
Amari Cooper is currently marked as the scapegoat in the fantasy football community by laying duds in each of his last four games. In weeks two through five, he has accumulated just 16.6 fantasy points, equating to a dismal 4.15 fantasy points per game average. From a fantasy perspective, he was more than competent in week one against the Tennessee Titans, but he had three botched plays in a row in the end zone, causing him to miss out on his second scoring opportunity. Cooper also had some key drops in week four against the Denver Broncos that also left a sour taste in some people's mouths.
Trades are flying left and right with fantasy owners selling off Cooper for assets that are currently deemed less valuable, but will increase their weekly point totals. Some owners are panicking thinking the sky is falling, causing them to sell him now just in case his trade value drops to zero in the near future. Both are very understanding reasons to why a fantasy owner would want to trade away Cooper. Are fantasy owners overreacting by overestimating the importance of his current slump?
[am4show have='g1;' guest_error='sub_message' user_error='sub_message' ]
Cooper entered the league after an impeccable three-year career at Alabama where he caught 228 passes for 3,463 yards and 31 touchdowns. He was considered an elite can't miss wide receiver prospect during his inception into the league. He was very productive from the get-go, eclipsing 70 receptions and 1,000 receiving yards in each of his first two seasons.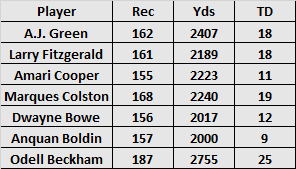 The table above displays all wide receivers who accumulated at least 150 receptions and 2,000 receiving yards during the first two seasons of their career. All the wide receivers listed here are extremely talented and some of them might end up in the Hall of Fame in the distant future. This table provides a better depiction of how productive Cooper was during his first two seasons in the league. His production compares with some of the best wide receivers to have played in the last ten years. With that being said, he already has demonstrated that he can put up high-end numbers on a consistent basis.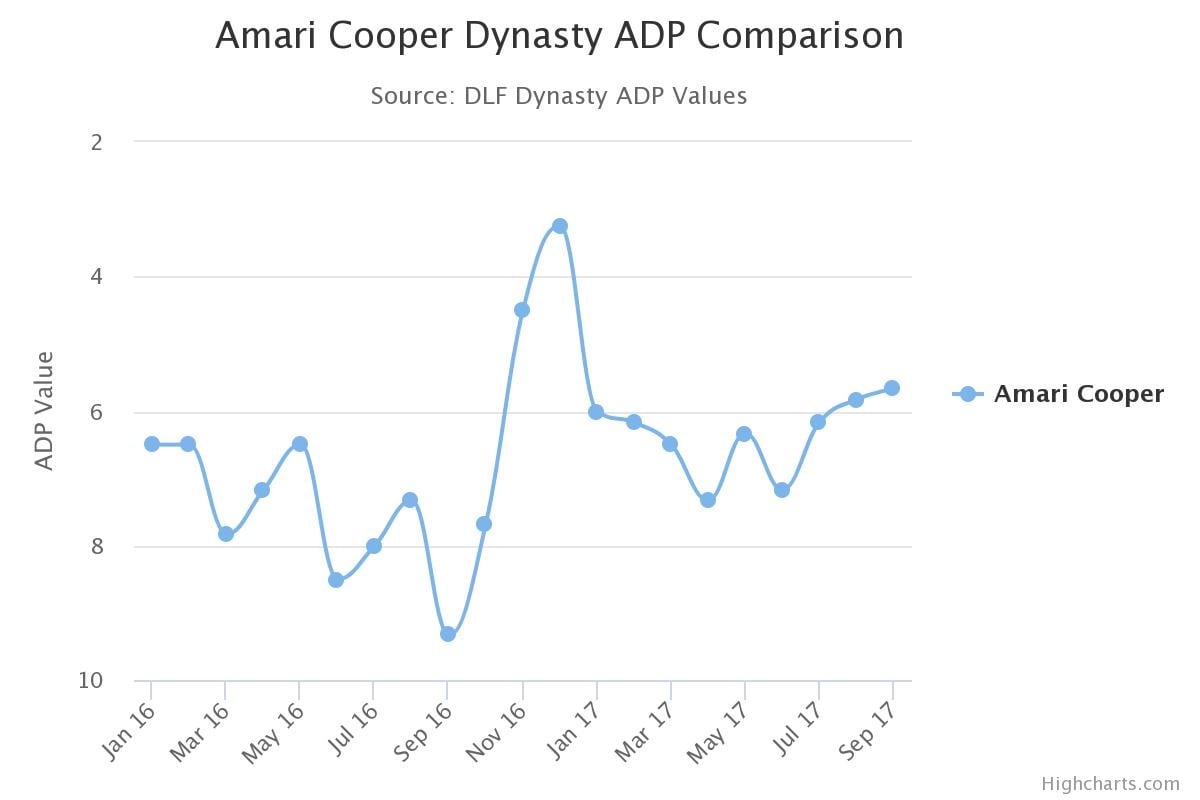 According to historical dynasty ADP, Cooper has been a prized asset in dynasty for the last 20 months. With his ADP creeping as high as 3.25 in December of 2016 and his ADP dropping to a low of 9.33 in September of 2016. If anything, this shows how volatile a player's value can be in dynasty. A player's ADP can easily rise and fall a few spots in just a couple of months.
With Cooper being valued as a top-ten pick in the last year and a half, could he have been overvalued during that time span? Obviously, his value is going to take a significant drop due to his play in the last four weeks, but that doesn't mean his value won't catapult back up to the top of the ranks if he regains his old form and finishes the year putting up WR1 numbers.
Cooper's price in dynasty is either regressing to the mean or just hitting a little speed bump. If his value is regressing to its true value, then the obvious choice would be to sell now before his trade value drops even more. However, if he can turn his season around in the next few weeks or even months, then the dynasty owners who sold him at a discounted rate are going to quickly regret their decision.
There are always variables that come into play when it comes to factoring a player's regression. Cooper has been playing through a knee injury this season that has been annoying him since training camp, causing him to either participate on a limited basis or completely miss practice. There's a good chance that his knee issue could be slowing him down which would be the main reason why he would be producing less than optimal fantasy points.
Oakland's entire offense has been in a funk lately, ranking 30th in the league with 279.2 total yards per game while also ranking 26th in the league with 188.6 passing yards per game. Cooper's recent decline could partially be due to the inefficiencies from the entire offense that are out of his control. E.J. Manuel started last week at quarterback for the Raiders due to Derek Carr being out with an injury. Manuel completed just 55 percent of his passes and showed zero chemistry with Cooper.
Carr is expected to be back in the lineup this week against the Los Angeles Chargers and if both of them can regain their old form, then Cooper could easily right the ship and salvage his season. However, Cooper and Carr played together in weeks one through four and even then, Cooper still didn't live up to our expectations. Either way, something needs to change soon, or it could be a lost year for Cooper.
Dynasty is a game of patience and recency bias is the devil. Making quick reactions due to a player's performance during a short time span could be a mistake that sets an owner's dynasty team back a few years. A month of poor play is a very small sample size in the grand scheme of things, especially when the player has demonstrated that they can be productive on a consistent basis.
Current owners should hold Cooper with a tight grip and not sell unless the deal is right. I wouldn't sell for much less than what you originally paid for him. He is presented as a massive-buy right now on the trade market due to the drop in his perceived value. Every owner in dynasty should float at least one offer to the Cooper owner, trying to buy him at a discounted rate. He's only 23 years old and is still a very talented player. Trading him away right now at a reduced premium is the wrong thing to do. Think about it this way, even if his poor-play continues, there's always going to be a buyer willing to trade for him. There's no harm in holding him to see if he regains his value.
[/am4show]
I'm a financial counselor for a hospital in South Central Ohio. I graduated from Muskingum University with a bachelor's in business while minoring in Economics and Accounting. I won my first fantasy football title with Jake Plummer as my quarterback.
Latest posts by Bruce Matson (see all)