It's just September, but there are already six rookies in the top 50. Six!
It's an exciting time of year (I think I say this no matter what time of year it is). The group below has already reshaped the dynasty marketplace, but will soon be reshaping the balance of power in many dynasty leagues.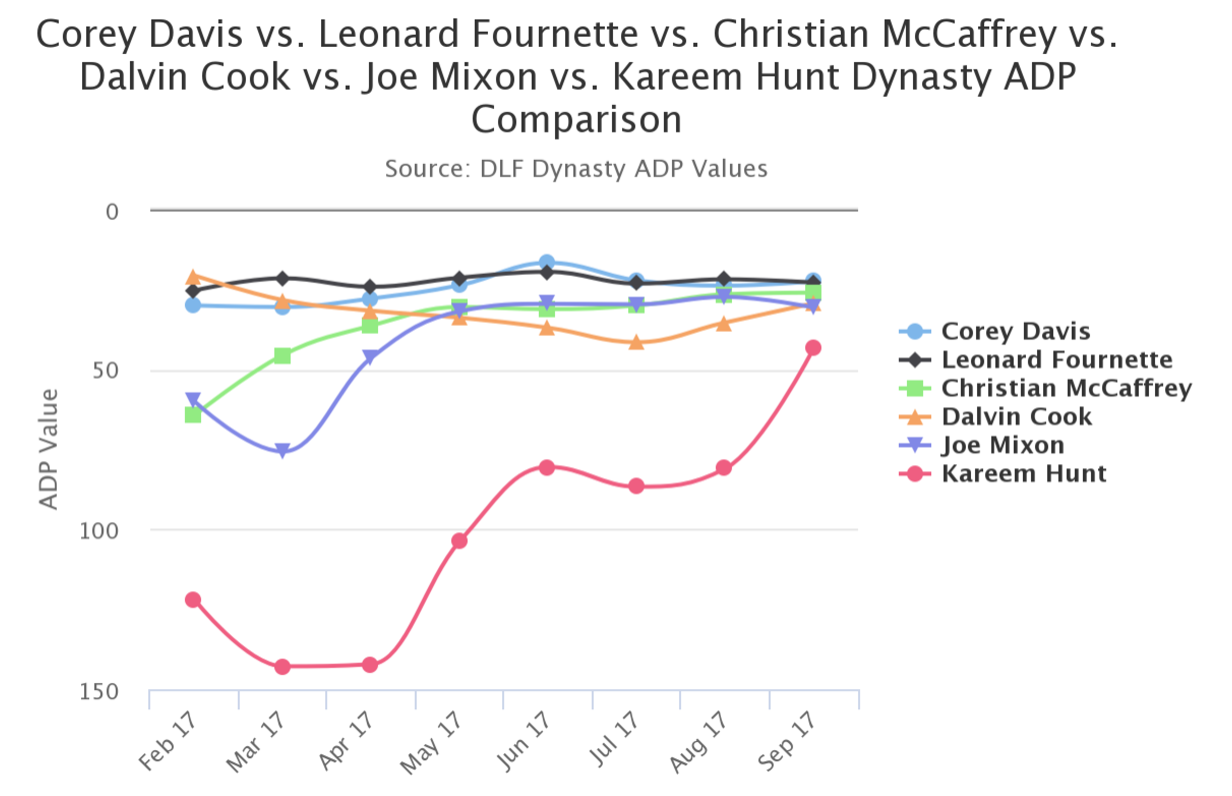 The ADP above was collected before a snap was played in the 2017 NFL season. The top five in this graphic are old news at this point. We've become accustomed to the idea that it takes top-three round value to land one of these players. However, that red line sky rocketing toward the rest, Kareem Hunt, is about to bust right into the middle of the that top five and wreak even more havoc. I fully expect him to be in the top 36 of October ADP.
I talk about ripple effect a lot. It's because every time any player has a significant change in value, it means another player (or group of players) is affected in the opposite way. As you might expect, this many younger players bull-rushing the top 36 has cause some veterans such as Demaryius Thomas and Lamar Miller to fall throughout the off-season. It's not just those types of players who have seen their values suppressed, though.
Rookie fever ripple effect is suppressing the value of two young, pre-prime wide receivers who warrant strong buy-consideration.
PREMIUM MEMBERSHIP REQUIRED
Gain Instant Access to this article and much more.
Join DLF with a Monthly Subscription or Annual Membership.
Or, open a DraftKings account for only $10 and receive a full year DLF PREMIUM FOR FREE!
Join DLF Premium
Already a DLF Premium Member?
Log in now
Want more info about DLF Premium?
Find out more
Curtis is a Senior Writer, player ranker, and host of The Player Rater Podcast here at DLF. Other than winning, his primary focuses in dynasty football are player valuation and exploiting the market. Curtis doesn't just manage his own portfolio, he also helps manage and strategize for hundreds of subscriber teams in the Dynasty Command Center, a joint venture with DLF Team Lead, Ryan McDowell. Curtis also publishes redraft and DFS analysis at Pro Football Focus.

A healthcare executive by day, Curtis is also a husband, father to three kids, and coach to many.
Latest posts by Curtis Patrick (see all)