It's just September, but there are already six rookies in the top 50. Six!
It's an exciting time of year (I think I say this no matter what time of year it is). The group below has already reshaped the dynasty marketplace, but will soon be reshaping the balance of power in many dynasty leagues.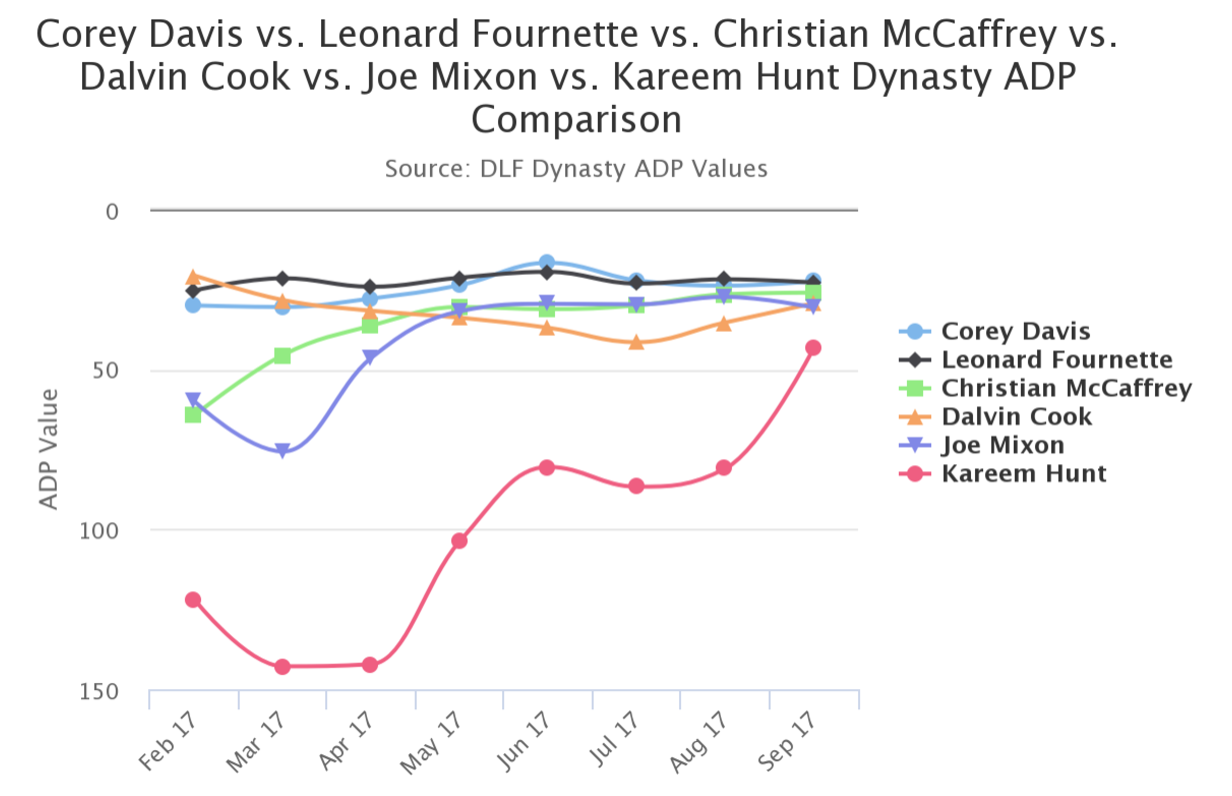 The ADP above was collected before a snap was played in the 2017 NFL season. The top five in this graphic are old news at this point. We've become accustomed to the idea that it takes top-three round value to land one of these players. However, that red line sky rocketing toward the rest, Kareem Hunt, is about to bust right into the middle of the that top five and wreak even more havoc. I fully expect him to be in the top 36 of October ADP.
I talk about ripple effect a lot. It's because every time any player has a significant change in value, it means another player (or group of players) is affected in the opposite way. As you might expect, this many younger players bull-rushing the top 36 has cause some veterans such as Demaryius Thomas and Lamar Miller to fall throughout the off-season. It's not just those types of players who have seen their values suppressed, though.
Rookie fever ripple effect is suppressing the value of two young, pre-prime wide receivers who warrant strong buy-consideration.
[am4show have='g1;' guest_error='sub_message' user_error='sub_message' ]
Jarvis Landry
To say Landry is an underappreciated dynasty asset would be the understatement of the year. Is he a bona fide alpha WR1? Absolutely not. But, the game has changed in the past decade. Players like Wes Welker have shown that you don't have to be a highlight reel machine to offer sustained fantasy production. Landry has been stuck in a relatively vanilla offense since he entered the league, and hasn't had much to speak of in the way of quarterbacks either. Even still, he managed 288 receptions in the seasons.

Landry is only 24 years old, has second round draft pedigree, has never missed a game, and has never been suspended. He's essentially been a WR1 for two consecutive seasons. He's being valued with an ADP of 38.6! I strongly believe that if you showed most dynasty players those three fantasy finishes and told them a player was only 24, they'd tell you he was a blue-chip dynasty asset. Not Landry, though.
In the title, I implied that I think the two players this article is about will see their values rise again soon. Why do I believe this is the case with Landry? It's the time of year we actually need player to score points for our teams. There's been so much talk about DeVante Parker adding a downfield dimension to the offense, and that he's a similar size to other targets Jay Cutler has favored throughout his career. So, what's the worst-case scenario for Landry? Parker breaks out, commands WR1 treatment and target share, and the team otherwise runs the offense though Jay Ajayi.
In a scenario like that, Landry still probably finishes as a top-36 wide receiver. He's an unrestricted free agent after the season. If Parker breaks out, it would be a shock to see the team use the franchise tag on Landry if he is no longer a primary weapon. In that worst-case scenario, Landry probably becomes a 25-year-old free agent with around 4000 receiving yards to his name in a league that grows more pass-happy every year. If he leaves Miami, there's aren't many worse places he could end up from an opportunity standpoint. In a realistic best-case 2017 scenario, Landry remains the primary receiver in Miami and turns in another borderline WR1 season.
Does any of that lead you to believe his value will drop much more? In the worst-case scenario, Landry's value will gain a head of steam in the off-season when he signs with a new team and people start projecting his new volume ceiling. What if he lands in an ideal spot with a strong quarterback in a high-volume passing offense that could use a strong number two? In the best-case scenario, he would just gain that value back during this season and there would be no waiting period.
There have been 24 dynasty trades involving Landry in September. Some of them are pretty eyebrow-raising.
Jarvis Landry for Marshawn Lynch
Jarvis Landry for Chris Hogan, 2018 second round pick, 2018 third
Jarvis Landry for Matt Jones, 2018 first, 2018 fourth
Jarvis Landry and Kenny Britt for DeMarco Murray and Darren Sproles
It's a great time to bet on Landry.
Donte Moncrief
Moncrief doesn't have nearly the production profile of Landry. In his three years, he's shown us he can be an effective red zone threat, but has been overly reliant on touchdowns for fantasy production. Moncrief qualifies as a "tantalizing potential" dynasty asset. If he can just stay healthy. If his quarterback can just stay healthy. Also just 24, and a free agent after this season, we aren't really looking for him to leave his current situation. This season is also already shaping up to be another one that will cause dynasty owners to excuse away an unreached ceiling due to Andrew Luck's extended absence.
Why do I think Moncrief's ADP has probably reached near bottom? He hasn't really ever put it all together, but he's still a top five round startup pick. He was in the top-24 as recently as January 2017. All it will take is one big game with Luck, or a streak of several reasonably productive weeks to recoup a significant portion of his lost value to-date. We have seen this exact scenario play out with DeVante Parker. Buying Moncrief right now presents little risk from that point of view, but there is potential for immense gains in a short period of time.
There have been 11 trades involving Moncrief in September. Just as we saw with Landry, some of the deals are shocking.
Donte Moncrief for Charles Sims and Jeremy Maclin
Donte Moncrief and Tavon Austin for Marvin Jones and Brandon Marshall
These are irresistible prices for another young player with a strong chance of accruing value in short order.
[/am4show]
Latest posts by Curtis Patrick
(see all)