Name: Kenny Golladay
Position: Wide Receiver
Pro Team: Detroit Lions
College Team: North Dakota Fighting Hawks (2012/2013) Northern Illinois Huskies (2015/2016)
Draft Status: Round Three, No. 96 Overall
Age: 23.7
Video Highlights
Combine Review
Height: 

6'4''

Weight: 

218 Pounds

Hands: 

9 3/4''

Arm Length: 

32''

Bench Press: 

18 Reps

40-Yard-Dash: 

4.50 Seconds

3-Cone-Drill: 

7.00 Seconds

20-Yard-Shuttle: 

4.15 Seconds

Vertical Jump: 

35.5 Inches

Broad Jump: 

120 Inches
Strengths
College production is the greatest indicator of future success for wide receivers, and Kenny Golladay's 43% receiving yard market share in his final season is tied with Zay Jones for best among drafted rookie receivers. His 40% receiving touchdown market share is fourth. As has been mentioned frequently over the last couple months, he caught passes from five different quarterbacks during his two seasons at Northern Illinois, yet he still managed a 30.8% receiving yard market share over his four-year college career. Golladay has a size advantage at 6'4'' and 218 pounds, making him an excellent end-zone target and explaining his remarkable touchdown production in college. Furthermore, he impressed at OTAs, which has caught the eye of those who initially overlooked the third rounder.
Weaknesses
[am4show have='g1;' guest_error='sub_message' user_error='sub_message' ]
Kenny Golladay is old for a rookie at 23 years old by the end of last season. It's entirely possible his production in college was due to bullying younger defenders as opposed to true talent. Furthermore, Northern Illinois is not exactly a breeding ground for successful NFL wide receivers. Only three receivers from the school have been drafted since the turn of the century, and until Golladay, no NI receiver in the school's history was ever drafted before the fourth round.
Opportunities
It's difficult to name anyone on the Lion's receiver depth chart after Golden Tate, Marvin Jones and Kenny Golladay. Anquan Boldin has moved on (though there still remains the possibility he returns.) It should be no surprise that Golladay has begun training camp as a top-three receiver. On the Lions, that's significant: The team had three receivers on 75% of their plays, fourth most in the NFL. The absence of Boldin's eight touchdowns means there's touchdown opportunity up for grabs as well.
Threats
Many are predicting a breakout season for tight end Eric Ebron, which would put a big dent in Kenny Golladay's production. It's possible that despite not being a red zone threat last season, Ebron takes over that role left behind by Boldin. There have also been reports that running back Theo Riddick will be utilized in the red zone more often, further minimizing Golladay's impact.
Short-Term Expectations
Despite the void left behind by Boldin and the lack of competition after Tate/Jones, Kenny Golladay is facing an uphill battle to fantasy relevance in his first season. He will be on the field often as the third receiver, so his snap total should be high. It's unreasonable, however, to expect Golladay to immediately replace all of Boldin's 67/584/8 line. In fact, the Lions rank in the bottom third in rookie receiver opportunity, meaning there's just not enough room for Golladay to make a big impact without an injury to someone else. Boldin's line from last reason becomes Golladay's short-term ceiling. Factor in a likely increase in production for Ebron and Boldin's red zone targets potentially going elsewhere, and it becomes more likely Golladay does not make a major fantasy impact in his first season.
Long-Term Expectations
Golden Tate is a free agent after two more seasons, and more importantly, Marvin Jones can be cut after next season for almost four million in cap savings. After the first five weeks of 2016, Jones was the overall fantasy WR1, but fell of the map completely from week six onwards. If his 2017 season looks more like the latter than the former, there's a good chance he is no longer with the team in 2018. There's clear long-term opportunity for Golladay to cement himself as a top-two wide receiver on an offense that passes often, which would drastically increase his fantasy production.
NFL Comparison
It's a dangerous exercise to compare rookies to NFL players, since it's tempting to use elite players as comparisons and avoid busts entirely. So when I make NFL comparisons for rookies, I look for all players that were similar prospects regardless of what those players have done in the NFL. There aren't many recent close comparisons to Golladay using production variables and draft capital. In fact, most receivers with Golladay's production were drafted much sooner. If athleticism is also factored in, Player Profiler likens Golladay to Quincy Enunwa, and I agree. Both are big receivers who are fast for their size and possessed high touchdown production in college.
There's also this lofty comparison:
When Kenny Golladay has the nickname Babytron by Week 5, remember this tweet.

— JJ Zachariason (@LateRoundQB) May 18, 2017
Projected Range for Rookie Drafts
After barely registering a top-60 ADP prior to the NFL draft, Kenny Golladay's rookie draft ADP shot up to 37 in May and 31 in June. Presently he clocks in as the twentieth rookie taken on average in July startup mocks, which translates to a late second round rookie ADP. The other rookie wide receivers with ADP in the late second and early third also share a third round NFL draft capital with Golladay, so it's worthwhile to quickly compare them all to see if Golladay belongs in that range: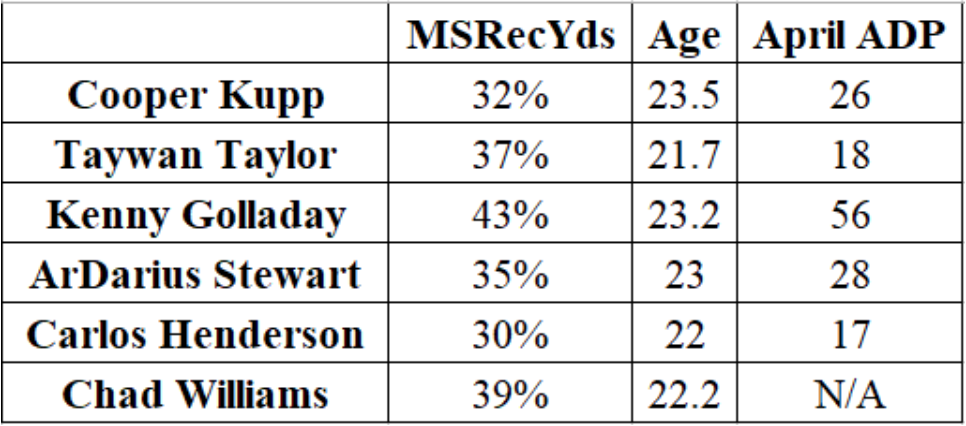 Ages are as of December 31st 2016, and April ADP is included to determine how many of these players with current late second/early third ADP were already in that range before the NFL draft. Despite Golladay's advanced age, it lines up with most of the group and he has the highest final season receiving yard market share. Along with Chad Williams, he saw a huge bump in ADP after the NFL draft, and it appears justified based on the comparisons. Choosing a receiver to draft from this pool of players in the late second comes down to which factors you favor most in a prospect: Production, athleticism, age, opportunity, etc. If you like receivers with big college production, a reasonable path to snaps in their rookie season with the possibility of climbing the depth chart shortly after, Golladay is a fine choice in the late second or early third of rookie drafts.
[/am4show]
Latest posts by Nick Canzanese
(see all)