Anyone who follows me on Twitter knows I pump out a load of nuggets about players and top tens in the stats I like to track.  One of my core tenets is that it's very, very hard to remain at the very top or bottom of efficiency metrics in the NFL.  The circumstances that go into being an outlier are simply too tough to recreate across years.  I've just finished building my core dataset out to include all 2015 as well as 2016 so I wanted to look at whether that is true.  Can players manage to stay at the top or bottom across seasons?  Obviously two seasons doesn't necessarily prove it either way but it'll be really helpful in determining how much we can predict using these numbers about 2017.
Test subjects
Rather than talk about this in abstract terms, I wanted to use real-world player examples to show how players can move around.  So first I want to look at a few different players to see what happened to them. To do this I picked a bunch of players from the top of my head who were good performers in one of those seasons at least.  This is the list of examples I've picked:
Obviously ten players is quite a deep dive so I'll be covering six here and the coming back to defensive backs shortly.
[am4show have='g1;' guest_error='sub_message' user_error='sub_message' ]
Danielle Hunter
I've been saying that Hunter can't keep up his efficiency as a pass rusher because it was so high in 2016.  Let's see if I was right shall we?
Hunter played 392 snaps in 2015 as a 21-year old.  He increased that to 598 in 2016 as he became one of the top pass rushers in the league.  Needless to say that's a fairly low number.
Here's how he plotted against all sack efficiency across both seasons:
As you can see, he's had two excellent years so far.  We'd expect that – he's a good player and 19 career sacks by age 22 is impressive.  So both years are good, but how good?  This is the top ten players in 2015 for sack efficiency:
A pretty impressive start for Hunter to manage ninth spot as a rookie.  Here's the same chart for 2016:
And even more impressive to finish second as a sophomore.  I'm already revising my opinion.  He's been top ten in efficiency twice in a row.  Why not again?
Ziggy Ansah
Let's look at another example shall we?  Ziggy Ansah was joint second in the NFL in 2015 with 15 sacks and had a 2016 to forget.  Let's see if we can explain that at all.  This is how he charted for sack efficiency in the two seasons:
Now this is exactly what my hypothesis is.  Any season where efficiency is amazing is likely going to be followed up with something more average.  Injuries played a part, but Ziggy was pretty bad in 2016.  No doubt many of you were surprised and frustrated by this but I think it was predictable.  Let's see how he charted efficiency-wise shall we?
Ziggy was second in 2015.  An outstanding season and we all thought one he could build on.  In 2016 it looked like this: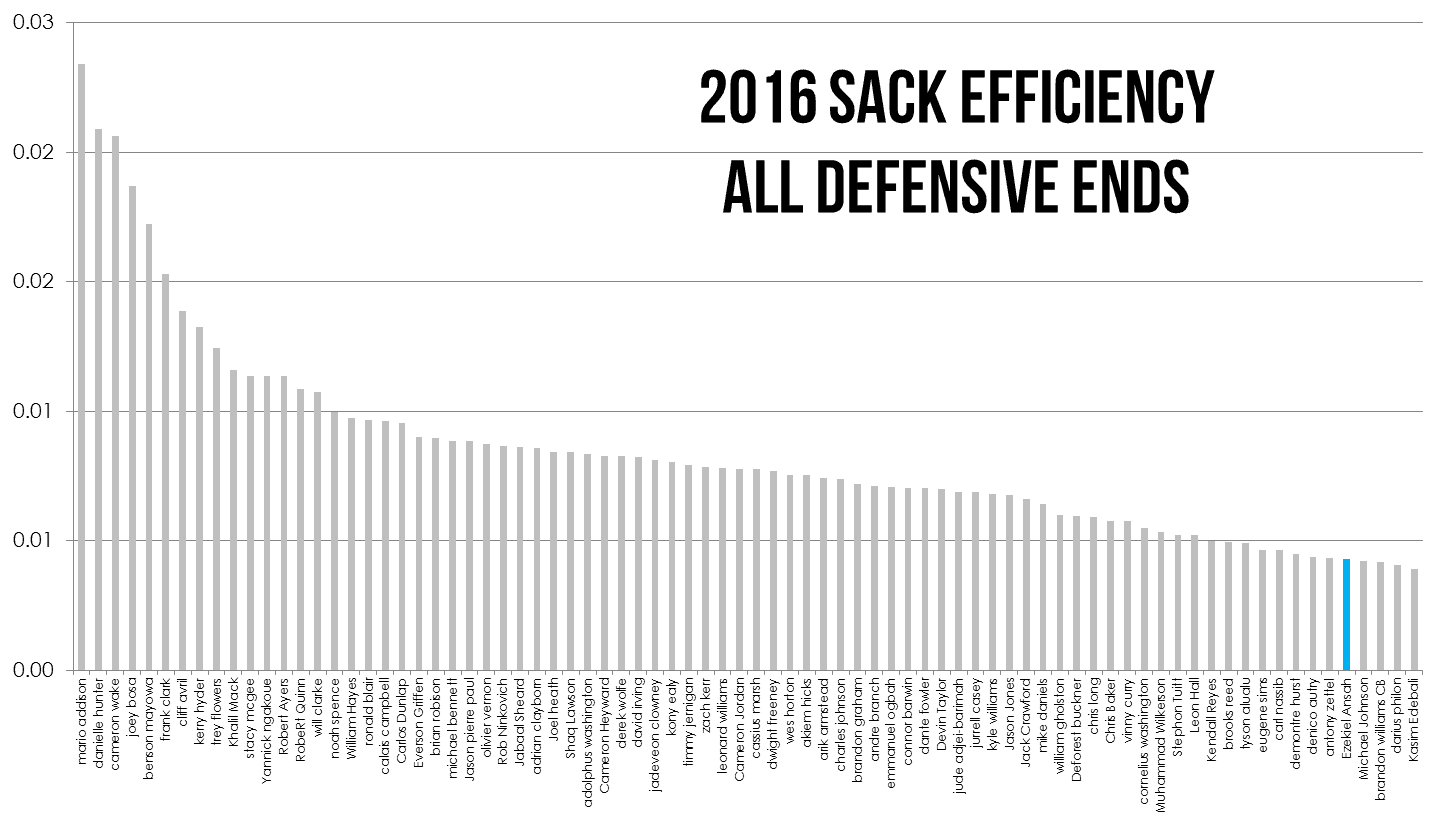 He was the 76th most efficient pass-rushing defensive end.  That's some fall.  I'm not saying that's typical but every time someone tells you Joey Bosa can't help but get better feel free to pull this information out.
Telvin Smith
Smith has been a top-ten linebacker in each of the last two seasons in most formats.  But the argument has always been about whether it's his talent that produces or simply his situation.  Let's see what we can see.  Here's combined tackle efficiency across both seasons:
Well that's some consistency isn't it?  Pretty much bang on in terms of recreating his 2015 season last year.  We'll see if he can do out in a different defense but that is the picture of stability.
Vontaze Burfict
From reliability to a maverick.  For all his boneheadedness Burfict was outstanding for a good chunk of 2016.  Let's see how he charted shall we?
The volume clearly increased with Burfict playing around 200 snaps more but the efficiency was pretty similar.  Burfict for all is flaws is a guy who consistently manages to make tackles when he's on the field.
Snacks Harrison
Let's get to the big fellas shall we?  Harrison was very good in 2015, earned a ginormous contract as he switched from green to blue in New Jersey and then kicked on to have an awesome season in 2016.  Let's see how that charted:
That is incredible.  Just amazing.  Both seasons he's been absurdly productive.  Let's look at his top tens:
Humph.  Turns out it is possible to be the number one in an efficiency metric in two seasons straight.
Ndamokung Suh
So Big Snacks did amazingly well to maintain his 2015 productivity but he's a run-stuffer.  I wanted to look at a pass-rushing interior lineman.  Aaron Donald will be an interesting study too but let's look at the man with the silliest contract in the NFL – Ndamokung Suh.  Here's his pass-rush efficiency chart across both seasons:
Again pretty darn similar.  Suh rarely leaves the field and is still a productive pass rusher.  The Dolphins must be keen to get as much value from his $74m per season contract as they can.
Suh finished 18th and 29th respectively.  He was remarkably consistent but 2016 just saw better interior pass rushing on the whole.
And with that I end part one of this article.  To be honest my initial thought that very high efficiency isn't repeatable is a bit shaken at this stage.  Some players have definitely managed it.  Of course, I deliberately looked at very good players so it's not that representative.  It might be that players like Hunter, Snacks and Smith are exceptions rather than the norm.  We'll find out in the next edition!
[/am4show]
Latest posts by Tom Kislingbury
(see all)