This is the third installment of the Dynasty Stock Market, focusing on my recently updated positional rankings at this early point in the 2016 NFL season. Today I'll focus on the wide receivers and unlike quarterbacks and running backs discussed in the previous two editions, I spend a huge amount of my fantasy resources, be it draft picks, auction dollars or blind bidding waiver money, on adding as many talented receivers as possible. I have over 20 dynasty teams and all are built around the receiver position, so I spend a huge amount of time thinking about how I value the position and the specific players who man this spot. Here are my current rankings at the wide receiver position:
[am4show have='g1;' guest_error='sub_message' user_error='sub_message' ]
Tier One
WR1 Odell Beckham, NYG (23 years old)
WR2 Allen Robinson, JAX (23)
WR3 Amari Cooper, OAK (22)
WR4 Mike Evans, TB (23)
WR5 DeAndre Hopkins, HOU (24)
WR6 Antonio Brown, PIT (28)
WR7 Julio Jones, ATL (27)
WR8 Brandin Cooks, NO (23)
WR9 Sammy Watkins, BUF (23)
WR10 Dez Bryant, DAL (27)
WR11 AJ Green, CIN (28)
This top tier, unlike the quarterback and running back positions, is a deep one. This large group of talented players has helped make the heavy focus on wide receivers such a viable strategy for the past few years. I am very anxious to see how this group evolves as players like Antonio Brown, Julio Jones, Dez Bryant and AJ Green "age out" of the elite group.
It'll be a surprise to see most Brown and Jones, considered top three wide receivers by most dynasty players, listed further down my rankings. That goes back to my strategy of building around young players. If I'm starting a new league, I would not be comfortable with a 27 or 28-year-old player as my cornerstone player. I know many would disagree with that, and I understand that strategy, as well. Personally, I would rather opt for a younger player who I can build around for years to come.
This tier is largely unchanged for me since the season began, with the exception of Saints wideout Brandin Cooks moving up into the top group. Even though quarterback Drew Brees has spread the ball around to his key pass-catchers this season, Cooks has still shown to be an elite option and is one of the youngest players in the game.
Tier Two
WR12 Alshon Jeffery, CHI (26)
WR13 Jarvis Landry, MIA (23)
WR14 Stefon Diggs, MIN (22)
WR15 Corey Coleman, CLE (22)
WR16 Donte Moncrief, IND (23)
WR17 Keenan Allen, SD (24)
WR18 DeVante Parker, MIA (23)
WR19 Jordan Matthews, PHI (24)
WR20 TY Hilton, IND (26)
This second tier obviously still has a lot to offer, though many of these players haven't proven enough to move them into the top tier. I've really changed my valuation of several of these players over the past few weeks, including moving Stefon Diggs way up my rankings. I've been very impressed by him and considering he also put up big numbers a year ago, to the surprise of many, he has shown enough to be considered among the top 20 wideouts in dynasty leagues.
Jarvis Landry and Jordan Matthews are two other players I've been moving up my list. They are "boring" players who don't get much hype in the off-season, but they are both among the league leaders in fantasy points through three games.
Finally, Keenan Allen is the one player who has really moved down in this tier, and that is obviously due to his season ending injury. Despite the injury and the perceived loss of value, he is still a player I would be targeting in dynasty leagues with an eye towards 2017.
Tier Three
WR21 Will Fuller, HOU (22)
WR22 Sterling Shepard, NYG (22)
WR23 Kelvin Benjamin, CAR (25)
WR24 Randall Cobb, GB (26)
WR25 Demaryius Thomas, DEN (28)
WR26 Marvin Jones, DET (26)
WR27 Tyler Lockett, SEA (24)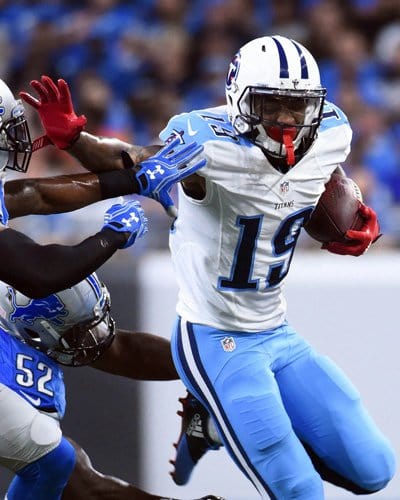 WR28 Michael Floyd, ARZ (26)
WR29 Laquon Treadwell, MIN (21)
WR30 Michael Thomas, NO (23)
WR31 Tyler Boyd, CIN (22)
WR32 Tajae Sharpe, TEN (21)
WR33 Emmanuel Sanders, DEN (29)
WR34 Jordy Nelson, GB (31)
WR35 Jeremy Maclin, KC (28)
WR36 Eric Decker, NYJ (29)
WR37 Doug Baldwin, SEA (28)
WR38 Brandon Marshall, NYJ (32)
WR39 Willie Snead, NO (23)
WR40 Phillip Dorsett, IND (23)
WR41 Travis Benjamin, SD (26)
WR42 Kevin White, CHI (24)
WR43 Golden Tate, DET (28)
WR44 Allen Hurns, JAX (24)
WR45 Michael Crabtree, OAK (29)
WR46 Dorial Green-Beckham, PHI (23)
WR47 Josh Doctson, WAS (23)
WR48 John Brown, ARZ (26)
This deep third tier begins with a trio of players I have really been impressed with to begin the season. Rookies Sterling Shepard and Will Fuller have been better than advertised and are among the biggest risers in dynasty value. If you have these players on your roster, don't let them go unless you get a huge offer. Also, Kelvin Benjamin is showing he hasn't lost a step during his year away from football due to an ACL injury. Benjamin was the overall WR1 before being shut out in week three, but he is still showing he is the top target of quarterback Cam Newton.
Behind those players are a couple of veterans I am concerned about, Randall Cobb and Demaryius Thomas. We all thought Cobb we return to form once his teammate Jordy Nelson was back on the field, but he is still struggling, despite the fast pace of the Packers offense. Thomas looks to have slowed down and while he will still post big fantasy stat lines, as he did in Week Three, I'm not even sure if he can be penciled in as an every week starter at this point.
Also of note in this tier is rookie Laquon Treadwell, who has yet to see the field for the Vikings. I have been a huge fan of the Ole Miss star, but this lack of usage has to be a worry for his dynasty owners. Hopefully, the staff in Minnesota is just taking things slowly with Treadwell and we see him hit the field soon, as was the case with Diggs a year ago. Hope is not lost yet.
Tier Four
WR49 Devin Funchess, CAR (22)
WR50 Sammie Coates, PIT (23)
WR51 Leonte Carroo, MIA (22)
WR52 Breshad Perriman, BAL (23)
WR53 Julian Edelman, NE (30)
WR54 Larry Fitzgerald, ARZ (33)
WR55 DeSean Jackson, WAS (29)
WR56 Tavon Austin, LA (25)
WR57 Terrelle Pryor, CLE (27)
WR58 Eli Rogers, PIT (23)
WR59 Jamison Crowder, WAS (23)
WR60 Quincy Enunwa, NYJ (24)
WR61 Josh Gordon, CLE (25)
WR62 Mike Wallace, BAL (30)
WR63 Davante Adams, GB (23)
WR64 Malcolm Mitchell, NE (23)
WR65 Martavis Bryant, PIT (24)
WR66 Mohamed Sanu, ATL (27)
WR67 Braxton Miller, HOU (21)
WR68 Nelson Agholor, PHI (23)
WR69 Pharoh Cooper, LA (21)
WR70 Rishard Matthews, TEN (26)
WR71 Jaelen Strong, HOU (23)
WR72 Torrey Smith, SF (27)
WR73 Victor Cruz, NYG (29)
WR74 Marqise Lee, JAX (24)
WR75 Cole Beasley, DAL (27)
WR76 Seth Roberts, OAK (25)
WR77 Chris Hogan, NE (27)
WR78 Kenny Stills, MIA (24)
WR79 Markus Wheaton, PIT (25)
WR80 Chris Conley, KC (23)
WR81 Pierre Garcon, WAS (30)
WR82 Kendall Wright, TEN (26)
WR83 Vincent Jackson, TB (33)
This deep fourth tier begins with some young players who have yet to live up to our expectations and concludes with some older receivers who are ever so close to moving down to the bottom tier.
Some key players in this group include a trio of receivers who have moved way up the list after their surprising start to the season. The Browns Terrelle Pryor is looking like the go-to guy in Cleveland with rookie Corey Coleman out of action and Josh Gordon now looking like his time with the team may be over. Two other young receivers who clearly have a role in their team's plans are Eli Rogers and Quincy Enunwa. Both have gone from unranked to this range and have some room to move even higher if they can show they are for real.
This tier also includes Browns receiver Josh Gordon, who was expected to be back on the field in week five for the first time in over a year. Instead, he's chosen to enter a rehabilitation facility and reports say that he has likely played his last down with Cleveland. Speculation is running rampant on what exactly this decision means and the reasoning for it, but whatever is behind this story, it is clearly not good for Gordon's dynasty value.
Tier Five
WR84 Kenny Britt, LA (28)
WR85 Steve Smith, BAL (37)
WR86 Robert Woods, BUF (24)
WR87 Kamar Aiken, BAL (27)
WR88 Ty Montgomery, GB (23)
WR89 Rashard Higgins, CLE (21)
WR90 Chris Moore, BAL (23)
WR91 Bruce Ellington, SF (25)
WR92 Charone Peake, NYJ (23)
WR93 Mike Thomas, LA (22)
WR94 Cody Latimer, DEN (23)
WR95 Terrance Williams, DAL (27)
WR96 Anquan Boldin, DET (35)
WR97 Justin Hardy, ATL (24)
WR98 Jeff Janis, GB (25)
WR99 Devin Smith, NYJ (24)
WR100 Rashad Greene, JAX (24)
Depending on the size of your league, these receivers may not even be relevant, but many of the wideouts in the third and fourth tiers were once here, seemingly rather insignificant, so I think it is important to monitor as many players as possible. 
[/am4show]
Latest posts by Ryan McDowell
(see all)