In this series, we take a look at future NFL players with a focus on offensive skill positions to help those of you in developmental (devy) leagues. For those in regular dynasty formats, we'll give you all the information you need to help you start the preparation for 2017 rookie drafts.
We have in-depth rankings for the 2017, 2018 and 2019 classes, which we update throughout the season. We also have a breakdown on what the heck a devy league is, in case it's foreign to you.
The opening week gives us more of a spread out schedule, so this is the second installment for this week. In this one, we'll take a look at the games and players to watch in the Saturday, Sunday and Monday matchups.
I'm just going to warn you: it's long. But it's the first weekend of college football, let's dig in!
Saturday
Wake Up and Watch
No. 3 Oklahoma vs. No. 15 Houston (ABC, Noon)
[am4show have='g1;' guest_error='sub_message' user_error='sub_message' ]
No disrespect to the games from Thursday and Friday, but this is the first big-time contest of the 2016 college football season. Oklahoma, a team with legitimate title aspirations, takes on Houston at NRG Stadium, the home of the Houston Texans.
It should be a blast to watch — unless you like defense. The over/under is 68. Both teams were in the top 20 last year in yards per game, points per game and plays per game. Buckle up.
For our purposes, Oklahoma is the more intriguing team. The Sooners, per usual, boast a bevy of future NFL players, including Joe Mixon and Samaje Perine, a pair of running backs who are ranked among our top ten backs for the 2017 class.
The two are built very differently. Perine is 5-foot-10 and 235 pounds. He runs like Maurice Jones-Drew — not as good as him but just looks like MJD as a smaller, bowling-ball type of back. Mixon, on the other hand, is the NFL prototype at 6-foot-1, 226 pounds.
Both players have produced. Mixon, a redshirt sophomore, can do it all, putting up 753 rushing yards, 356 receiving yards and 11 total scores last season. After rushing for 1,713 yards and 21 touchdowns as a true freshman in 2014, Perine followed it up with 1,349 rushing yards and 16 scores a year ago. The Sooners don't feature him in the passing game the way they do Mixon, but Perine has hauled in 30 of 37 targets for 215 yards in his career.
Oklahoma is quarterbacked by Baker Mayfield, who exploded onto the scene in 2015 and posted some video-game numbers. Our tenth-ranked signal caller for 2017, he passed for 3,700 yards with 36 touchdowns, seven scores and a 68.1 percent completion percentage. He probably freelances too much to be a real NFL prospect, at least he did a year ago, but man alive, Mayfield is fun to watch.
With Sterling Shepard making waves in the NFL and Michiah Quick now playing corner, Oklahoma will need some wideouts to step up this fall. Mark Andrews, our sixth-ranked tight end for 2017, will be a key cog for the Sooners, and he's expected to be deployed as more of a receiver this season. Senior Dede Westbrook was second on the team last year with 743 receiving yards, and whoever else Oklahoma splits out wide will be seeing their first significant action.
Houston's top pro prospect, quarterback Kyle Allen, won't play in this game. In fact, he won't play at all this season as he sits out after transferring from Texas A&M. Allen was a monster recruit — Rivals rated him as the No. 1 quarterback in 2014 — and he will be a guy to watch next season.
This year, though, Greg Ward Jr. will be under center (better yet, in the shotgun). Entering his third-year at the controls, Ward threw for 2,828 yards and 17 scores as a passer and rushed for 1,108 and 21 touchdowns as a runner. He's a Heisman candidate, but he's not much of a pro prospect, at least as a quarterback.
Demarcus Ayers and Kenneth Farrow, the Cougars' top receiver and running back, respectively, from 2015, are both in the NFL, so there are some huge shoes to fill on offense. Chance Allen, a 6-foot-3, 215-pound senior, figures to be Houston's top threat on the outside. He made 56 catches for 752 yards and six touchdowns last year.
Midday Marquee
No. 5 LSU vs. Wisconsin (ABC, 3:30)
Anytime LSU is on this year — and they're on national TV just about every game — you can tune in and see a plethora of NFL prospects all over the field. That'll be the case Saturday as they take on Wisconsin at Lambeau Field.
The Tigers are straight up loaded — like, ridiculously stacked — at running back and receiver. In what's been pretty typical for LSU during Head Coach Les Miles' reign, their only weak spot on offense will be at quarterback.
Here's how badly LSU struggled at quarterback last year. In Travin Dural and Malachi Dupre, the Tigers have two of the most coveted wideouts in the loaded 2017 class, but neither receiver was able to muster more than 50 catches or 700 yards — pretty much two games for a Baylor receiver — because Brandon Harris completed 53.8 percent of his passes while averaging a meager 7.82 yards per attempts. And this is with defenses loading up to (try and) stop Leonard Fournette, mind you.
Harris is back, and hopefully he's improved so we can see Dural and Dupre do their thing.
While the passing game is a question mark, LSU may feature the best backfield in the country. Obviously, Fournette is a man child, carrying the rock an absurd 300 times for 1,953 yards and 22 touchdowns. He's our third-ranked overall player for the 2017 class, and barring something terrible, he'll be taken in the first half of every rookie draft next summer.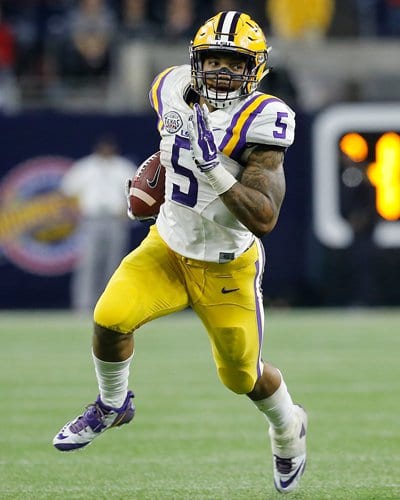 Fournette gets the bulk of the work, but backfield mate Derrius Guice, Rivals' second-ranked back in 2015, is a star in his own right. Guice flashed elite ability in 51 carries as a true freshman a year ago, totaling 436 yards (8.5 YPC) and three scores. Guice is our top-ranked runner for 2018, and if he leaves after his junior season, he could enter the NFL with just one year as the lead back, limiting the wear and tear on his body.
Miles recently said his running back group this season is "maybe the finest tailback group I've been around," which is extremely high praise when you consider all of the running backs he's watched go on to the NFL during his tenure at LSU (Alfred Blue, Jeremy Hill, Kenny Hilliard, Terrence Magee, Steven Ridley and Spencer Ware — and that's just since 2012). The Tigers were so loaded at running back in 2012, Ware — who averaged 5.6 yards per attempt last year for the Kansas City Chiefs — got just 94 carries but still declared for the draft a year early.
Wisconsin features some running back talent, too, in senior Corey Clement. A year ago, he was one of the top backs in the draft-eligible 2016 class, but Clement missed most of the season with a hernia injury and decided to stay in school. He's one of the players — along with Corey Davis and others — whose decision to pass on the draft helped weaken the 2016 class and strengthen an already-good 2017 crop. He's currently our 14th-rated running back in the 2017 class, but he could climb with a solid season.
In 2014, Clement averaged 6.5 yards per carry on his way to a 949-yard, nine-touchdown campaign. Long known as a power-running team, the Badgers rushed for "just" 150.3 yards per game a year ago, their lowest total since 1995. Having Clement healthy will certainly help, but it'll be tough sledding against a talented LSU defense, which is led by middle linebacker Kendell Beckwith and cornerback Tre'Davious White, two players who were expected to be early picks in 2016 but elected to return to Baton Rouge.
Other notable teams in action Saturday, along with some players to focus on, include:
Bowling Green at No. 6 Ohio State (J.T. Barrett, Mike Weber), BTN, Noon
Western Michigan (Corey Davis) at Northwestern, ESPNU, Noon
Hawaii at No. 7 Michigan (Jake Butt, Jehu Chesson), ESPN, Noon
Boise State at Louisiana-Lafayette (Elijah McGuire), ESPN3, Noon
Villanova at Pittsburgh (James Conner), ESPN3, 1:30
No. 16 UCLA (Josh Rosen, Soso Jamabo) at Texas A&M (Josh Reynolds, Speedy Noil, Christian Kirk), CBS, 3:30
No. 18 Georgia (Sony Michel doubtful, Nick Chubb, Terry Godwin, Jeb Blazevich) vs. No. 22 North Carolina (Elijah Hood, Juval Mollette, Ryan Switzer, Bug Howard), ESPN, 5:30
No. 20 USC (Juju Smith-Schuster, Max Browne, Justin Davis) vs. No. 1 Alabama (Bo Scarbrough, Calvin Ridley, O.J. Howard, Damien Harris), ABC, 8:00
No. 2 Clemson (Jordan Leggett, Deshaun Watson, Deon Cain, Artavis Scott, Wayne Gallman) at Auburn (Kerryon Johnson), ESPN, 9:00
Sunday and Monday
No. 10 Notre Dame at Texas (ABC, 7:30, Sunday)
No. 11 Mississippi vs. No. 4 Florida State (ESPN, 8:00, Monday)
We get a little treat on the opening weekend with one game apiece on Sunday and Monday. Both games, especially the Monday tilt between Ole Miss and Florida State, are littered with NFL prospects.
Let's start with Sunday's clash in Texas. Notre Dame will play both Malik Zaire and DeShone Kizer against the Longhorns. Zaire is a good player, but Kizer is probably the better NFL prospect. Thrust into action after Zaire got hurt last season, Kizer played well, passing for 2,884 yards, 21 touchdowns and ten picks. With a big arm and standing 6-foot-4, 230 pounds, Kizer is built like a prototypical NFL signal caller, and he can move, too, rushing for 520 yards and 10 scores.
The Irish lost a lot offensively with Will Fuller and C.J. Prosise going to the NFL, but Tarean Folston and Josh Adams are a stout duo in the backfield.
Folston started over Prosise a year ago but suffered a torn ACL in the season opener against Texas. Adams, a sophomore, saw meaningful work in 2015 and rushed for 835 yards (7.1 YPC) and six scores. Folston and Adams are listed as co-starters and will both see plenty of action this season.
Torii Hunter Jr. is Notre Dame's top returning wideout, but he had just 363 receiving yards last year. It'll be a lot of new faces, but sophomores C.J. Sanders and Equanimeous St. Brown were both big-time recruits.
Texas is hurting a little for NFL-caliber talent offensively, especially at quarterback. With that said, speedy wideout John Burt and bruising back Chris Warren, both of whom land in our 2018 rankings, give the Longhorns two decent weapons.
Moving on to Monday's showdown between Ole Miss and Florida State. This one may be the opening-week game with the most NFL talent on the field.
For the Rebels, quarterback Chad Kelly, our seventh-ranked signal caller for 2017, will have plenty of weapons at his disposal despite losing Laquon Treadwell to the NFL. Head Coach Hugh Freeze has been putting in work on the recruiting trail. Wideouts Damore'ea Stringfellow, DaMarkus Lodge and Quincy Adeboyejo are intriguing prospects. We slot Lodge, a sophomore, seventh in our 2018 receiver rankings.
Florida State is silly-loaded with offensive talent, returning all 11 starters from last year's team. The Seminoles are led by junior running back Dalvin Cook, who owns back-to-back 1,000-yard campaigns. After rushing for 1,008 yards and eight scores as a true freshman, Cook racked up 1,691 and 16 scores in 2015, averaging 7.4 yards per attempt.
In a loaded running back class, Cook may be the best of the bunch, and he's currently our top-ranked overall player in the class, although it's far from unanimous. There is a long way to go until 2017 rookie drafts, but he'll be in the mix for the top selection.
Backfield mate Jacques Patrick is similar to LSU's Guice. He won't see a ton of run this season, but he could star in 2017. We have him ranked as the No. 7 running back for 2018.
At receiver, Travis Rudolph, our 12th-ranked wideout for 2017, paces a deep and talented pack. He amassed 59 receptions for 916 yards and seven touchdowns last season. Auden Tate, George Campbell and Ermon Lane can also be found in our devy rankings, giving the 'Noles a surplus of talent outside.
[/am4show]
Latest posts by Austan Kas
(see all)