Several years ago I began working remotely for a startup non-profit after spending most of my career in retail and corporate offices. As any quality researcher would do, I immediately began looking into tips and tricks of how to be successful working remotely. I stumbled across an article series by Lifehacker, called "How I Work," which essentially was a collection of interviews, focusing on best practices, workflows, workspaces, and gadgets used by successful business people.
This article series is a nod, or rather a direct copy of their idea, from a fantasy football perspective. I'll seek to interview the most interesting minds in fantasy football, procuring their secrets, routines, bookmarks, and more in an effort to pull back the curtains and provide you with resources and information. I hope you enjoy!
Your name
Jeff Ratcliffe
Your Twitter handle
JR: @JeffRatcliffe
Your location (city/state)
JR: Philadelphia, PA
Current day job
JR: Fantasy Analyst
Current fantasy job(s)
JR: Director of Fantasy for Pro Football Focus and on-air talent at SiriusXM and CBS Sports Network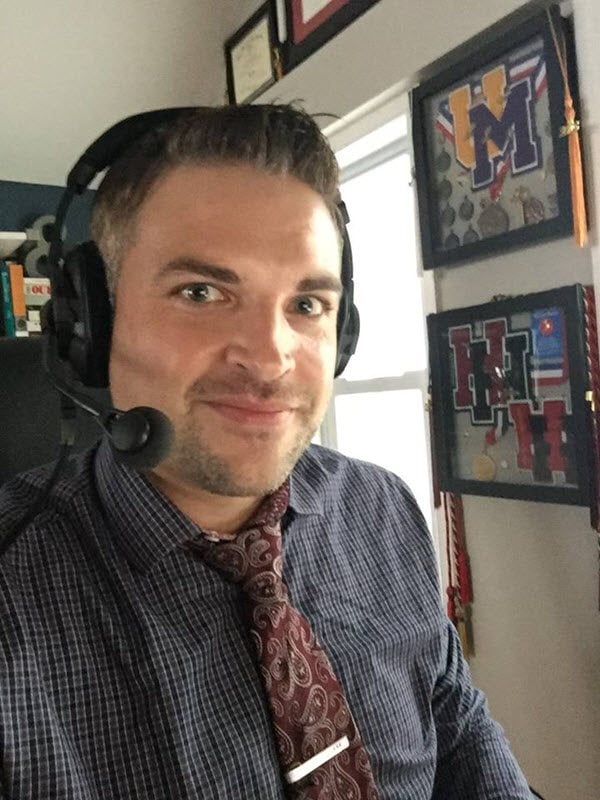 One word that best describes how you play fantasy football
JR: Aggressive
Who is your favorite (non-current) NFL player? Why?
JR: Randall Cunningham. Growing up in the 80s in Philly, he was the first quarterback I got to see on a regular basis. Freak athlete and at times unstoppable force. He made the game a lot of fun to watch, and is one of the major reasons why I fell in love with the game.
Current mobile device
JR: iPhone
Current computer
JR: Macbook Pro
First of all, tell us a little about how you got your start in fantasy football. How did that evolve to what you're doing now?
JR: My path into fantasy football was conventional, but my path into the industry was the exact opposite. I started playing with some of my high school buddies back in the last 90s. We were right on the cusp of the computer era of fantasy sports. It was a very different game back then. I had no clue what I was doing the first two seasons, but my passion for the game grew exponentially over that time.
Fast forward to 2010. I was in grad school at Temple University working on my dissertation and teaching college classes to make the ends meet. Somewhere along the line, I realized that academia really wasn't for me, but I was so deep into it that I really had to finish the degree. At the same time, I took any opportunity I could to procrastinate. Early in grad school, it was poker. But the online bubble burst, and I got my money out before the laws changed. I'd dabbled in writing about poker hands in the past, and wondered if there was some way of getting something published on fantasy football. Here's where I got extremely lucky.
Searching for fantasy football writer jobs, I found a post from some guy named Mike Clay. I sent him over a sample piece about Beanie Wells — which still makes me laugh to this day — and for some reason, he offered me a spot. Better yet, he said that he was starting a fantasy division of some website I'd never heard of call Pro Football Focus. I ended up finishing the PhD in 2012, and continued to work as a professor until this past year when I was able to go full-time in the industry. It was a ton of sacrifice to get to this point, as we all worked for free at PFF for several years. But that just makes what I do on a day-to-day basis that much more surreal. All of those hours of grinding away for the love of the work was so worth it.
How many fantasy football leagues do you currently play in? What is your favorite league and why?
JR: I'm in 5 this year. I used to play in 15-plus every year, but it's just too much to manage with everything. Plus, I play a lot of DFS. My favorite league is one of my home leagues. It's a points-only league with extremely deep rosters. It's great because the best team always wins the league. Better yet, that's been my team in each of the last two years. #HumbleBrag
What's your best time-saving shortcut or fantasy hack?
JR: I'm a heavy Excel user. Even an intermediate level user can develop sheets that cut hours off of weekly prep, especially for DFS. Solver is fantastic because you can build your own personal optimizer.
In order to be successful in fantasy football, you have to do at least one thing better than the average owner. What's your secret?
JR: Drafting for ceiling is probably the biggest one, though I'm not sure it's a huge secret. I'd rather swing for a home run and miss than hit singles with guys like Jeremy Maclin. I also think it's important to be patient. I've seen a lot of folks overreact to one week's worth of results. Recency bias gets us all, but fantasy football is a marathon with many peaks and valleys throughout the season.
What's your greatest weakness in fantasy football? Startup drafts, mining the waiver wire, making trades, lineup decisions? How do you make up for it elsewhere?
JR: I'm the worst with trades. It's not that I make bad trades, I just tend to be very conservative. I'm not the type of owner who tosses out all sorts of trade offers hoping that someone bites. And by the way, what's with the paragraph-long explanation of how the trade will help my team? Does that ever actually work? But I actually don't see a need to trade in re-draft leagues.
Dynasty is a different beast, and trades are necessary there. However, in re-draft, I've rarely seen a trade that is a season-changer. Instead, that often comes from waivers. So my compensation is to be proactive on the waiver wire. It helps that I write a waiver wire piece each week for PFF.
How would you describe your fantasy football philosophy?
JR: Fantasy football is a game that rewards aggression, so that's how I approach the game. My draft and waiver strategy is aimed at getting players with the highest possible ceiling. Of course, this doesn't always work, but I'd much rather go down swinging than have a good-but-not-great team that finishes fourth.
Walk us through what your week looks like during the season as a fantasy owner. When do you watch games, process waivers, propose trades, etc?
JR: This is a little challenging because I tend to look at myself as an analyst first and a fantasy owner second. A lot of what I do as an owner is informed by my work. The week starts at 6:45am on Monday when I break down the stats that stand out from the previous weekend. I then watch/re-watch every game on Monday afternoon into the evening while working on projections for the upcoming week.
On Tuesday morning, I write my waiver column, and then work on projections continues until mid-afternoon. I'll put my claims in sometime on Tuesday night.
Wednesday mornings I release my rankings for standard and PPR along with my top-150 flex column. I then spend the rest of the day producing a lot of the data-drive stuff on our site including the WR/CB matchup chart, the OL/DL matchup chart, the positional matchup charts, the Shadow Matrix, and the IDP 3-Down linebacker chart.
On Thursdays, I write about wide receiver matchups and then polish up my rankings. I tend to give my lineups a once-over before the games.
I'll then give them another look on Friday, as I do more matchup research for my Friday column. By that point, I don't have to do much, but will always give a quick check to see if I missed anything on Sunday morning.
What's your favorite article you've ever written? Why?
JR: This year I wrote an article called "The Fantasy Blueprint." I was able to mix fantasy advice with some things that have happened to me in my life, including the best man's speech at my wedding. It was a lot of fun to write.
Who is the best fantasy football owner you've ever played with and why?
JR: Wow. There are some many good choices here. If I have to choose one, I'm going to go with Shawn Siegele. He's a mad genius who sees fantasy football like a grandmaster views a chessboard.
What's your current workspace (for fantasy football) like? Coffee shop with laptop and headphones? Home office with a standing desk?
JR: Home office. No standing desk, but I do have my audio equipment set up so I can do the radio show from home and record professional quality audio for podcasts.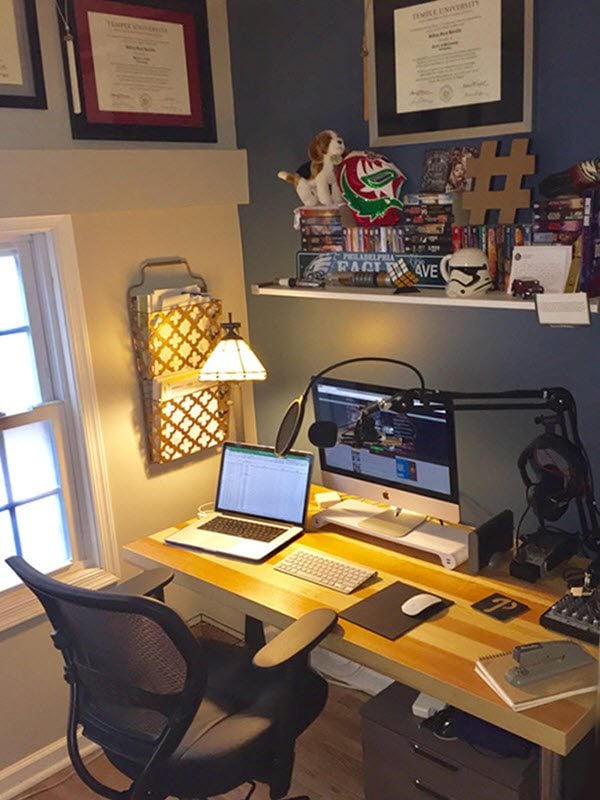 Besides your phone and computer, what gadget can't you live without and why?
JR: There are other gadgets besides my computer and my phone? Does a bottle opener count?
What apps, software, or tools can't you live without?
JR: Excel is the big one. More than half of what I do is in Excel.
What is your go-to site for your tough start/sit decisions?
JR: I don't use websites for start/sit, but I highly recommend PFF.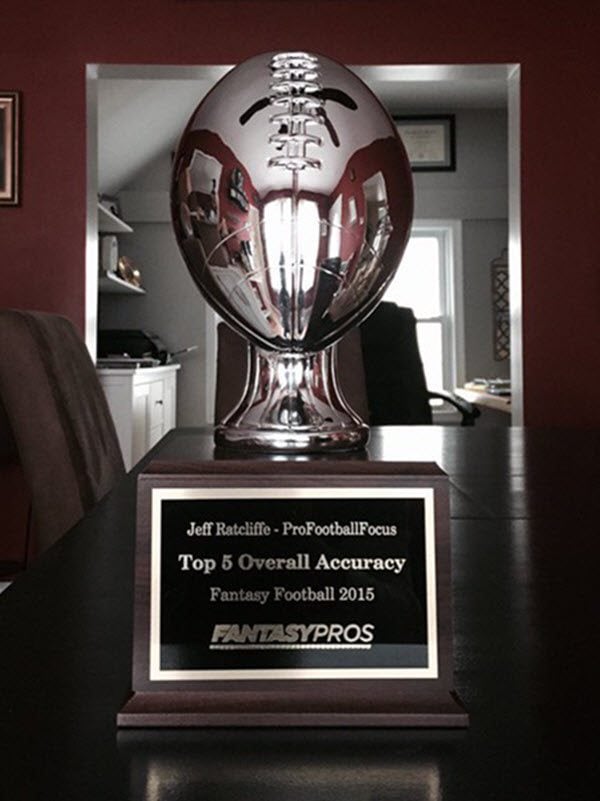 If you could only read one website (other than those you contribute at) for the rest of your life, what would it be and why?
JR: Tough question, but I'd have to go with Rotoworld. What Evan and the guys do over there is invaluable.
Take a quick peek at your bookmarked sites. What are the top 3-4 sites on the list?
JR: ProFootballFocus, Rotoworld, ESPN, FanDuel
What podcast is currently queued up on your phone?
JR: The Around the NFL podcast
What are you currently reading? A novel, comic book, website, magazine?
JR: At this point, I don't have time for anything non-football, but I'd like to read Time Travel: A History in the offseason.
What do you listen to while you play? Got a favorite playlist? Maybe a podcast? Or do you prefer silence?
JR: I listen to a lot of podcasts, but I can get down with music as well. Late-90s rap, classic rock, jam bands, etc. I'm fairly eclectic.
Do you have any superstitions on game day? Wear the same lucky T-Shirt? Always make homemade chili before the games?
JR: Nope. None.
How do you recharge?
JR: I'll enjoy a craft beer or two, but I never really feel the need to recharge.
What's your sleep routine like? Are you a night owl or early-riser?
JR: Early riser. I'm in bed by 9:30 most nights and up by 5:45.
Fill in the blank: I'd love to see _________ answer these same questions.
JR: Pat Thorman
What's the best advice you've ever received?
JR: Find the person in your life who works the hardest and out-work them. Use them as your role model.
Is there anything else you'd like to add that might be interesting to readers and fans?
JR: A lot of folks as me about how they can get a job in the fantasy industry. It's a very difficult thing to do because there aren't a lot of positions out there. So if that's the pathway you'd like to choose, be aware that there's no such thing as an overnight success in this industry. You have to start at the bottom and work your way up. And that takes a long time. But if you bust your butt and grind away, getting a paying job is very possible. Just remember that it should never be about the money. It's about the craft of the work. Focus on that, and everything else will work itself out.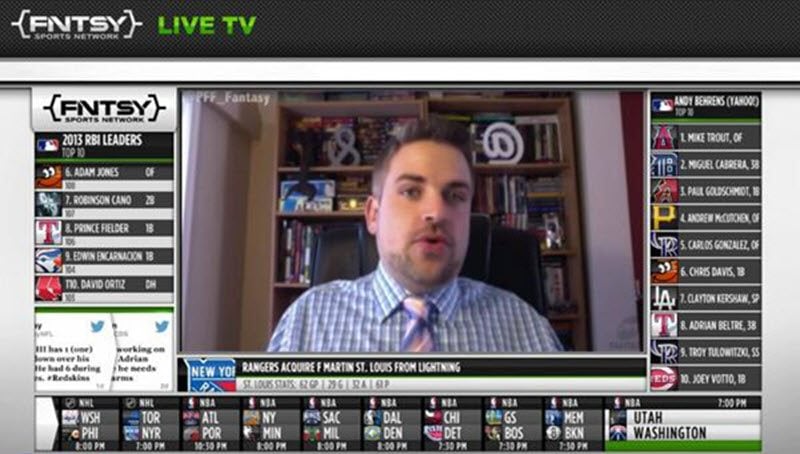 The How I Play series asks writers, developers, editors, and fantasy football degenerates to share their secrets, bookmarks, routines, and more. Have someone you want to see featured, or questions you think we should ask? Email Eric Dickens or start a conversation with him on Twitter.