Several years ago I began working remotely for a startup non-profit after spending most of my career in retail and corporate offices. As any quality researcher would do, I immediately began looking into tips and tricks of how to be successful working remotely. I stumbled across an article series by Lifehacker, called "How I Work," which essentially was a collection of interviews, focusing on best practices, workflows, workspaces, and gadgets used by successful business people.
This new article series is a nod, or rather a direct copy of their idea, from a fantasy football perspective. I'll seek to interview the most interesting minds in fantasy football, procuring their secrets, routines, bookmarks, and more in an effort to pull back the curtains and provide you with resources and information. I hope you enjoy!
Your name 
AH: Adam Harstad
Your Twitter handle 
AH: @AdamHarstad
Your location (city/state) 
AH: McKinney, TX
Current day job 
AH: Fantasy Football Writer Abouter
Current fantasy job(s) 
AH: Writing and projections for Footballguys.com
One word that best describes how you play fantasy football: 
AH: Humbly
Who is your favorite (non-current) NFL player? Why? 
AH: I'm a Broncos fan, so obviously John, Terrell, Rod, Shannon, and co. rank high. Among players for whom I had no rooting interest, probably Maurice Jones-Drew because he ran like a bowling ball made of butcher knives that was high on methamphetamines.
Current mobile device 
AH: iPhone 6s
Current computer 
AH: mid-2012 Macbook Pro
First of all, tell us a little about how you got your start in fantasy football. How did that evolve to what you're doing now? 
AH: Around 2000 I started frequenting a video game discussion board. I made friends with a few other members, and around 2002 one of them asked if we'd ever played fantasy football. I hadn't, but I was a big fan of computers, math, and being called a nerd, and I figured I could pick up the football stuff on the fly, so I joined a league with the rest of them. One league became two, which became three, and in 2007 we started a dynasty league, the first any of us had ever played. I still play with them to this day. In fact, I've known them longer than anyone else who doesn't share DNA with me, including my wife— and I married my high school sweetheart.
(As an aside, I've only once met any of them in person, when one came to my wedding— yes, he was invited. I got married on a cruise and we happened to be facing each other in the championship in our dynasty league while we were out to sea. Neither of us knew who won until several days afterwards when we finally made port. Fantasy is a weird, beautiful thing.) (Also, it was me. I won.)
I joined Footballguys shortly after they rebranded from Cheatsheets.net, and I joined their message board shortly after it relaunched. Since I started dynasty in 2007, I joined in on Chris Wesseling's dynasty super-thread shortly after that started, too. If none of this means anything to you, understand that this is really a remarkable string of "right place, right time" circumstances, as I blindly stumbled into one of the true hotbeds of cutting-edge fantasy football thought at the time. Names like Chris Wesseling, Ryan McDowell, Russell Clay, Chad Parsons, Sigmund Bloom, Steve Wyremski, and many others basically hung out chatting strategy and tactics in a thread that eventually ran for eight years, reached 555 pages, and topped 22,000 posts.
In the summer of 2010, a lurker in the dynasty thread named Jason Kirsner told me he was starting a site called DynastyRankings.net and asked me if I wanted to write for them. I jumped at the chance, and provided rankings and articles for 2010 and 2011 before the site went under. Then, in September 2012, my wife and I had our first child. My wife was in a great job that she loved, but I was not, and we didn't really want to put him in childcare, so at Christmas I quit to stay home and take care of him. Wanting some sort of meaningful adult interaction, I sent out resumes to various fantasy football sites, including to my friend Sigmund Bloom from the Shark Pool, who had just become co-owner of Footballguys. Sigmund convinced Joe Bryant and David Dodds to take a chance on me, and for reasons that I'm sure make sense to them, they haven't fired me yet.
What's your best time-saving shortcut or fantasy hack? 
AH: Never pass up a chance to cheat off of the homework of someone who is smarter, who works harder, or both. Time management is one of the keys to success, so spend your time doing what you do well and outsource what you don't.
What everyday thing are you better at in fantasy football than everyone else? What's your secret? 
AH: I'm not a fan of the "better than everyone else" frame, simply because I can't know how good everyone else is, (and often I can't even know how good I am). But I will say that I think I devote an unusual amount of time and effort to debunking my own beliefs, which means I don't usually repeat mistakes, and also that the things I continue to believe have usually survived a pretty rigorous trial by fire. Further, I'd wager my familiarity with history would stand up against anyone else's in the fantasy industry, (though Chase Stuart might have me beat). I think this gives me a strong sense of perspective when reacting to new developments, since there's really nothing new under the sun.
How many fantasy football leagues do you currently play in? What is your favorite league and why? 
AH: Through trial and error, I've found that five is about the most fantasy football leagues I can be in before I start hating fantasy football. Every year I do a redraft and a dynasty league with other members of the Footballguys staff, a "friends and family" redraft league with some old college buddies, and a long-running dynasty with the old friends who got me into fantasy in the first place. Plus I'll usually wind up squeezing in one other league somewhere. My favorite— by far— is my oldest dynasty. There's just a lot of history there. (It doesn't hurt that I've been to four straight championship games, either.)
How would you describe your fantasy football philosophy? 
AH: Do what's fun for you.
What's your greatest strength in fantasy football? Startup drafts, mining the waiver wire, making trades, lineup decisions? Weakest? 
AH: I think I'm good at knowing what I know. I'll find a mis-priced asset class, (rookies, veterans, injured players, suspended players, etc.— it can vary by league), and then I'll hammer that market inefficiency in the draft, through trades, on waivers, and anywhere else I can leverage it. I try to stick to what I know and not get too fancy in areas where I feel I'm not operating at a net advantage.
What's your favorite article you've ever written? Why? 
AH: I'm going to cheat and list two. My favorite is this piece on the importance of disproving your own beliefs. But from a dynasty standpoint, I'd say the biggest one was this piece on re-examining how we conceptualize player aging.
Who is the best fantasy football owner you've ever played with and why? 
AH: Over a big sample, Bob Henry. He's not winning those accuracy awards for no reason. Over a smaller sample… I'm only in one league with Andy Hicks, but good lord is that guy an animal. In our four years together in the Footballguys staff dynasty league, his team ranked 1st, 2nd, 1st, and 1st in points scored— the last two times by a crushing margin. Even the crazy stuff Hicks does turns to gold. Last year, he traded up to 1.06 in the rookie draft to grab David Johnson, (ADP of 18th overall according to MFL). Everyone on Twitter had a field day with it, joking about how much they would love to play in a league with that guy. No, no you wouldn't.
What's your current workspace (for fantasy football) like? Coffee shop with laptop and headphones? Home office with a standing desk? 
AH: My mind is a scattered, disorganized mess, and my work habits reflect that. I do 90% of my work sitting on the couch with my laptop precariously perched on the over-stuffed arm. If I need to use a mouse, the arm is wide enough to double as a mouse pad if I crank up the sensitivity and set the laptop in my lap. All of my recording is done at a desk tucked away in the corner of my bedroom, and if I can't work on the couch, (say, if my son is home from school or my wife is trying to watch a show), I'll often just sit in my bed and work there.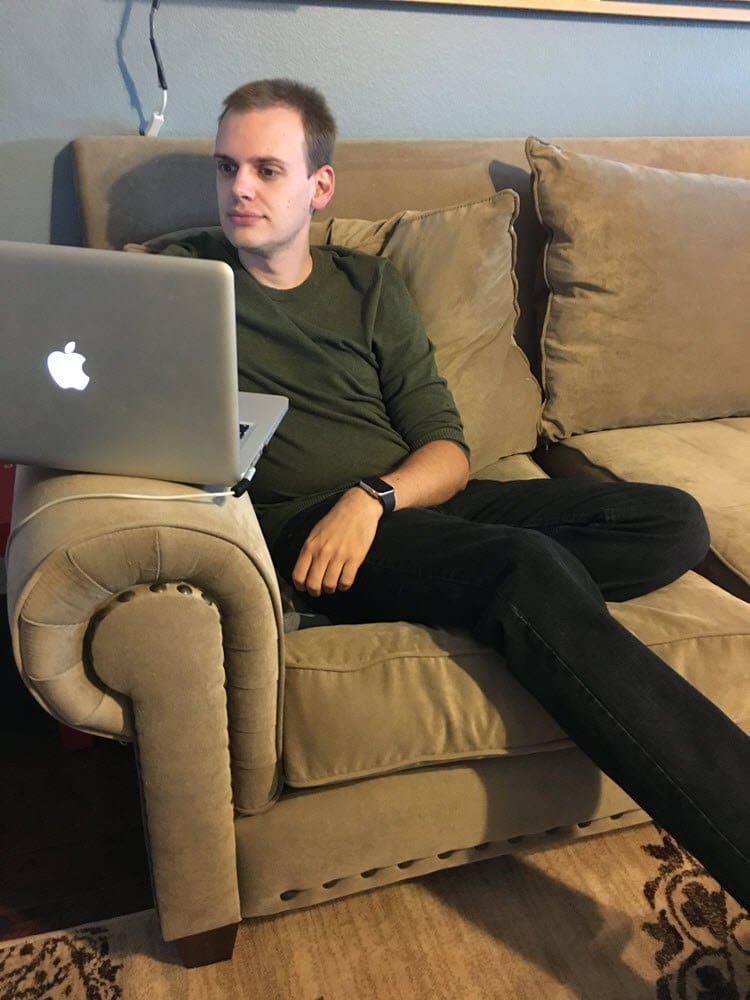 Besides your phone and computer, what gadget can't you live without and why? 
AH: There's nothing that I *can't* live without, but I'd rather not live without a smart watch. I got a first-generation Pebble from their initial Kickstarter campaign, and last year upgraded to an Apple Watch. It's not life-changing, but I'm ADHD in a big way, and being able to use it as a filter to quickly see which notifications I can ignore and which I need to interact with is really useful for me. I'm also terrible at remembering things, so being able to record reminders and appointments on my watch the second they pop into my head means I'm only forgetting about half of the stuff I need to remember as opposed to all of it.
What apps, software, or tools can't you live without? 
AH: As with gadgets, there's nothing I *can't* live without, but here are the ones I would be most loathe to give up.
Tweetbot: I'd say I probably use my Twitter app more than every other app on my phone combined, and springing for a premium client was by far the best decision I've ever made on that front. I even paid for the overpriced Mac version just to take advantage of the cross-device timeline syncing, which is worth every penny.
Inbox by Google: Simple way to keep my email inbox clear.
Fantastical: My calendar app of choice because it mixes both my reminders list and my calendar list together into one timeline, because its natural-language event entry is quick and convenient, and because it has the best support for my Apple Watch.
Do It Tomorrow: The home of all my to-dos without a defined due date. You create a list of stuff to do. That list is due every day. If you don't feel like doing something, you push a button to push it off to tomorrow. Simple, effective, accessible on the web as well as through the app, and it cloud syncs across all my devices.
Workflowy: Basically just a nested outline tool, but it's deceptively powerful. Intuitive, quick, and supports hashtags for quicker navigation. Anything that's not a to-do gets dumped in here, from a list of my son's classmates and their parents' names and numbers to a list of articles I want to write to a list of my favorite restaurants and dishes to a list of songs I want to learn on guitar. Also: accessible from the web as well as through the app, and cloud sync. You might be noticing a theme there.
Beeminder: Beeminder is a commitment device. You commit to a goal and you track your progress towards it, and if you fall off of your stated pace, you pay them a penalty. If the penalty isn't big enough to motivate you, they'll increase the amount of money you have at stake. Sometimes it's late and you don't want to go for a run, but when not going for a run is going to cost you $20, you're much more likely to find the energy to suck it up and do it. I've lost 40 pounds since quitting my day job and kept it off for about four years now; Beeminder isn't some magic bullet that made that happen, but it was a useful part of a larger plan for getting me to that goal.
A Gratitude Journal: Scientifically proven to make you happier. Keep one unless you don't like being happy. In which case, don't.
What is your go-to site for your tough start/sit decisions? 
AH: I use Footballguys, and specifically MyFBGs. It puts all of my starting lineups across all leagues in one place, along with all staff projections and start/sit recommendations. It's too easy.
If you could only read one website (other than those you contribute at) for the rest of your life, what would it be and why? 
AH: Wikipedia. See earlier comment about my ADHD and disorganized mind.
Take a quick peek at your bookmarked sites. What are the top 3-4 sites on the list? 
AH: The only bookmarks I have are either work-related, bill-related, or stuff I already mentioned in tools I can't live without.
What podcast is currently queued up on your phone? 
AH: I don't usually listen to podcasts. I work from home, which means no daily commute and no ideal time to listen.
What are you currently reading? A novel, comic book, website, magazine?
AH: I don't do much reading in-season, but I do keep a book of poetry on my nightstand for small doses. Right now it's Leonard Cohen's "Stranger Music".
     You tell me that silence
is nearer to peace than poems
but if for my gift I brought you silence
(for I know silence)
you would say
     This is not silence
this is another poem
and you would hand it back to me.
What do you listen to while you play? Got a favorite playlist? Maybe a podcast? Or do you prefer silence? 
AH: I'm too easily distractible to listen to anything while doing anything that requires sustained thought, but I do keep a couple Pandora stations handy. Puscifer or A Perfect Circle while doing chores, Damien Rice or Counting Crows while eating with the family or playing with my son. When driving, I still listen to CDs. A local used bookstore has clearance racks filled with CDs ranging from $1-$3. I'm a '90s Alt Rock junkie, so my tastes are well-supplied.
Do you have any superstitions on game day? Wear the same lucky T-Shirt? Always make homemade chili before the games? 
AH: Nothing noteworthy. Any habits are more convenience than superstition.
How do you recharge? 
AH: With a typical day that revolves around thinking about fantasy and playing with my kid, I don't often get run-down in the first place. In terms of recreation, the wife and I watch Netflix and play board games, and I like running through my old favorite action RPGs, (Baldur's Gate, Diablo II, Mass Effect, Terraria), for the 80th time each.
What's your sleep routine like? Are you a night owl or early-riser? 
AH: My sleep schedule is as disorganized as everything else. I'm up every weekday at 7:30 to get my son ready for school. On weekends, my wife watches him in the mornings and I get to sleep in until 9. Ideally, I'd be going to bed around 11 every night to stay rested and fresh, but like so many ideals, it's not necessarily representative of reality. If I'm really into something, it might be as late as 3:30. Twitter timestamps can confirm.
Fill in the blank: I'd love to see _________ answer these same questions. 
AH: Frank DuPont
What's the best advice you've ever received? 
AH: We intuitively think of emotion as an inside-out process. We feel something inside, and in response manifest outward expressions of that emotion. This is accurate as far as it goes, but does not tell the whole story. Emotion also works as an outside-in process. We manifest outward expressions of an emotion, and in response we feel it inside. Which means to a surprisingly large extent being happy is just a matter of forcing yourself to smile even when you feel you have no reason to.
Is there anything else you'd like to add that might be interesting to readers and fans?
AH: Fantasy football is zero-sum. Life only is if you choose to make it so. Don't choose to make it so.
The How I Play series asks writers, developers, editors, and fantasy football degenerates to share their secrets, bookmarks, routines, and more. Have someone you want to see featured, or questions you think we should ask? Email Eric Dickens or start a conversation with him on Twitter.