Here at Dynasty Scouts, we'll always do our best to keep you informed about the latest happenings in college football. We watch all of the games so you don't have to. Here's some of what we noticed this past weekend.
SEC
[am4show have='g1;' guest_error='sub_message' user_error='sub_message' ]
Premier Conference Performer
Derrius Guice, RB LSU (Sophomore)
18 carries, 162 yards, two touchdowns, one receptions, 7 yards vs. Southern Mississippi
With star back Leonard Fournette still out of action, sophomore Derrius Guice one again led the way for LSU's new look offense and he was easily the best player on the field against non-conference foe Southern Miss. Guice averaged over ten yards per carry on his way to 162 yards and two scores. The debate between Guice and Fournette is gaining steam after most played it off as a no-contest in Fournette's favor. I'm not sure which player will be the best in the NFL, but I'm not sure it really matters. Guice is in store for a huge year in 2017 after Fournette is off to the NFL.
Rising
Rawleigh Williams III, RB Arkansas (Freshman)
27 carries, 180 rushing yards, two receptions, 18 yards, one touchdown vs. Mississippi
Sophomore Rawleigh Williams III has had an incredible season as a first year starter for Arkansas, but his biggest game came last week against Ole Miss. Williams set a new career high with 180 rushing yards against Ole Miss, a team he was once committed to attend. Williams has been a solid starter all season long, but he's getting some relief in recent weeks as true freshman Devwah Whaley is earning a larger role. In a league filled with solid backfield duos, the Razorbacks might be the most underrated.
Evan Engram, TE Mississippi (Senior)
Seven receptions, 111 yards, one touchdown vs. Arkansas
In that same game, the Rebels relied on quarterback Chad Kelly and the passing game to stay in a back and forth game. The star of that passing game was once again tight end Evan Engram, who could be the first tight end off the board in April. The 6'3", 227 pounder could also make a transition to the wideout position.
Malachi Dupre, WR LSU (Junior)
Three receptions, 100 yards, two touchdowns vs. Southern Mississippi
Finally! Finally, LSU wide receiver Malachi Dupre had the type of game we have come to expect after two exciting years for the Tigers. 2016 has been a disaster for the LSU program that resulted in the dismissal of head coach Les Miles. Since that occurred, things have improved for the offense, but the quality of opponents has not been all that high either. Against Southern Miss last week, Dupre caught three passes for 100 yards and two touchdowns, including a 63-yard score. Dupre's previous season-high yardage was just 54 over a month ago. It's been a season to forget for Dupre, but maybe he is beginning to turn things around.
Falling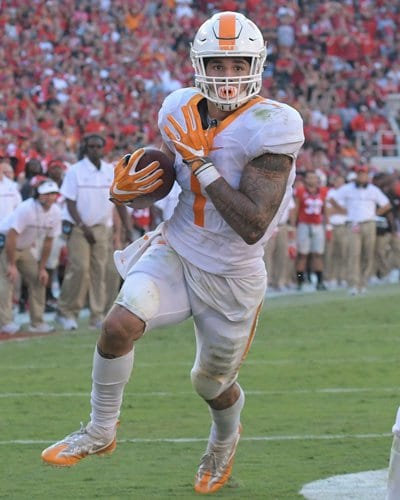 Jalen Hurd, RB Tennessee (Junior)
13 carries, 28 yards
The Tennessee Volunteers had running back Jalen Hurd back after he missed the previous game, but he wasn't able to get back on track. Granted, Hurd and the Vols were facing the strict defense of Alabama, but he managed just 27 total yards on 16 touches. With his backfieldmate Alvin Kamara suffering a knee injury and out for up to a month, Hurd will need to return to his early season form if the Vols want to stay in the SEC East race. Hurd will then face a tough decision about his potential declaration for the NFL.
Terry Godwin, WR Georgia (Sophomore)
Three receptions, 36 yards vs. Vanderbilt
After a promising freshman season, hopes were high for Georgia's Terry Godwin, especially given the departure of current New England Patriot Malcolm Mitchell, but he's gotten lost in the shuffle and has routinely been outplayed by veteran Isaiah McKenzie and even freshmen Isaac Nauta and Riley Ridley have been seeing more looks lately.
Alabama Update
As we are now approximately at the midway point of the season, I've decided to add this section especially for the Crimson Tide. Alabama continues to roll through the SEC and many of their players are putting up monster numbers on a weekly basis, regardless of the competition. Here, I'll give a quick run down of their previous week and give more room in the other categories for players from the other schools.
Alabama visited Knoxville in a battle of top ten teams, but even at home, the ninth ranked Volunteers couldn't up up a fight, eventually losing by a score of 49-10. It was the Bama running game that carried the load as freshman quarterback Jalen Hurts once again did more damage on the ground than through the air. Hurts led the team in rushing with 132 yards and three scores. Even after watching several Alabama games, I'm unsure if Hurts has a future as a pro quarterback or if he'll be asked to try a different position in a couple of years when he can give the NFL a try.
Running backs Bo Scarbrough (five carries, 109 yards, one touchdown) and Damien Harris (14 carries, 94 yards) helped the cause and gave the Tide its biggest rushing total in 30 years. Pass catchers prospects Calvin Ridley (five receptions, 65 yards) and OJ Howard (one reception, 23 yards) were on cruise control all day.
Freshman Spotlight
Lamical Perine, RB Florida (Freshmen)
11 carries, 106 yards, one reception, 31 yards vs. Missouri
The Florida Gators have used a committee attack at running back throughout the season, which has included big back Mark Thompson, sophomore Jordan Scarlett and newcomer Lamical Perine. All three backs have had their moments this season, but last week, it was Perine who led the way, rushing for 106 yards on just 11 carries. The Florida rookie has not been quite as impressive as his cousin's first year at Oklahoma, but he has earned a significant role in what looked like a tough depth chart to overcome.
[/am4show]
Latest posts by Ryan McDowell
(see all)