In this series, we take a look at future NFL players with a focus on offensive skill positions to help those of you in developmental (devy) leagues. For those in regular dynasty formats, we'll give you some of the key players to watch as you start preparing for 2017 rookie drafts.
We have in-depth rankings for the 2017, 2018 and 2019 classes, which we update throughout the season. We also have a breakdown on what the heck a devy league is, in case it's foreign to you.
Bye weeks plus some cancellations due to Hurricane Matthew makes this a lighter slate. A lot of games are being postponed or changing their kickoff times. Please bear with me. I tried to get as much up-to-the-minute information in here as possible regarding times and cancellations.
While we don't have an elite matchup like Clemson versus Louisville, we do get our first top-10 SEC clash of the year as Tennessee travels to Texas A&M, and the night game presents us with a star-studded clash from the Sunshine State.
Saturday
Wake Up and Watch
Texas vs. No. 20 Oklahoma (FS1, Noon)
[am4show have='g1;' guest_error='sub_message' user_error='sub_message' ]
This game should be an offensive showcase as neither team has played very well defensively this year. In its three games against BCS schools, Oklahoma is allowing 41.3 points per game. Texas has been even worse, giving up 48.7 points per contests in its three games against BCS schools.
This game will feature four very good running backs, two on each side.
For the Sooners, Samaje Perine and Joe Mixon are both eligible for the 2017 draft, and each ranks inside the top ten backs for our 2017 devy rankings.
After two straight superb seasons, Perine has started slowly in 2016. The junior running back — who is 5-foot-10, 235 pounds — averaged at least 6.0 yards per carry in each of his first two campaigns while carrying the ball a total of 489 times through two years. This season, however, he's rushed for 247 yards and four scores on 50 carries (4.9 YPC), adding seven catches for 69 yards.
At 6-foot-1, 226 pounds, Mixon is an athletic specimen. A redshirt sophomore, he has never gotten a huge workload with Perine in the mix, but Mixon has flashed some big-time ability as an all-around weapon. Last year, he ran for 753 yards and seven scores (6.6 YPC) while adding 356 receiving yards and four more touchdowns through the air. In 2016, he has rushed for 340 yards and two scores on just 44 attempts (7.7 YPC), and he's added 12 grabs for 162 yards as a pass catcher. He also returns kicks for the Sooners; the guy can do it all.
[arve url="https://youtu.be/R5w7nEK1SIQ" align="center" maxwidth="1000″]
Mixon was the second-ranked running back in the loaded 2014 class, per Rivals, ahead of Christian McCaffrey and Dalvin Cook. But he's dealt with some serious off-the-field issues during his time in Norman, including an assault charge for a physical altercation with a woman, which resulted in him missing the entire 2014 season. His pre-draft process promises to be an interesting one, although it's not a given he declares for the draft after this year.
Oklahoma also has hybrid tight end/receiver Mark Andrews and wideout Dede Westbrook.
A senior, Westbrook paces the Sooners in catches (24) and yards (312) while scoring twice. Andrews is a redshirt sophomore who is 6-foot-5, 250 pounds and is playing wideout this season after previously being deployed as a tight end. He has 11 grabs for 217 yards and a team-best four touchdowns.
The Longhorns backfield is a two-headed monster consisting of D'Onta Foreman and Chris Warren III. A sophomore, Warren has run for 366 yards and three scores on 62 carries (5.9 YPC). This comes after he rushed for 470 yards and four scores on 71 attempts (6.6 YPC) last year as a true freshman. Foreman, a junior, has an impressive resume even though he hasn't seen a ton of work. In 2015, he carried the ball 95 times for 681 yards and five scores (7.0 YPC). Through four games this fall, he is averaging 7.2 yards per carry with 436 rushing yards and five touchdowns.
For the first time since the days of Colt McCoy, Texas has a quality quarterback in Shane Buechele. The true freshman is completing 65.5 percent of his passes for eight touchdowns and three picks. He won't be draft-eligible until the 2019 NFL Draft, but the future looks promising. Sophomore speedster John Burt is the Longhorns' top wideout. Really a one-trick pony right now, he has 14 catches for 191 yards and one score, 72 of those yards coming on one play.
Other notable teams in action around the noon hour, along with some players to focus on, include:
• East Carolina (WR Zay Jones) at South Florida, ESPNNEWS, 12:00
• Maryland at Penn State (RB Saquon Barkley, WR Juwan Johnson, WR Chris Godwin), BTN, 12:00
• Auburn (RB Kerryon Johnson) at Mississippi State, ESPN, 12:00
• Notre Dame (QB DeShone Kizer, RB Tarean Folston, RB Josh Adams, WR Equanimeous St. Brown) at North Carolina State, ABC, 12:00
• Georgia Tech at Pittsburgh (RB James Conner), ACCN, 12:30
Midday Marquee
No. 9 Tennessee at No. 8 Texas A&M (CBS, 3:30)
Again, we focus on a game involving the Volunteers. It seems like they've been a part of one of our spotlight games just about every week. Since we have covered them so much, I skipped over Tennessee last week, but I will quickly run through the numbers for some of their prospects.
Like the two teams above, the Vols have a pretty nice backfield duo, featuring juniors Alvin Kamara and Jalen Hurd. Kamara is our 21st-ranked back for 2017, and he's carried the ball 38 times for 165 yards while playing a clear second fiddle to Hurd. Tennessee's lead back since 2014, Hurd is having an inefficient season thus far, toting the rock 101 times for 404 yards (4.0 YPC) and two touchdowns.
Josh Malone is Tennessee's top receiving prospect. A junior, Malone has hauled in 15 passes for 310 yards and five scores.
Texas A&M may have the best group of wideouts in the nation as they boast Josh Reynolds, Speedy Noil and Christian Kirk. Reynolds and Noil are ranked 21st and 22nd, respectively, in our 2017 rankings while Kirk is the No. 2 wideout in the 2018 class, with two rankers putting him in the top spot.
Noil was a much-hyped recruit, but he hasn't lived up to the billing. After a 46-catch, 583-yard season, Noil made just 21 catches for 226 yards in 2016, and he has six receptions for 84 yards this year. Reynolds, a senior, has been a consistent performer for the Aggies, and through five games in 2016, he's totaled 20 grabs for 399 yards and 3 touchdowns.
It's early, but as our devy rankings show, Kirk is in the conversation to be the first pick in 2018 rookie drafts. At 5-foot-11, 200 pounds, Kirk was Rivals' third-ranked receiver in the 2015 class. All he did as a true freshman was rack up 80 receptions for 1,009 yards and seven scores. He's made 33 catches for 272 yards and three touchdowns this year, and Kirk excels as a punt returner.
[arve url="https://youtu.be/pYjgC7fKYP0″ align="center" maxwidth="1000″]
Running back Trayveon Williams is putting together a very nice freshman season. Ranked as the No. 35 recruit in Texas for the 2016 high school class, Williams has come into College Station as a first-year player and immediately seized the starting running back role. Williams — who is 5-foot-9, 200 pounds — has run for at least 90 yards in all four of the Aggies' games against BCS competition. In total, he's carried the ball 54 times for 487 yards and four touchdowns, averaging a robust 9.0 yards per carry.
Other notable teams in midday action, along with some players to focus on, include:
• Georgia (RB Sony Michel, RB Nick Chubb, WR Terry Godwin, TE Jeb Blazevich) at South Carolina, SENC, 2:30
• Toldeo (RB Kareem Hunt) at Eastern Illinois, ESPN3, 3:00
• Iowa State (WR Allen Lazard) at Oklahoma State (QB Mason Rudolph, WR James Washington), ESPNU, 3:30
• Indiana (WR Simmie Cobbs) at No. 2 Ohio State (QB J.T. Barrett, RB Mike Weber, RB Curtis Samuel), ESPN, 3:30
• No. 25 Virginia Tech (WR Isaiah Ford) at No. 17 North Carolina (RB Elijah Hood, WR Ryan Switzer, WR Mack Hollins, WR Bug Howard), N/A, 3:30
• BYU at Michigan State (RB L.J. Scott, WR Donnie Corley), N/A, 3:30
•  No. 21 Colorado at USC (WR Juju Smith-Schuster, WR Darreus Rogers, RB Justin Davis), PAC12N, 4:00
Primetime Play
No. 23 Florida State at No. 10 Miami (ABC, 8:00)
We just hit up the Hurricanes last week, so let's zero in on Florida State.
The Seminoles are struggling, sitting at 3-2 and coming off a last-second home loss to North Carolina. Shockingly, for a school that's put so many good defensive players into the NFL recently — over the past three years, former Noles Jalen Ramsey, Mario Edwards Jr., Ronald Darby, P.J. Williams, Eddie Goldman, Timmy Jernigan, Telvin Smith and Terrence Brooks have all been drafted — their problem has been almost entirely on that side of the ball.
According to advanced statistics, Florida State ranks 124th out of 128 teams in defensive efficiency, and they have allowed 36 plays of at least 20 yards, which is the most in the country. Of course, maybe losing that much defensive talent is why they're hurting, but this is Florida State we're talking about! It's not like they've been falling behind on the recruiting trail.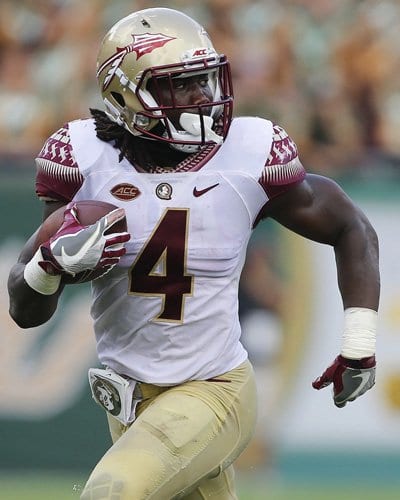 Fortunately for us, they're unbelievably loaded offensively. It starts in the backfield with a pair of NFL prospects in junior Dalvin Cook and sophomore Jacques Patrick. As we talked about when we went more in depth with Cook a few weeks ago, he is going to be one of the top picks in 2017 rookie drafts, maybe the top pick. He's amassed 635 yards and seven touchdowns this year on 107 attempts (5.9 YPC), adding 19 catches for 286 yards. Patrick will have to wait until next year, assuming Cook leaves this spring, to take center stage, but he has 253 yards on 39 rushes (6.5 YPC) this fall.
At wideout, they have six players — Jesus Wilson, Travis Rudolph, Auden Tate, Ermon Lane, Kermit Whitfield and George Campbell — who are NFL prospects. They're so loaded on the outside some of them, like Lane and Campbell, can't get on the field.
Rudolph paces the pack as our sixth-ranked receiver for 2017. He's made 17 catches for 242 yards and three scores after putting up a 59-916-7 line last year as a true sophomore. Wilson, a senior, has 22 receptions for 330 yards — both of which are team highs — and one score. Tate has hauled in just five balls for 83 yards, but three of his five receptions have gone for touchdowns while Whitfield (9-78) hasn't done much.
Quarterback Deondre Francois has played very well in his first year under center. A redshirt freshman, he's completing 62.7 percent of his throws for 1,323 yards while tossing seven touchdowns and two picks. He's also run 47 times for 129 yards and two more scores.
Other notable teams in evening action, along with some players to focus on, include:
• Northern Illinois at Western Michigan (WR Corey Davis), CBSSN, 6:30
• No. 1 Alabama (WR Calvin Ridley, RB Damien Harris, WR ArDarius Stewart, TE O.J. Howard, RB Bo Scarbrough) at No. 16 Arkansas (RB Rawleigh Williams), ESPN, 7:00
• No. 4 Michigan (TE Jake Butt, WR Jehu Chesson) at Rutgers, ESPN2, 7:00
• No. 5 Washington (RB Myles Gaskin) at Oregon (RB Royce Freeman, WR Darren Carrington, TE John Mundt, TE Pharaoh Brown), FOX, 7:30
• California at Oregon State (WR Jordan Villamin), PAC12N, 9:00
• Arizona (RB Nick Wilson) at Utah, FS1, 10:00
• UCLA (RB Soso Jamabo, QB Josh Rosen) at Arizona State, ESPN2, 10:30
• Washington State (QB Luke Falk, WR Gabe Marks) at No. 15 Stanford (RB Christian McCaffrey, RB Bryce Love), ESPN, 10:30
[/am4show]
Latest posts by Austan Kas
(see all)