I was first alerted to the talent of this multi-dimensional and versatile receiver from Pitt through a great friend and former DLF-er, Russell Clay. Russell brought him to our attention in July 2014, with a Player Spotlight piece breaking down some of Boyd's highlights from 2013, his freshman year. That year was when Boyd began to set records – he broke Larry Fitzgerald's freshman records at Pitt for receptions and receiving yards (85-1174), and took the top spot in the ACC for receptions as a freshman, knocking off Sammy Watkins. He didn't stop there.
[am4show have='g1;' guest_error='sub_message' user_error='sub_message' ]
After a sophomore season in which he reached 1261 yards and eight touchdowns, he also tied Fitzgerald for fewest games needed to reach 100 receptions for Pitt and ended the year with 78. By the time he declared for the NFL draft, Boyd had racked up 254 receptions and 3361 receiving yards, also school records.
Even in High School (in Pittsburgh), Boyd's team set a state record with a 63-game win streak, and he set an individual league record with 117 career touchdowns. He truly is a Hometown Hero.
So, what does he have that allows him to produce like this?
Boyd's Mock Draftable Chart tells us the story of his body and athleticism:
Unsurprisingly, he has big hands. They are strong, as evidenced time and time again on the field with both spectacular catches and extremely tough ones. Once in a while, he drops the ball as the result of poor technique (when he attempts to catch with his body, not his hands), but these things happen to even the best players and don't happen enough to scare me away.
Unfortunately though, the rest of these numbers are rather unflattering. He's not tall, he's fairly light, and doesn't seem to show much athletic explosiveness; at least in shorts. He flashes an ability to win in the air, run through defenders and breakaway speed at times on tape, but will he be able to stand out against pros who are bigger, faster and stronger than his previous competition? One of my biggest concerns with Boyd is this athleticism. However, the best football players always utilize their strengths, and if he can continue to get open, catch the ball well and be versatile, he should have no problem translating his production to the next level.
How did he fare with college production compare to his peers? His page on Player Profiler breaks it down.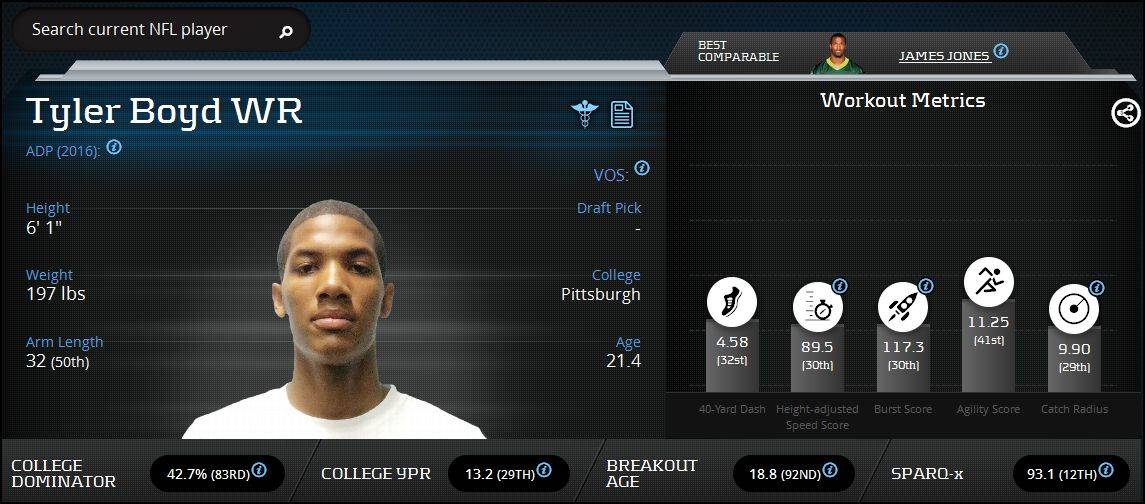 The biggest standout for me here is Boyd's age. To have been as productive as he was in college at his age is impressive, and considering he is still only 21, he could have room to grow physically. He doesn't score well in many of the rest of the categories, but again; his on-field play style isn't one that succeeds with speed, burst and athleticism. He is smart, competitive and wins with savvy. Boyd could be extremely valuable over time as a reliable fantasy play.
As I headed on over to Draft Breakdown to watch as much tape as possible on Boyd, my first thought was: "he's Jarvis Landry". Landry was one of my favorite receivers in the astounding 2014 class because I felt he will be able to be a productive NFL player for ten years. However, he wasn't a player heavily coveted in fantasy football. How many deep touchdowns would he score? Would he be able to break the big runs that win your fantasy gameweek? I don't know about those, but I do know he will catch the ball like no other and move the chains with ease.
Now, is Boyd as talented as Landry? George Kritikos used Keenan Allen and Amari Cooper as NFL comparisons when he covered Boyd as part of our 20/20 series as he, like them, "has the advanced understanding of the game, running routes smoothly and displaying consistent hands" – something these two have shown early in their NFL careers. Sure, he has those in spades, but is he athletic enough to beat people at the next level?
On film, you also can't help but notice Boyd's versatility and how often he lines up in the backfield or as a returner. He left college with 520 rushing yards on 63 carries (totaling 3881 yards from scrimmage), 1124 kick return yards and 238 punt return yards (plus one touchdown), so his all-around involvement led to huge production in every phase of the game. However, after watching a number of his games, I couldn't help but come away underwhelmed. In order to excel and make an impact in the NFL, I believe a player must stand out in college. That doesn't simply mean producing, but proving themselves to be a cut above the players around them in terms of what they are able to do.
He does a few things extremely well – route running, catching the ball under pressure and maintaining his balance (he also does a great job of falling forward as a runner). He knows how to play the game – you will see him finding the open area in the defense, 'getting in the way' to throw a block, or correctly following his blockers as a runner/returner. These are natural traits that other, more talented players are often not able to get their heads around, so Boyd is ahead in that area. However, he didn't make as many 'splash' plays as I would have expected from someone with his production. He was fed the ball a lot and racked up the yards with volume, but I doubt an NFL team will utilize him the same way as Pittsburgh did.
Check out Boyd's outing versus Iowa last year for an example of production, his strong hands and route running and a team that just wanted to get the ball into his hands:
Summary
Tyler Boyd's lack of 'combine athleticism' will likely lead him to fall behind other draftees such as Corey Coleman, Will Fuller and Josh Doctson, but he could still end up as a late first or early-to-mid second round pick in the NFL Draft. He comes in at number 40 on Yahoo's top prospects list, and 31 on Doug Farrar's list at Sports Illustrated.
In rookie drafts, after being the consensus number three pick through January and February in our ADP Data, Boyd slipped to seventh in March and tenth in April. I'd be happy to spend a late pick in the first on him, but whether or not he stays there ultimately depends on his draft position and team. If he rises, I'm not sure I'd be willing to bite.
We've seen players who have enjoyed great production in the NFL in recent years – Julian Edelman, Keenan Allen and Jordan Matthews come to mind, but they all have something special about their game. Boyd, while a solid prospect, may not have the game-changing ability to be a fantasy superstar. I view him somewhere in between Jarvis Landry and Jason Avant, and as someone who can stick around for a while in this league. With the uncertainty in drafts and potential to miss on rookie prospects, we could look at Boyd in a few years as one of the 'safe' picks who is still on your team as a WR3/4.
[/am4show]

Latest posts by James Simpson
(see all)