Much of the post-Combine focus thus far has been on offensive prospects, but there were plenty of noteworthy defensive storylines and performances to provide additional clarity. While Combine metrics and other pre-draft considerations are important in evaluating IDP prospects, to reiterate what's been said before, the scheme each player is ultimately drafted to will be critical in evaluating IDP value. Talent is only a very small part of the IDP puzzle and often to a lesser extent as compared to offensive prospects. That said, notable Combine performances and storylines include:
[am4show have='g1;' guest_error='sub_message' user_error='sub_message' ]
Jaylon Smith, LB
As a top linebacker prospect in the 2016 draft, one of the biggest storylines out of Indianapolis related to the medical check on Smith's recovery from a torn ACL and LCL, and it wasn't good. Discussions centered around potential nerve damage with some suggesting his injury is similar to Marcus Lattimore, who never was able to recover. Mike Mayock's quote after speaking with several NFL teams highlights the concern, "I've texted and talked to at least five different teams since (Saturday) night to ask them about Jaylon Smith. None of them will get specific, but the one common denominator is every team's told me it's bad, on the knee."
Peter King subsequently released more positive information after speaking with an NFL general manager who said he wasn't as worried as those who were polled in the initial reports stating, "No chance he won't play at some point, and play well." King further cautioned "shoveling dirt on his career" prematurely. Consistent with this report, Smith later denied any nerve damage in the knee and confirmed he'll be back to 100%. He just doesn't know when that will be. At this point, it appears Smith will likely miss the 2016 season, which will leave us with a decision to make come IDP draft time.
The next key milestone to keep an eye on will be his medical recheck in April. Regardless, Smith will carry a huge red flag coming into the NFL Draft and rookie IDP drafts with the expectation he'll miss 2016. His talent is unquestioned, but there is a chance he is not the same player or he's not able to return to the field.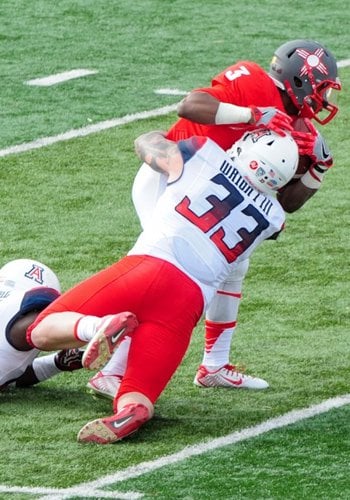 Scooby Wright, LB
Wright possesses dynamite instincts, but many question his athleticism and whether that'll be an NFL kiss of death. Unfortunately, his workout supported the doubters. In the short-shuttle, which measures agility and lateral movement, he posted a 4.47, which ranked him 13 of 20 linebackers. According to Todd McShay's ranges, this metric is also well below average and in borderline red flag territory for linebackers.
Analyzing his overall performance further, Pat Kirwan historically references a ratio to measure the explosiveness of a front seven player, which is also used by several NFL front offices, called the explosion ratio (bench press, vertical jump and broad jump). Based on Wright's Combine performance, his explosion was 62.4, which is below the 70 ideal threshold.
In essence, Wright's Combine affirmed what many thought – he's not athletic. Other than his bench press, his measurable were in the bottom third of participants. This aligns with his tape, which suggests he's a stiff, high-effort player. NFL success is a possibility, but he's not someone I will be actively targeting unless he falls into an ideal situation.
Darron Lee, LB
Lee was one of the few to light the Combine on fire. There was speculation in the weeks leading up to the Combine that Lee's performance would raise eyebrows, especially considering his athleticism. That's exactly what happened. Lee's broad jump ranked first among linebackers, his vertical jump fifth, and his 40 yard dash first. While his three-cone time was average, his short-shuttle time was above average. Bottom line, he made himself a lot of money flashing athleticism throughout the workout and may have pushed himself into the first round. Look for Lee to settle comfortably in the top four rookie linebackers should he land in a decent situation. He has the potential to be a three down linebacker immediately with plus coverage ability and athleticism.
Jalen Ramsey, CB/S
Ramsey cemented his status as a top selection in this year's draft. He ran a 4.41 40 yard dash, jumped out of the gym with 41.5 inch vertical jump and 135 inch broad jump to lead all defensive backs in both categories. His jumps even led all Combine participants regardless of position. Ramsey be a solid 'rookie corner rule' IDP option in 2016, but also has the potential to play safety and carry a bit more IDP value.
Shaq Lawson, DE/OLB
Lawson fared quite well posting a 4.70 40-yard dash, fourth best amongst defensive lineman, and a 4.21 short-shuttle, which was the best amongst defensive lineman. Through the remainder of the drills, he displayed consistent fluidity supporting his on-field play. Known for his power, with this Combine performance exhibiting quickness and speed, Lawson made a strong case to be drafted in the top 20. If he lands in a 4-3 defense, he'll be considered a top pass-rushing defensive end in this IDP class.
Noah Spence, DE/OLB
While the media has largely been critical of Spence's Combine performance due to his "slow" 40-time (4.8) and others noting he didn't flash the same quickness they saw on tape, his explosion ratio was 70.1. Without considering his on-field performance at all, this ratio is a figure worth relying on, especially considering there are only ten linebackers and defensive ends in this entire class with an explosion ratio above the 70 threshold. Frankly, I'm thrilled with this performance, but the key will still be what scheme he's drafted to and whether his shaky character deflates his draft value.
He improved his 40-time marginally in his pro day on Friday (4.75), but it's not worth talking about further considering the hope was always for a sub 4.70 run.
Emmanuel Ogbah, DE
There were some questions with Ogbah's explosiveness pre-Combine, but he performed fairly well casting doubt on his naysayers. Many believe he improved his draft stock with better athleticism than expected. He ranked second among defensive lineman in the vertical jump (35.5") and third in the broad jump (121"). He also impressed with a 4.65 40-yard dash and an explosion ratio of 65.6, below the 70 threshold, due to an unimpressive 20 reps on the bench press. There will be continue to be concerns about his inconsistent effort, but already known as a power defensive end, the flashes of quickness in his workout bode well for his draft stock.
Joey Bosa, DE
Like Spence, Bosa also ran a "slow" 40-yard dash (4.86), but he's three inches and 18 pounds heavier than Noah Spence. What surprised me with Bosa was his sub-par vertical jump (32"). It was a large driver in keeping his explosion ratio below the 70 threshold as he finished the Combine with a ratio of 66. With that said, his short shuttle and three-cone performance were stellar as he finished second among defensive lineman in both categories. Despite the comparatively slow 40 time, Bosa cemented himself atop the draft. The difficulty will be if he's drafted to a 3-4 base defense. He was asked to run with the linebackers at the Combine and several 3-4 teams also spoke to him, but he's never played anywhere other than a 4-3 defensive end. Landing in a 3-4 scheme would be a huge hit to his long-term prospects, especially considering it's not an ideal fit.
Robert Nkemdiche, DT
Nkemdiche is a machine. Unfortunately, his off-field antics have teams scared. Because of it, he may slide out of the first round despite the athleticism displayed at the Combine. Unfortunately, he struggled with interviews at the Combine admitting he takes plays off contributing to underwhelming statistical performance. It's another concern to add to his character issues – hotel incident, marijuana charges, etc. Character and effort aside, Nkemdiche posted an explosion ratio of 72.7, which ranked second among all Combine participants. For a 294 pound lineman to run a 4.87 40-yard dash and post a 35 inch vertical jump is quite impressive. He's a top defensive tackle option and should be a favorite in defensive tackle required leagues, but he doesn't come without red flags.
Miles Killebrew, LB/S
Killebrew's tape isn't great other than his big time hits, but he flashed athleticism in his workout. Amongst all defensive players, his 38 inch vertical jump ranked 10th, his 127 inch broad jump ranked ninth and his three-cone and short-shuttle performances were on par with Jalen Ramsey. Overall, he finished with an explosion ratio of 70.6, which is noteworthy considering how few players breached the 70 point threshold. Killebrew is a violent hitter who now possesses sought-after measureables, but the concern will continue to be his coverage ability and his natural instincts.
Su'a Cravens, LB/S
As an undersized linebacker, Cravens is a Deone Bucannon type of player. However, he struggled to compile a compelling performance in his workout. His 27 inch vertical jump was the worst among linebackers, while his 114 inch broad jump ranked 22 of 32 linebackers. eHe He also only posted 16 reps on the bench press. He didn't participate in the short shuttle or three cone drill, but overall, his metrics were unimpressive. The one positive note came from his interviews where teams raved about his football intelligence. I'll be eager to see whether he improves at his pro day and where he's ultimately drafted as he was one of my favorite prospects pre-Combine. After seeing his performance, he's sliding down my list with the lack of athleticism displayed.
Follow Steve on Twitter @SteveWyremski
[/am4show]