Welcome to the latest edition of the weekly mailbag.
Send me your questions using the DLF Mailbag Form and I'll include the best in future articles. Remember the guidelines to have the best chance at seeing your question get posted:
1.) Dynasty questions only, no start/sit questions.
2.) Help me help you by providing sufficient information about your league (e.g. line-up requirements/PPR or non-PPR/etc.), and include your first name and where you're from.
3.) Your chance of getting your question answered is inversely proportional to the length of the question.
Let's get to it!
1. The scoring in my 12-team, non-PPR league is touchdown heavy with six points per touchdown and one point per 25 combined rushing/receiving yards. My running backs let me down last year, as I have Trent Richardson, Alfred Morris and CJ Spiller. I made a mental note of Khiry Robinson while watching the playoffs last season. My question is, will Robinson be a RB1 or RB2 in this format? Would it be worth it for me to upgrade another position by trading one of my running backs and grabbing Wilson? – Chris in OH
It's my opinion that as long as head coach Sean Payton is leading the charge in New Orleans, we should pay close attention to the team's running back situation. To wit, since Payton began his stint in the Big Easy in 2006, his teams have supported at least two players posting RB3-stats or better (standard PPR scoring) in a whopping seven of eight years. Extrapolating upon that point, consider the table below: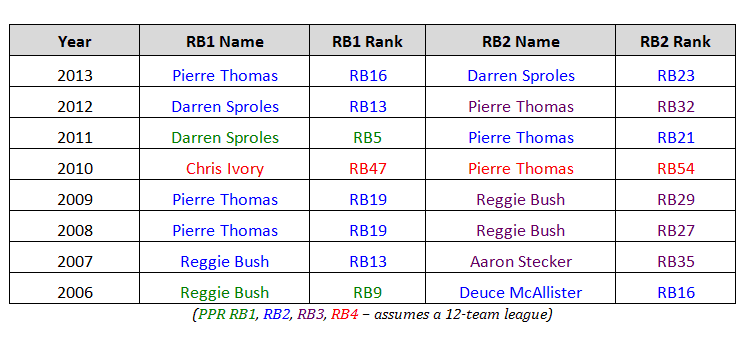 10 of the 16 ball carriers above functioned as PPR RB2's (62.5%), with another four providing RB3-caliber statistics (25%). On the aggregate, and excluding a poor 2010 campaign, the average Saint RB1 during Payton's tenure was the overall RB13.4, while the average RB2 was the RB26.1. Getting back to the original point, it behooves us all to know just where former UDFA Khiry Robinson stands in the pecking order.
With the departure of Sproles to Philly, the New Orleans running back situation has become a three-headed monster of Thomas, Robinson and perpetual disappointment Mark Ingram. Thomas seems a lock to get the passing down work, at a minimum, but the battle for the two-down "hammer back" role remains unresolved.
Personally, I'd put my money on Robinson. With Thomas out during the Saints' conference semifinal matchup with the Seahawks, it was Robinson who led the team in touches, while also receiving the critical goal-line work. Ingram will be involved, sure, but he's had plenty of chances over the past three years with little to show for it.
Digging deeper, it's more than likely both Ingram and Thomas will be gone come 2015, leaving just Robinson and fellow UDFA Travaris Cadet. Should that come to fruition it's easy to see Robinson as the best bet for scoring chances, something that looms large in your league setting. Given that, I'd absolutely look to scoop him up, and think he could have RB2-level prowess sooner than we all might think.
2. In my 12-team PPR league (seven keepers), I traded Jason Witten in the off-season so I now find myself without a tight end. I have a number of early picks (1.01, 1.03, 1.06 and 1.12) in our draft acquired through various other trades, and should be able to trade for or draft my choice of Eric Ebron, Kyle Rudolph, Greg Olsen or Jordan Reed. I'm looking for production this season, as well dynasty value. Is there anyone in particular you'd recommend? I'm leaning towards Ebron, but this would mean missing out on Jordan Matthews or Brandin Cooks. – Phil in New Zealand
While I still view Detroit tight end Eric Ebron as a fine dynasty stash, I also think he's been unfairly hyped due to his landing spot. The volume-based Lions attack certainly can't hurt the potential for fantasy greatness, but there are also a lot of mouths to feed between superstar Calvin Johnson, WR2 Golden Tate and the running backs. Coupling with this the immediacy you desire and I'm not sure Ebron should be your target here.
[inlinead]On the other end of the spectrum sits Carolina's Greg Olsen. At 29 years of age we know what Olsen is – a solid contributor who isn't likely to approach the position's upper echelon, but also a guy who won't ever kill you on a weekly basis. To the latter portion of that statement, Olsen only fell below 7.5 PPR points twice last season, and will more than likely lead the Panthers in targets. He's a great, and relatively cheap option for a win-now team.
The Vikings' Kyle Rudolph falls somewhere in the middle here, as he's approaching his fourth year in the league but has yet to truly prove his fantasy prowess. The addition of tight end guru Norv Turner certainly has the dynasty world excited for a Jordan Cameron-esque breakout, although Rudolph isn't nearly the athlete Cameron is (Cameron led the tight ends in seven events at the 2011 NFL Combine). I like Rudolph more as a speculative stash, but wouldn't be comfortable relying upon him just yet.
That leaves us with the Redskins' Jordan Reed. If it weren't for his concussions, Reed would be the runaway choice here. His dynamic traits were on full display last season, and if he stayed healthy it's likely he would've finished the year as the first rookie PPR TE1 since Rob Gronkowski. So even given the injury concerns, I think Reed should be the choice – he's young and talented, and can definitively help you both now and for the future. If you can snag him at pick 1.06, I think you've done well.
3. I'm trying to decide who to keep between Nick Foles in the 10th round or Josh Gordon in the 11th round. Each year we keep a player, the cost goes up another round, so If I decide to keep Gordon, he costs me a 10th rounder next year, etc. The quarterback scoring is four points per touchdown, and I expect only four or five quarterbacks to be kept. I know I can let Gordon go and then try to reacquire him through the draft, but he will certainly be scooped up before the 11th round. If I keep him and he plays in 2015 my receivers next year would be exceptional. So do I bite the bullet and keep Gordon? – James in MA
Both others and myself have used the stock market metaphor as it relates to dynasty football – in fact, our own Ryan McDowell has a recurrent series on the Premium side entitled just that! Usually the reference is straightforward, as player valuations will either move up or down depending on the weekly, monthly and even yearly circumstances. In my opinion, Cleveland receiver Josh Gordon is perhaps the perfect embodiment of this figurative descriptor.
If we looked at Gordon's value it would most likely represent a sine curve (yes, calculus is gross but bear with me here) – in fact, let's consider the following figure depicting his continually fluctuating value: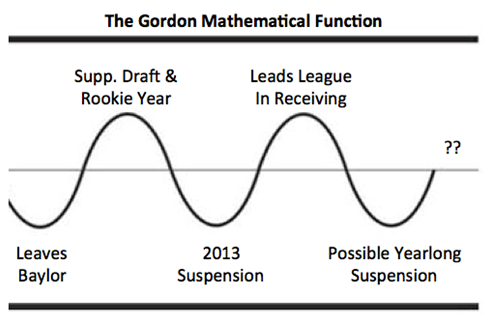 Now you might've noticed this curve ends on a potentially upward swing. Recent news has suggested Gordon could very well win the appeal to his suspension, resulting in a truncation or total removal of his penalty. While this shouldn't be viewed as any type of certainty, or even likelihood, it adds a new wrinkle to the ongoing saga.
The worst-case scenario is Gordon misses the season and spirals out of control, never to return. However, reports of his 70 passed drug tests lend at least some credence to his desire to stay on the straight and narrow. So even if it's only a Lloyd Christmas type of chance, I think the choice has to be Gordon here. His talent is utterly massive, and you can get a quarterback anytime – for the cost of an 11th round selection you have the freedom to gamble a bit.
4. I have been offered Marqise Lee, Greg Jennings, Carlos Hyde, and a first rounder next year (probably around 1.07-1.08) for LeSean McCoy. I am in full rebuild mode and won't compete for a few seasons, so I would try to move Jennings for another pick or young receiver. What do you think? – Sean in CO
On the surface, a deal that essentially amounts to three first round picks plus Greg Jennings seems like a fair sum to pay for all-world running back LeSean McCoy. Throwing in the rebuilding nature of your roster and the plot thickens even more. However, even given that I still think I'd pass.
McCoy is one of fantasy's few game changers, and that doesn't appear likely to change for at least the new few seasons. The Eagles were one of the league's run-heaviest teams in 2013 (fourth most attempts and first in total rushing yards), and as of yet we have no real reason to believe that's going to change. Assuming he keeps his health, McCoy stands primed to once again challenge Jamaal Charles as fantasy's top ball carrier.
While your take is reasonable, Carlos Hyde and Marqise Lee represent middle-to-late first round picks, and you expect the 2015 selection to function as the same. Jennings helps the cause somewhat, but on the whole your side of the deal is taking on all of the risk. Either you need to be receiving some combination of top-tier rookies (think Sammy Watkins, Mike Evans or Brandin Cooks) and/or proven younger players a la Keenan Allen, Michael Floyd, Kendall Wright and the like.
As such I think I'd pass on this one. Rookies are far too inflated at this time of the year, and McCoy's value is more than likely set to increase once game-action begins and the metaphorical bullets start flying. I think you can do better.
Follow me on Twitter @EDH_27
Latest posts by Eric Hardter
(see all)