In our latest installment of The Dynasty Doctor, Grant asked about Ryan Williams, his injury and the likelihood of a full recovery. This injury topic will be a review of patellar tendon ruptures, and how these injuries might impact players like Williams or Greg Childs.
Williams suffered a ruptured patellar tendon in his right knee while playing in a 2011 pre-season game against the Green Bay Packers. He described his kneecap  being shifted into his thigh and that makes sense since the quadriceps muscle is powerful enough to pull it into the thigh; this is also called "patella alta," and is a sign of a torn patellar tendon.
The patella, or kneecap, is held in place by quadriceps and patella tendons. If the patellar tendon is torn, the quadriceps will pull the kneecap into the thigh, as can be visualized with the diagram below.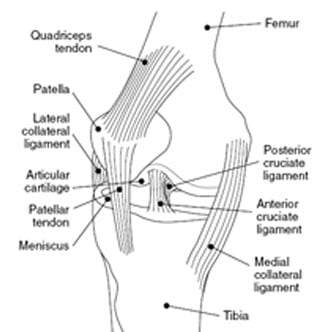 The patella (or kneecap) is held in place by quadriceps and patella tendons. If the patellar tendon is torn, the quadriceps will pull the kneecap into the thigh, as can be visualized with the diagram below. The patellar tendon inserts on the tibia (which is the major lower leg bone) and it helps hold the kneecap in place. If the patellar tendon is ruptured, the lower leg cannot be extended and mobility on the effected leg is not possible.
Here is an x-ray of a normal knee joint, with the patella in its proper position: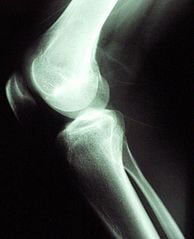 Here is an x-ray of a ruptured patellar tendon, with the patella pulled above the femur: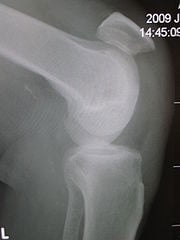 Notice how the kneecap is pulled above the femur – this happens as a very strong quadriceps muscle pulls unopposed on it. The kneecap is no longer attached to the tibia and this makes it impossible for the lower leg to be straightened (extended). The tendon must be surgically repaired in order for the lower leg to function normally again.
The mechanism of injury is not typically a direct blow to the knee. A ruptured patellar tendon usually occurs when the leg is extended and the knee joint is overloaded. In this position, the quadriceps exerts maximal force on the patella and can rip the patellar tendon from the tibia. The quadriceps is important to decelerate at high speeds, as it extends the lower leg and helps to stop forward or downward motion. Eccentric force is applied as the quadriceps lengthens in extension but contracts at the same time, thereby increasing risk of injury, such as when attempting to decelerate while running or jumping. The quadriceps is a very large, strong muscle and it can stress the patellar tendon from such force. Pre-existing medical conditions such as inflammation in the patellar tendon, called patellar tendonitis, may predispose a player to patellar tendon rupture. 50% of players who sustain a ruptured patellar tendon may have pre-existing pain or inflammation in the patellar tendon1. Steroid usage may also increase risk of patellar tendon rupture.
The most interesting article on this subject reviewed NFL players with ruptured patellar tendons from 1994 to 20041. A total of 24 NFL players sustained a ruptured patellar tendon in that interval of time. Of those players, 19 of 24 returned to play (79%). Those who returned had been taken earlier in the NFL Draft, and that is not surprising given players drafted in later rounds are not likely to get as many opportunities to return from injury. Those players who did return played an average number of 45 games (range 1 to 145 games), and the total number of games played pre and post-injury exceeded the career average for NFL players (76 games vs 57 games), suggesting these players had a longer NFL career despite ruptured patellar tendons. All but two players missed the remainder of the season, but all were able to return the following year. The two players who returned the same season either had a partial rupture or sustained the injury in the off-season and had more time to recover. Only one player had a re-rupture of his patellar tendon (4%), and he was able to play another 60 games after his second surgery.
A study from Mayo Clinic described six athletes with ruptured patellar tendons over a ten year period of time.2 All patients returned to their previous level of sports activity an average of 18 months after the injury, although cutting and pivoting started at 6 months. All patients did not have instability or limits in activity levels after surgery, and all had full range of motion and strength when compared to the uninjured knee. Five out of six patients reported excellent functional and clinical outcomes. The authors in this study concluded that, after surgery and rehabilitation, athletes with ruptured patellar tendons can have excellent, long-lasting functional outcomes.2
The final study is from University of California, Davis.3 Fourteen patients with ruptured patellar tendons were identified from 1989 to 1995. Two out of 14 patients had residual pain following surgery limiting their activities (14%). Return to sports after surgery ranged from 5 to 15 months, and 85% returned to pre-injury activity levels for both competitive and recreational athletes.3
These studies help us to understand that a single ruptured patellar tendon is not necessarily the end of an NFL career and athletes can restore functional capacity while returning to their sport of interest. However, there are no studies describing how productive an NFL athlete has been upon returning from this injury. Here are a few examples of NFL athletes who had ruptured patellar tendons, and how their injuries impacted productivity:
Cadillac Williams
Williams had his best year in 2005, rushing for 1,178 yards (84.1 yards per game, 4.1 yards per carry) and six touchdowns. Notably, his performance dropped significantly in 2006, before he sustained a ruptured patellar tendon. In 2006, Williams had 798 yards rushing (57 yards per game, 3.5 yards per carry) and only one touchdown all year. Williams ruptured his right patellar tendon in October 2007, so clearly his pre-injury drop in production could not be attributed to the ruptured patellar tendon. Even worse, Williams ruptured the left patellar tendon in 2008. Despite these injuries, Williams had his second-best performance in 2009, rushing for 816 yards on 3.9 yards per carry and had four touchdowns. It might be tempting to blame the decline of Williams on his patellar tendon injuries, but his numbers declined significantly before he had his first ruptured patellar tendon, and thus it appears these injuries were not associated with a drop in production. Although Williams did not fulfill lofty expectations when drafted out of Auburn, his production remained stable once he returned from both patellar tendon ruptures (see table below).
| | | | | | | |
| --- | --- | --- | --- | --- | --- | --- |
| Year | Total Yards | Yards per carry | Receptions | Touchdowns | Fantasy pointsc | Value change |
| 2005a | 1259 | 4.1 | 20 | 6 | 182 | Baseline |
| 2006a | 994 | 3.5 | 30 | 1 | 135 | -26% |
| 2009b | 1035 | 3.9 | 29 | 7 | 174 | -4% |
| 2010b | 792 | 3.7 | 46 | 3 | 143 | -12% |
(a) Pre-injury
(b) Post-injury
(c) 1 point per reception, 0.1 points per yard rushing/receiving, 6 points per touchdown
Correll Buckhalter
Buckhalter had a torn ACL in 2002, and ruptured patellar tendons in 2004 and 2005. He never proved to be an elite talent, and was more of a career reserve. In 2001, he had 579 yards rushing on 4.5 yards per carry, two touchdowns, 13 receptions and 130 yards receiving. In 2006, he returned from both ruptured patellar tendons to rush for 345 yards on 4.2 yards per carry, had two touchdowns, but also added 24 receptions for 256 yards and another score. In fact, he improved his total receptions, total yards receiving and YPC from 2006 to 2009 compared to his pre-injury numbers. If you toss out his statistical anomaly of eight rushing touchdowns in 2003, his numbers are actually better post-patellar tendon rupture (see table below).
| | | | | | | |
| --- | --- | --- | --- | --- | --- | --- |
| Year | Total Yards | Yards per carry | Receptions | Touchdowns | Fantasy pointsc | Value change |
| 2001 | 709 | 4.5 | 13 | 2 | 96 | Baseline |
| 2003a | 675 | 4.3 | 10 | 9 | 131 | +36% |
| 2006b | 601 | 4.2 | 24 | 3 | 102 | +6% |
| 2007b | 400 | 5.0 | 12 | 4 | 76 | -21% |
| 2008b | 693 | 4.9 | 26 | 4 | 119 | +24% |
| 2009b | 882 | 5.4 | 31 | 1 | 125 | +30% |
(a) Pre-injury
(b)  Post-injury
(c)  1 point per reception, 0.1 points per yard rushing/receiving, 6 points per touchdown
Nate Allen
Allen is a cornerback for the Philadelphia Eagles and was picked in the second round of the 2010 NFL Draft. He ruptured his patellar tendon at the end of the 2010 NFL season. He was able to return in 2011, and increased his tackle numbers while nearly matching his pre-injury interception totals (see table below).
| | | | | | | | |
| --- | --- | --- | --- | --- | --- | --- | --- |
| Year | Solo tackles | Assists | Total tackles | Sacks | Interceptions | Fantasypointsc | Value change |
| 2010a | 43 | 6 | 49 | 2 | 3 | 93 | Baseline |
| 2011b | 46 | 14 | 60 | 0 | 2 | 106 | +14% |
| 2012b | 60 | 13 | 73 | 0 | 0 | 119 | +28% |
(a) Pre-injury
(b) Post-injury
(c) 1.5 points per tackle, 3 points sacks/interceptions, 0.75 points for assists.
In regards to Ryan Williams, based on the data above, I believe his ruptured patellar tendon should not preclude him from returning to his pre-injury performance. The question is, how good is Ryan Williams? He has played five regular season NFL games and has 164 rushing yards on just 2.8 yards per carry, seven receptions, 44 yards receiving and zero touchdowns. However, the Arizona offensive line has been truly terrible and the Cardinals finished dead last in rushing three out of the past six years. Arizona addressed that to a degree, drafting Jonathan Cooper and Earl Watford this year. Williams has to fight through a crowded backfield, with Rashard Mendenhall his primary competition. The Cardinals did not give a ringing endorsement to Williams or Mendenhall when they drafted both Stepfan Taylor and Andre Ellington. Given the change in coaching staff, Williams has to prove himself again, and whether or not the new regime will give him a shot over its own hand-picked players is questionable. I can say with confidence that the patellar tendon rupture should not impact his dynasty prospects, but whether or not he gets a chance to showcase his skills is the question. If you can get Williams cheap, by all means do it, but I would not overpay for his services. In the DLF IDP start-up draft, Williams dropped all the way to round 25, pick ten, sandwiched between Pierre Thomas and Robert Turbin.
While writing this article, I received inquiries on Twitter about Greg Childs. His situation is unique, as he suffered ruptured patellar tendons to both knees on the same play, after recovering from a torn patellar tendon in his right knee in 2010. This is a more serious injury compared to those previously mentioned, as both patellar tendons were injured at the same time. Childs was injured as he jumped in the air to catch a ball and landed with great force on both lower extremities. This illustrates the mechanism of injury, in that Childs landed on both legs, fully extended, with his quadriceps lengthening yet contracting to stop the force of landing. It is hard to pinpoint a reason for his injury, but it is reasonable to wonder if his prior injury may have predisposed him to patellar tendonitis. Health conditions like lupus, steroid injections, or taking anabolic steroids have been associated with weakening patellar tendons, preceding rupture, none of which have been linked to Childs. It is an extremely rare injury. Case reports are published that give some reason for hope, such as a 12 year old boy who completely recovered from ruptures of both patellar tendons.4
Past NFL players with simultaneous rupture of both patellar tendons have not fared well. Wendell Davis and Gary Baxter had their careers end after simultaneously rupturing both patellar tendons, but no NFL player has ever returned to play after sustaining this injury. Granted, it is a rare injury, so the sample size is small, and it is theoretically possible that Childs returns. Surgery is more challenging compared to a single patellar tendon rupture as determining proper length and position of the patellar tendon is difficult to do without a healthy tendon on the opposite knee available for comparison. Rehabilitation is also complicated given both lower extremities are injured.
I think it is unlikely Childs plays football again based on the severity of his injury. It took Childs 18 months to recover completely from his first patellar tendon rupture in 2010, and I wonder how his timeline will look after rupturing both tendons. I am not optimistic for his return. I drafted Childs last year and cut him immediately after his injury. I would not use a roster spot on him in all dynasty formats, regardless of roster size.
References
Boublik M, Schlegel T, Koonce R, et al. Patellar Tendon Ruptures in National Football League Players. The American Journal of Sports Medicine 2011; 39(11): pp 2436-2440.
Kuechle DK and Stuart M. Isolated Rupture of the Patellar Tendon in Athletes. The American Journal of Sports Medicine 1994; 22(5): pp 692-695.
Marder RA and Timmerman LA. Primary Repair of Patellar Tendon Rupture Without Augmentation. The American Journal of Sports Medicine 1999; 27(3): pp 304-307.
Kim JR, Park H, Roh SG, et al. Concurrent bilateral patellar tendon rupture in a preadolescent athlete: a case report and review of the literature. Journal of Pediatric Orthopaedics B 2010; 19: pp 511-514.
Latest posts by Scott Peak
(see all)