Editor's Note: This particular article was submitted by Zach Bahner, a new Member Corner author.  He shared this project with us and we asked him to submit this article so the community could ask questions or get more details.  We thank Zach for his work on this article and the draft value chart.
This is the time every year where dynasty nuts begin looking towards the draft and this year's crop of rookies. Draft pick values are all over the place with some owners looking to build through the draft and others trading their picks for proven veterans. It can be difficult to know what kind of value your picks have when you look to move picks or acquire more from other owners as this is a highly subjective matter.
I set out to try and quantify the value of rookie draft picks much like NFL teams quantify the value of their picks. No two owners place the same exact value on a pick, but having a baseline for a standard value can help when attempting to make trades involving picks.
In order to create my "Dynasty Rookie Trade Value Chart," I first looked at the commonly used Jimmy Johnson Trade Value Chart. While not considered perfect, this is still a widely known and very common tool used by draftniks and NFL teams alike. I used this chart as the framework for my version and made alterations to make it fit fantasy football.
In order to accommodate offense only, IDP and drafts that include free agents along with rookies, I made it 120 picks long. This allows for a deep draft and easily covers 8, 10, 12, 14 and 16 team leagues. As one would expect, the earlier the pick, the higher the value placed on it.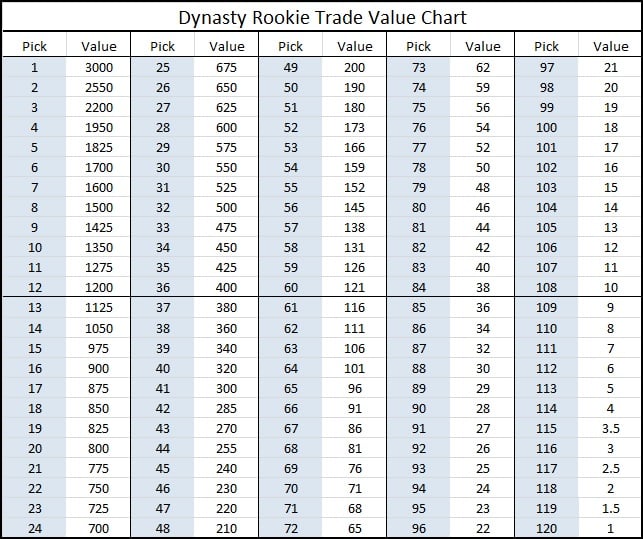 When looking at the chart, consider the "value" columns like you would "points." When making a trade involving picks, you want the points to be fairly equal. For instance, if you own the first pick in your draft, it holds the same value as the pick #3 and #20 combined. Basically, if you are going to move back two spots, from pick #1 to pick #3, you should expect a package that includes roughly 800 additional points beyond just the third pick.
In order to more fully explain how the chart can function, let's look at two examples from an established 16 team league with a rookie only draft.
As you can see, both teams have a wealth of picks in the draft. The Falcons have a need at wide receiver and plan to use pick #2 on that position. However, they also have a huge need at quarterback having only Joe Flacco, Kirk Cousins and Nick Foles on their roster. The Cowboys (the team owning pick #4 in the draft) also have a huge need at the quarterback position.
The Falcons could attempt to move up from pick #8 into pick #3 to make sure they are able to secure their quarterback as the values match up very well. The Falcons could make an offer of picks #8 and #18 in order to acquire pick #3. The values match closely (2350-2200) with a fairly negligible 150 point difference to the benefit of the Raiders. This also would leave the Raiders with picks 17, 18 and 19. These could easily be packaged together to acquire veteran depth.
Because the Falcons were able to trade up ahead of the Cowboys to select their new quarterback, the Cowboys could look to move back in the draft. The Bears have a need at the running back position and could look to move up to secure a top back.
The Bears can package picks #7 and #13 for picks #4 and #26 with an almost equal value on the trade value chart (2725-2600). This gives the Bears the ability to take their top remaining running back on the board and allows the Cowboys to either build depth at picks #7 and #13 or to flip them for veteran depth.
Another common occurrence in dynasty leagues is trading future picks in order to acquire veterans or move up in the current draft. However, future picks don't have the same value as current picks since there is no way to know exactly where that pick will lie within its round in the future draft. Standard practice in the NFL is to take the total value of all the picks in that particular round, average them and then half that value. I have done that for 10, 12, 14 and 16 team leagues to help in having an accurate value of what the following year's picks are worth. If the pick is two years away, half the value again, and continue to half the value for each year it may lie beyond the following draft.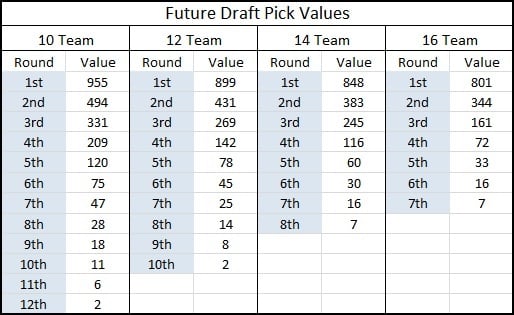 One thing neither of these trade value charts accounts for is the addition of a player into the trade scenario. Due to the difference between league types, scoring systems and the make-up of individual rosters, there is no (and can be no) standard way to score these types of trades. However, you can place that player into your rookie big board to see where exactly they would lie in value. For instance, if a player is offered to you that you would place #20 on your big board, you perceive a value of 800 on that player.
As always, relying on a singular strategy in fantasy football typically leads down the road to little success, but this can be a valuable tool in evaluating trades and making sound draft day decisions. Use these charts in conjunction with you big boards to ensure that you make the best of your draft picks and the trades that you make.
We're curious to see if you've used charts like these in the past.  What kind of modifications have you made to make them work?