Editor's note: This article is one in a series of articles geared towards the Dynasty Football World Championship contest sponsored by our friends at FFtoolbox.com. This is the world's first dynasty fantasy football contest designed to reward the long term, successful dynasty coach, and crown a Dynasty King!  Find out more about the Dynasty World Championship at DynastyKing.com, and be sure to check FFtoolbox.com's articles, tools and rankings for sports beyond fantasy football, including Baseball, NASCAR, Golf and more!
The Dynasty 101 series is geared towards those who are new to the format.  The initial installment is centered on detailing the mindset and general aspects of dynasty leagues, and subsequent installments will cover how to research players, as well as prepare for your initial dynasty draft.
Imagine you head out to your local mall, step into Foot Locker and shell out $120 for a new pair of Nike track shoes.  You stylishly walk outside, stretch your muscles, hit "go" on your stopwatch and take off.  Now there's only one question that needs to be answered – when do you want to stop running?
Continuing metaphorically, dynasty fantasy football is a marathon, not a sprint.  In fact, we dynasty league aficionados strive to simulate the NFL process as closely as possible.  The never-ending ebbs and flows that come with the territory of being a professional franchise are the very same we try to replicate in our little corner of the fantasy football universe.
In other words, the instincts you'll channel as a dynasty leaguer parallel those faced by NFL front office personnel every day.  The way you run your team is merely an extension of your inner general manager.  However, instead of doing this on a year-to-year basis such as in a common re-draft league, you're now assigned the mission of cultivating a team from the ground up, and maintaining it for a theoretically unending duration.
This is because contrary to the common re-draft mentality, dynasty football doesn't end in December and start anew in August.  In fact, the conclusion of the Super Bowl generally functions as the jumping off point for each new dynasty league year.  Events such as roster cuts, free agent acquisitions, trades and, of course, the NFL Draft are directly mirrored in your dynasty league, rendering the "off-season" equally as important as when the games are played.  Rookie evaluation also moves to the forefront, assuring your yearly draft desires remain met.
In essence, what you're able to do in dynasty fantasy football is turn annual into perennial.  To put that in perspective, think back to the most amazing re-draft roster you ever assembled.  You nailed your draft, shrewdly acquired the best waiver prospects and trade targets and ultimately steamrolled the competition.  It was your finest fantasy moment.  Now that you're through daydreaming, think about how if it were a dynasty format – the players on that team would remain on your roster for the duration of their careers unless traded or released.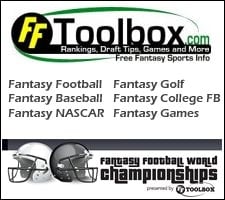 This idea that you can perpetually repeat your greatest fantasy memory is one of the most enticing lures of dynasty leagues.  Conversely, a poor draft won't torpedo your team, as your long-term prospects are predicated on the culmination of more than just one year's work.  Regardless, emotions tend to magnify when you see your team grow from its initial-draft infancy through the many years that follow.  You get to witness the constant evolution of something you created and fostered for as long as you're willing.
Now I'll admit, compared to the yearly turnover typified by re-draft leagues, it can initially seem a daunting concept, but the rewards far outweigh the risks.  Moreover, we at DLF have you covered for the long haul.  Between our daily articles, up to date collaborative rankings, top-notch interactive forum and premium member section, even dynasty neophytes are afforded every possible means to succeed.  Coupled with the in-depth content offered by our partners at Fantasy Football Toolbox, your potential advantages over the competition are innumerable.
If you're still with me, we're off to a good start, because by now you clearly understand the appeal this specialized branch of fantasy football offers.  With that said, it does require year-round hard work.  A dynasty can only become as expansive as its architect is willing to design it, so the most important trait an owner can have is perseverance.  Our mantra at DLF is "there is no off-season," and as you can see by our yearly content flow, that's no exaggeration.
So, take a few introspective moments and ask yourself if you're willing to be a dedicated, active participant on a constant basis?  Will this passion endure throughout the years?  If you've emphatically answered "yes" to both these questions, you might as well start forming a league now – the allure of year-round fantasy football has piqued your senses, and obviously proven too much to resist.
To that end, it's imperative to form a league comprised of dedicated owners who possess a passion similar to your own. If you've signed up for the Dynasty Football World Championship, you're going to be in a league with people who have invested their hard earned money to compete – these will likely be individuals with whom you share a familiarity.
Though there are countless benefits and advantages to joining a dynasty league, I'd be remiss if I didn't mention any potential pitfalls.  If your team doesn't perform at a high level, will your enthusiasm be compromised, leading to a divestment of interest and lack of fun?  It's possible, but some of the most enjoyment you can have is satisfying your competitive cravings by taking a tomato can of a team and ultimately turning it into restaurant-caliber pasta sauce.  Once again mimicking the NFL's fickle nature, it's more than possible to achieve a moderate turnaround in a short period of time. The Dynasty Football World Championship and other leagues like it have measures by which it's easy to rebuild, including a dispersal draft.
So, when you choose to run that metaphorical marathon, remember that dynasty leagues afford a different experience than what re-draft leagues can offer.  With the right dedication, as well as the right league, there's no reason your enjoyment won't persevere for the entirely of the journey.  Rome wasn't built in a day and your team won't be either, but with the right mindset, there's no reason you can't achieve the same type of glory.
Eric Hardter is a Senior Writer for dynastyleaguefootball.com, and a veteran of multiple dynasty leagues.  For additional insight, you can follow him on Twitter under the handle @EDH_27 or submit questions to the DLF Mailbag.
Senior Writer
at
Dynasty League Football
Eric is a Boston College chemistry grad school survivor with a minor in dynasty football, as well as the DLF Mailman and Podcast analyst.He prefers to utilize both statistics and sarcasm whenever possible, believes in process over results and thinks "Hot Takes" are the scourge of the fantasy landscape.
You can find his (typically strong and hopefully reasonable) opinions on Twitter at
@EDH_27
.
Latest posts by Eric Hardter (see all)