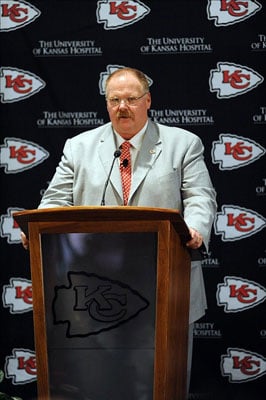 Each year in the NFL, there exists a sort of "anti-holiday" known as Black Monday.  This forebodingly self-descriptive event occurs on the Monday immediately following the end of the regular season and generally signifies the firing of a number of the league's head coaches.  Thus far this off-season has been no exception, as a total of eight head coaches have been fired on, or after, Black Monday.  That means a staggering 25% of teams in the NFL will be under new leadership come 2013.
While it would be convenient to predict the effect this new crop of team leaders will have, it's not necessarily practical.  Even if they've coached in the league before (like the Chiefs' Andy Reid), these coaches will have brand new rosters and entirely different skill sets with which to work.  In other cases such as Cleveland's freshly hired Rob Chudzinski, the coach in question has never before risen past the rank of coordinator.  Guessing at what's next would be a lesson in futility at which even your average tarot card reader would scoff.
However, what we can do is hit the rewind button and take a look this past year's new coaches.  Last year saw six new head coaches take the reigns, and they are as follows:  Jeff Fisher (Rams); Greg Schiano (Buccaneers); Joe Philbin (Dolphins); Chuck Pagano (Colts); Mike Mularkey (Jaguars) and Dennis Allen (Raiders).  With the exception of Mularkey, all are expected back in 2013.
With a year's worth of data to consider, we can now take a look at the imprint each coach has left on their respective team.  To do so, offensive play calling from this past season will be compared with the figures from 2011, in an attempt to gauge how each team has evolved.  From there, endeavoring to keep an eye on the future, players who will most likely benefit from the scheme change will be highlighted.
Let's get started!
Jeff Fisher, STL
Brief Synopsis:  One of the longest tenured coaches in the league, Fisher began his head-coaching career in 1994, when the Tennessee Titans were still the Houston Oilers.  He was fired at the conclusion of the 2010 season, and quickly found work with the Rams.  He's notorious for employing a run-based offense, and most notably oversaw Chris Johnson's 2,006-yard season.
2012 Record:  7-8-1
Comparative Play Calling:
| | | | |
| --- | --- | --- | --- |
| | Total Plays | % Passing Plays | % Running Plays |
| 2011 | 958 | 57.3 | 42.7 |
| 2012 | 967 | 57.0 | 43.0 |
| % Change | 0.9 | -0.3 | 0.3 |
Interpretation:  Surprisingly, the run/pass ratio didn't really change between the 2011 and 2012 seasons.  However, the passing offense was more efficient in 2012, as quarterback Sam Bradford averaged 15 more passing yards per game (231 versus 216).  With that said, it would be wise to invest in receivers Danny Amendola and Chris Givens, as well as tight end Lance Kendricks.  The Rams' lead back could also see his stock rise, as Steven Jackson received 63% of the team's 410 carries in 2012.  Jackson is set to hit free agency, and either Daryl Richardson or Isaiah Pead would be next in line.  This remains a situation to monitor.
Greg Schiano, TB
Brief Synopsis:  Schiano spent the bulk of his career in the college ranks, and was the head coach of Rutgers since 2001.  A hard-nosed disciplinarian, Schiano is also known for favoring the running game, and presided over former Scarlet Knight Ray Rice's transcendent college career.
2012 Record:  7-9
Comparative Play Calling:
| | | | |
| --- | --- | --- | --- |
| | Total Plays | % Passing Plays | % Running Plays |
| 2011 | 934 | 63.0 | 37.0 |
| 2012 | 982 | 57.6 | 42.4 |
| % Change | 5.1 | -5.4 | 5.4 |
Interpretation:  Not only did Schiano keep the Bucs on the field more (5.1% more plays relative to 2011), he did so by running the football.  Also, when the Bucs ran the ball, they almost always did so with rookie Doug Martin.  Martin accounted for an astounding 77% of the rushes, which was 278 more than backup LeGarrette Blount received.  Martin is the obvious name to consider, but wide-out Vincent Jackson deserves mention as well.  Jackson had an impressive 1,384 receiving yards, or 33% of the team's totals.  Receiver Mike Williams also merits consideration as a speculative WR3, narrowly missing the 1,000-yard mark.
Joe Philbin, MIA
Brief Synopsis:  A first-time head coach, Philbin worked his way up the ranks in Green Bay, ultimately coordinating the Packers' offense from 2007-2011.  During that time he oversaw an offense dependent upon quarterback Aaron Rodgers' passing prowess, with the run-game taking a back seat.
2012 Record:  7-9
Comparative Play Calling:
| | | | |
| --- | --- | --- | --- |
| | Total Plays | % Passing Plays | % Running Plays |
| 2011 | 938 | 50.0 | 50.0 |
| 2012 | 944 | 53.4 | 46.6 |
| % Change | 0.6 | 3.4 | -3.4 |
Interpretation:  As already mentioned, Philbin had a pass-first philosophy in Green Bay, so it's not terribly astounding that Miami's offense chose to air it out more than in 2011.  What is surprising, however, is that they did so with rookie Ryan Tannehill under center, as well as arguably the league's weakest group of wide receivers.  Tannehill's newfound experience, coupled with a projected upgrade in the pass-catching corps, could be indicative of an even more aerially biased attack in 2013.  Tannehill is a solid buy this offseason.  The running back situation is murkier, as starter Reggie Bush isa free agent.  He also only received 52% of the carries in 2012, suggesting Philbin might choose not to employ a one-back system.
Chuck Pagano, IND
Brief Synopsis:  Pagano's early NFL career consisted of stints with the Browns and Raiders.  He then briefly joined the college ranks before returning to the NFL, working his way up to the title of Baltimore's defensive coordinator in 2011.  With only one year at the level of coordinator, Pagano was a huge unknown going into his first head coaching position
2012 Record:  11-5
Comparative Play Calling:
| | | | |
| --- | --- | --- | --- |
| | Total Plays | % Passing Plays | % Running Plays |
| 2011 | 916 | 58.3 | 41.7 |
| 2012 | 1068 | 58.8 | 41.2 |
| % Change | 16.6 | 0.5 | -0.5 |
Interpretation:  Pagano's case is far from straightforward, as he unfortunately succumbed to leukemia mere weeks into the 2012 season.  Offensive coordinator (and potential head coach in the making) Bruce Arians took over until the final week of the regular season.  While it was known that Pagano and Arians were in constant contact, it's tough to tell how much of an effect Pagano truly had on the weekly game plan.
What can be inferred is that the Colts' selection of quarterback Andrew Luck with the first overall pick in the 2012 draft is telling.  Luck passed the ball on roughly 59% of the Colts' 2012 plays, which differs from a similar 2011 statistic in that the 2011 squad was constantly playing from behind, necessitating more passing plays.  With that it mind, players such as Luck, receiver TY Hilton, and tight ends Dwayne Allen and Coby Fleener are excellent trade prospects.   Running back Vick Ballard, while pedestrian in talent, looks to be the player to own in the backfield, but more as a RB3/4.
Dennis Allen, OAK
Brief Synopsis:  Allen brings the total of 2012 coordinator-to-coach transitions to three.  Like Pagano, Allen was also a defensive assistant, holding the title of defensive coordinator for the Broncos in 2011, his only year at that position.
2012 Record:  4-12
Comparative Play Calling:
| | | | |
| --- | --- | --- | --- |
| | Total Plays | % Passing Plays | % Running Plays |
| 2011 | 990 | 52.9 | 47.1 |
| 2012 | 1005 | 62.6 | 37.4 |
| % Change | 1.5 | 9.7 | -9.7 |
Interpretation:  With apologies to ESPN's Numbers Never Lie program, Allen's play calling isn't as black and white (black and silver?) as it appears.  The 2012 Raiders squad was constantly playing from behind, and was without the services of prolific running back Darren McFadden for four games.  This left Allen's hands tied and required quarterback Carson Palmer to attempt an average of 38 passes per game.
The Raiders plan on scrapping their zone-blocking scheme in favor of a power run game, which favors McFadden's prospects.  He stands as the only Raider able to be classified as a "buy low" candidate.  The passing game might lose Palmer and receiver Darrius-Heyward Bey (cap casualties), and tight end Brandon Myers functioned best as a garbage time specialist.  Receiver Denarius Moore remains a talented, yet inconsistent question mark.
Conclusion
Every new NFL season, precedent has dictated that we're bound to see several fresh faces pacing the sidelines.  These new head coaches are undoubtedly looking to put their own stamp on their teams, so it's important to identify and understand their play calling trends.  After all, distinguishing how each coach goes about seeking to improve his team can potentially help you improve your own.
Follow me on Twitter @EDH_27
Latest posts by Eric Hardter
(see all)