In my weekly column, we take a long look at two more rookies. I compare their performance to date against my original expectations of them. Let's continue this series off by looking back at two Philadelphia Eagles, quarterback Nick Foles and the budding superstar running back who last had significant carries in high school, Bryce Brown, after their Week Fourteen Game against the Tampa Bay Buccaneers:
Nick Foles, QB PHI
My original thoughts of the quarterback during his time in college: I wasn't overly impressed with Foles at his time at Arizona. He is a big quarterback at 6′ 6″, 245 lbs or so, without a strong dominating arm. At that size, it is surprising how he struggles to throw the long ball. The young signal caller can make short to intermediate accurate throws, but any team depending on him to stretch the field will be disappointed. He spent the majority of his time lined up in the shotgun or pistol formations to get the extra time to discern the defense he was facing. This also aided his ability to get rid of the ball before the defense came crashing through as the young former Wildcat quarterback crumbles under pressure. Only Drew Bledsoe and Dan Marino were more statuesque in the pocket than Foles, so if you are looking for a scrambling threat, take a different quarterback.
Andy Reid saw some effective skills in him. Foles has a knack of making good decisions with the ball as he reads defensive coverage well. He has decent accuracy with his short to middle pass targets. While in the pocket, he uses his whole body in his throws and has adequate footwork. The quarterback is careful with the ball and can sense pressure, but many times he is unable to avoid the issues that a strong front seven will give him. I'm not sure if he will ever be more than a backup NFL quarterback.
Here is what I saw from Foles against the Bucs: He was a pure volume producer in Tampa. The young quarterback threw the ball 51 times and completed 32 passes for 381 yards. When a team commits to passing that much, any defense will crumble especially the NFL's worst pass defense. Some of the yardage was due to the ineffectiveness of the Bucs secondary and Foles willingness to stand in the pocket. As previously noted, the rookie signal caller continued to be accurate throwing to the flat and to wide open receivers.
Reserve wide receiver Jason Avant made a few spectacular catches to bail his quarterback out. There was an amazing sideline one-handed reception that Avant made that was SportsCenter highlight worthy. Foles found the former Michigan receiver again on a 39 yard pass play where the receiver was all alone. The rookie passer even picked up his two cement feet and rumbled 10 yards for a score that should have been timed using a sundial. He was fortunate the entire defense flowed to the other side of the field and forgot about him. Visions of Bledsoe were dancing in my head during that run.
Foles was very hesitant in the pocket as he repeatedly got caught waiting too long and was sacked six times. He stood tough in the pocket despite the beating he took. I'm surprised there weren't more negative plays, but he did a good job handing it off to Bryce Brown to get crushed as well. The young quarterback threw into double coverage and luckily for him the ball wasn't intercepted. He missed wide-open receivers including a long would-be touchdown for forgotten rookie Marvin McNutt.
There were many throws that sailed high or were worm-burners, barely above the ground. Foles, to his credit, lost a major safety blanket early in Brent Celek and kept on firing the ball down the field. He even put on some last-minute heroics and found Jeremy Maclin for a score as time ran out. The rookie is completing just over 61% of his passes and has thrown for 1,174 yards, four touchdowns and three interceptions so far this season. Don't count on his three carries for 27 yards and a rushing score like he did against the Bucs as he had two carries for zero yards in his other NFL appearances. I wouldn't count on Foles for more than a QB2 at best and I would prefer to hold him as a QB3.
Bryce Brown, RB PHI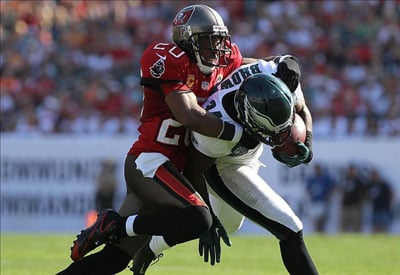 My thoughts of Brown prior to watching his game closely in Tampa : We all know the hype surrounding this young man. Brown was considered the number one running back coming out of high school over Trent Richardson. He didn't play much in college as he didn't get on the field often his freshman year. The following year he transferred to be closer to his family which cost him a year of playing football due to NCAA regulations. There isn't a lot you can gleam from his limited college touches.
He has come on like gangbusters in his first two NFL starts with performances of over 150 yards and two touchdowns in each. On the positive side, his most outstanding qualities are impressive vision and avoiding contact. Many think he has fantastic speed, but it's his ability to set up his would be tacklers and making them miss before he gets to the spot they are defending. I like that he runs inside out, instead of trying to break all his rushes outside as most young backs tend to do. Brown does a good job of not giving defenders much to hit and he uses his strong leg drive to push through attempts to tackle him high. His lack of ball security is a major issue as he carries the ball like a loaf of bread away from his body. The young running back may get benched for a less talented back if that trend continues.
Here is what I saw from Brown against the Bucs: After being a ball of fire in his first two starts, the young runner back got slammed back to earth in Tampa. His pass blocking for the most part was solid, especially against an extremely tough Bucs front seven. He spent a little time split out wide, but did not see that many pass targets (only four). Brown didn't do much with those throws as he caught two of them for six yards.
Brown had an abysmal 12 carries for six yards rushing. He got caught dancing behind the line and his tendency to take plays outside in this game was thwarted as the Bucs protected each gap like it was sunken treasure. The inexperienced rookie could not make the first defender miss, but at least he seemed to protect the ball with both hands for much of the day. He missed a throw in the flat when he wasn't looking for the ball.
The rookie had a play or two where I could see a glimpse of what he showed the world the earlier two weeks. Brown found a crease and got behind his o-line for a 13 yard gain. On another play, he demonstrated a nice jump cut to get out of initial danger, only to get popped a second later. He isn't as bad as he looked against Tampa, but he isn't as good as he showed against Carolina and Dallas either. Brown has earned more carries going forward despite an improvement of LeSean McCoy's health. I'd roster him for his 87 carries for 494 yards and four touchdowns as a strong RB4 on my dynasty team. Look for a split time role for him once McCoy gets back.