In this weekly column, I explore some young players who haven't made much of a consistent impact to date.  Some players may be available on your waiver wire, some may be available via a cheap or moderate trade.  However, this week I'm going look at a young tight end who is very much on the radar and a relative unknown wide receiver who deserve further evaluation.  Acquiring any of these players could decide how well your dynasty or keeper team does for the next few years.  I will focus on their most recent matchup to draw the majority of my insight.
Joseph Morgan, WR NO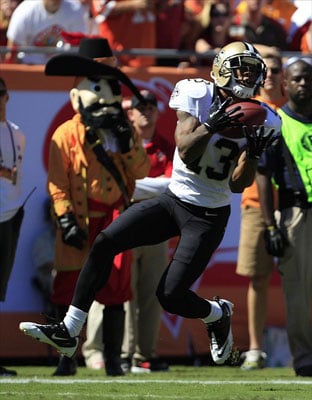 If you are looking for an exciting, high upside player then Morgan is your man.  He was an undrafted wide receiver from small Walsh University.  The young wide receiver had inconsistent hands in college, but showed good enough speed and agility to make the Saints squad a year ago.  His rookie year was cut short by injury and he was placed on injured reserve in October 2011.  This former street free agent showed enough in the 2012 preseason to earn a role on the final 53 man roster.
Other than Darren Sproles, he may have the best burst on the team.  Morgan is a big play just waiting to happen.  Against the Packers in week four, he took an intermediate pass 80 yards for a touchdown.  The reserve wide receiver has good speed (4.4 40 time) and tracks the ball well in the air.  He can struggle getting separation against tight coverage, but is physical enough to win some battles.  Hopefully he can also work on his route running as he is a better deep threat than Devery Henderson is at this point in his career.  In week seven, he took advantage of a porous Tampa secondary with a 48 yard touchdown, but suffered a chest/rib injury missing the following week's game.  It's hard for him to get consistent production with the limited amount of footballs thrown his way (fifteen targets to date).
As far as his week 13 performance, Morgan caught Drew Brees' first pass attempt for a 38 yard gain.  He did a great job finding the ball in the lights and pulling it in.  The wide receiver was targeted a few plays later on a 45 yard bomb that was broken up by the defensive back.  If the pigskin had not been underthrown, it would have resulted in a touchdown that may have changed the momentum of the Thursday Night Game.  Morgan played in almost all of the three wide receiver formations and did a good job blocking downfield.  It's concerning that he has only caught five out of his fifteen targets, but he has impressed with those catches (204 yards and two touchdowns).  He is a stash and hold player who may never be better than a WR7, but who could become a WR3-4 with Brees chucking the ball down the field.
Kyle Rudolph, TE MIN
Rudolph is quite an exciting player who seems to lack consistency from week-to-week.  Before the games began for week 13, he was clearly sitting in the top 12 fantasy tight ends which is great for the second year player.  However, included in those twelve prior matchups, there were three horrible performances: week four against the Lions as he had two receptions for eight yards, and then his week seven and week nine performances of zero catches for zero yards.  Much of Rudolph's production seems to hinge on the availability of wide receiver Percy Harvin. Those three bad games occurred when Christian Ponder seemed to only have eyes for Harvin.
I watched his week 13 performance against the Packers to attempt to decide why Rudolph is so effective when he is the focus of the passing offense.  His quarterback does not have a very strong or accurate arm, but Ponder does excel on short to intermediate throws which plays to the types of routes this young tight end runs.  Rudolph can play defender if necessary as he did on Ponder's first pass of the day that was poorly thrown.  The tight end got his arm between the defensive back and the ball to make sure it wasn't intercepted.
Rudolph does most of his damage in the flat.  He can take a short pass and get a head of steam running over the smaller defenders covering him.  This where he gets the majority of his yards after the catch by using his strength and size advantage to fight for the first down or into the end zone.  His total body control was on display when he made a spectacular one-handed grab on a pass that was thrown behind him.  It did not matter that he had a safety draped on him as Rudolph just swatted him away like a gnat.  In the second half, the tight end contorted his body to catch another poorly thrown ball near the goal line.  If that ball was well-thrown, it would have gone for a touchdown.  It's a good thing for the Vikings that he got another opportunity on that drive in the red zone as he made a catch between two defenders for a seven yard score.  Rudolph kept a drive alive late in the fourth quarter with a clutch 21 yard catch where he did an awesome job shielding the ball away from the defender's clutches.
His production in the passing game and Adrian Peterson's running game (210 yards) were the only performances that kept Minnesota competitive.  His blocking was a mixed bag.  He was usually effective run blocking, but he missed on a crucial block that could have sprung Peterson for another long touchdown run.  Rudolph stayed in to pass block on a few occasions and held his own against an attacking defensive end.  He has the physical traits to become a two-way tight end in the style of a Jason Witten or perhaps even a Rob Gronkowski.
I have some concerns as he is more productive with Harvin off the field, but I think that is more about Ponder's inadequacies than it is about Rudolph.  He is certainly a red zone threat with eight touchdowns after 12 weeks.  His 45 receptions, 412 receiving yards, and 75 targets are only second behind Harvin among Minnesota receivers.  I have found plenty of success in dynasty leagues targeting him in the seventh or eighth rounds and following the pick with a veteran like Heath Miller or Owen Daniels.  Keep this in mind in your startups next season.  You might be able to convince a current owner that a healthy Harvin will cause Rudolph to revert to the limited production he had in Weeks four, seven, and nine.