IDP Watch: Week Thirteen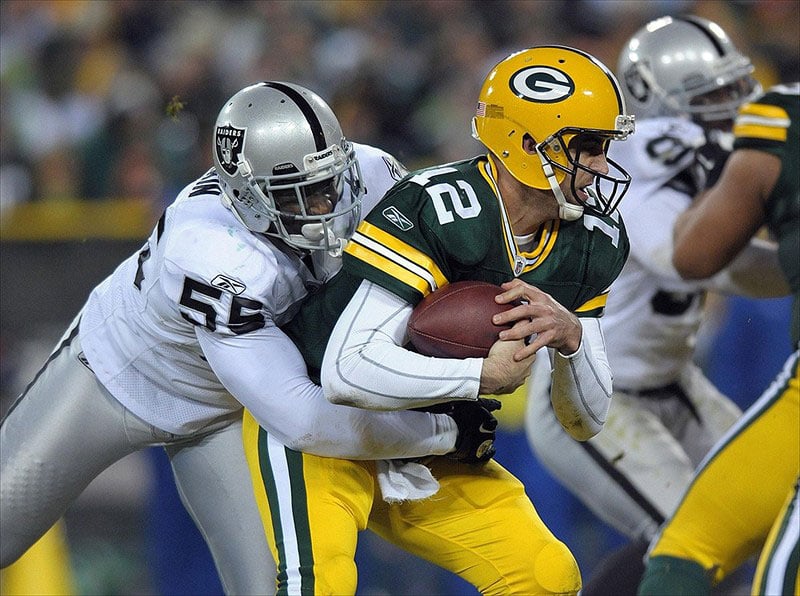 IDP leagues can be won with some preemptive in-season pickups or trading for players who are on the rise, but the masses have not picked up on it. Each week, we detail a handful of IDP players or trends that are essential for dynasty players to be aware of.
Often, things like quarterback hurries, quarterback knockdowns, or snap counts don't appear in the box scores. These are huge indicators of potential value changes that may be forthcoming as they show a particular player is getting after the quarterback and a string of sacks may be on the horizon or a linebacker may be coming off of the field more than originally expected.
Here are some players and trends to keep an eye on based on week thirteen performances:
Carlos Dunlap, CIN DE
Dunlap has been a part of a defensive line rotation all season with Michael Johnson and Robert Geathers, which has limited his opportunities. However, the young defensive end is still only 23 years old. Many predicted a breakout this year or last, but that hasn't happened yet. Dunlap possesses tremendous dynasty potential as exhibited by his five quarterback hurries and two sacks this past week. Over the last two weeks, he's amassed nine hurries and appears to be getting more playing time as the season comes to a close. In two of the last three weeks, he's played 80 percent of the team's snaps. He's a great target headed in to the off-season given his natural ability and glimpses flashed.
Brandon Graham, PHI DE
Starting in place of the recently departed Jason Babin, Graham made an immediate impact with one and a half sacks, four tackles, two assists, two quarterback hits and two quarterback hurries in week 13. The former first round pick has been a disappointment to this point in his career, but after showing positive signs in limited time throughout 2012 and the performance against the Cowboys this past week, Graham may be starting to put it all together and become IDP relevant quickly. Like Dunlap, he's a defensive end with tremendous talent and upside potential.
Tashaun Gipson, CLE FS
We mentioned that Gipson playing increased snaps in last week's edition and that continued in week 13 with Gipson playing every down. While he wasn't terribly productive in week 12, against the Raiders this pas week, he tallied seven tackles and an assist. The 22 year-old rookie from Wyoming played well in place of the injured Usama Young and may be worth a long-term stash or watch in very deep leagues given the production this past week.
Mychal Kendricks, PHI SLB
We mentioned this a few weeks ago, but there's the potential that Kendricks moves to the weakside if there are continued changes on the Eagles' coaching staff next season. This move was a consideration prior to the start of the 2012 season and may be contemplated again with a new staff. If the move happens, he'd instantaneously see a spike in value and production. Given the recent increase in production from the strongside (double digit production in most IDP leagues), continue to keep Kendricks in your sights through the end of 2012 and, especially, this off-season.
Zach Brown, TEN WLB
Many criticized Brown for his perceived inability to get physical and tackle. However, playing roughly 90 percent of the team's snaps in the last four weeks, he's gotten involved in big plays and, most importantly, he's making tackles. He always had the natural ability, but it looks like he's gotten serious about tackling. If that continues, there's no reason to believe why he won't maintain production at LB2/LB3 levels given his athletic ability and the potential the play every down.
Rolando McClain, OAK MLB
There were reports last week that McClain was going to be cut by the Raiders, including direct reports from McClain. That proved to be false, but given his conduct, he was suspended for two games and it's speculated that he may be done for the year. He may also be done as a Raider as it sounds like the team is fed up with his nonsense. Maybe it's because he's still immature at 23 years-old, but given the lack of effort over the past few seasons, it'd be risky to expect McClain to reach the potential that many expected as a top ten pick. If he's rostered, he might as well be cut. Despite the fact that he may change teams, don't expect his fantasy production to change.
Robert Quinn, STL DE
Don't be overly concerned with Quinn's goose egg from last week. He was questionable most of the week with a concussion and apparently cleared all medical tests. However, he was only on the field for 21 snaps. I'd be more wary of the lack of pressures, sacks, and quarterback hits over the last three weeks. After a solid first half of the season, Quinn's hit a sack drought and isn't getting to the quarterback like he was early on. Quinn's a natural pass-rusher who's shown improvement in his second year. There's no reason to believe why the improvement won't continue in 2013 despite the recent struggles.
Philly Defensive Line
Jim Washburn, who brought the wide-nine to Philly as their defensive line coach, was fired this week. The fluid changes on the Eagles' defensive coaching staff throughout the year have been plentiful.  Andy Reid claims that this move was done to get a guy running the defensive line that knows what he's trying to accomplish and get done with the young defensive line. That leads me to believe that while Vinny Curry didn't play any more snaps in week 13 than he did in the prior week, expect new defensive line coach Tommy Brasher to continue to give the young guys reps.
Anthony Spencer, DAL OLB
While 3-4 outside linebackers are streaky and much less dependable than their 4-3 counterparts, Spencer has been extremely productive since returning from injury in week seven. He's been active both rushing the passer and defending the run vaulting him to LB2/LB3 status in tackle heavy leagues. That's fantastic value for a 3-4 outside linebacker. He's having a career year as far as sacks go, so don't expect that to continue prospectively, but in the near-term Spencer offers a nice fill-in given all of the injuries across the linebacker group league-wide.
Marcus Gilchrist, SD CB
The former second round pick continues to be productive when given the opportunity. With both Quentin Jammer and Antoine Cason set to be free agents this offseason, don't be surprised if Gilchrist is a starter to begin 2013. Given his fantasy production in limited action as a starter or on a high volume of snaps, he's worth a stash in deeper corner-required leagues.
Players and Trends to Watch
Dre Kirkpatrick, CIN CB – After missing much of the season due to a preseason injury, Kirkpatrick now has a concussion. It's a disappointing rookie season for the 2012 first round pick, but with Terrance Newman a free agent, he should be a starter in 2013.
Desmond Bryant, OAK DE/DT  – Bryant had three quarterback hits and a hurry in week 13. He continues to be productive and a nice speculative add given that he's a free agent in 2013.
Corey Lynch, SD SS – With Atari Bigby out, Lynch played most of the snaps at strong safety and was productive for IDP purposes. That should continue as long as he's seeing snaps. As mentioned previously, keep an eye on Brandon Taylor there, as well.
Mike Harris, JAX CB – Harris started in week 13 and finished with seven tackles and an assist. This is the second straight week he's been productive. In deep corner-required leagues, watch Harris to see what happens with this secondary during the off-season.
We'll see you next week for our Weekly IDP Watch.  Follow Steve on Twitter.