In this weekly column, I explore some young players who haven't made much of a consistent impact to date.  Some players may be available on your waiver wire, some may be available via a cheap or moderate trade.  Acquiring any of these players could decide how well your dynasty or keeper team does for the next few years.  I will focus on their most recent matchup to draw the majority of my insight.
Cecil Shorts, WR JAX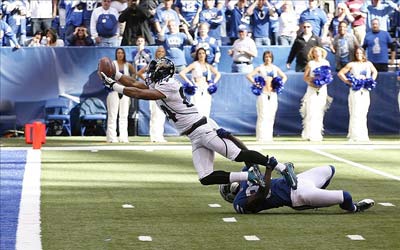 The Mount Union wide receiver is certainly turning heads during his second NFL season.  Thanks to injuries and ineffective play, Shorts is the Jaguars' best receiver and then some.  The Colts are a better pass defense than most pundits realize and they held the Jacksonville passing game in check.  This was especially true for number 84 as he was held without a catch in the first half.
Shorts looked awful on his first target when he was given a chance to make a critical first down near the red zone.  The ball slipped right between his hands as it almost smacked him right in the face mask.  The next pass thrown his way was a sideline target that he almost turned into a spectacular one-handed reception. Unfortunately for him and the Jags, he couldn't hang onto it, for all to see, thanks to instant replay.  Blaine Gabbert was noticeably irritated with him as it seemed the young receiver wasn't where his quarterback expected him.  It appeared that he rounded off some of his routes.
Early in the third quarter, he grabbed a bubble screen and streaked down the field for 52 yards.  This was made possible by an opportunistic cornerback who decided to jump the route then missed badly.  Shorts took advantage of the error, gave the safety a quick juke move, and tippy toed down the sideline for the big gain. Thanks to several Jacksonville mistakes, the team lost yardage, and on the same drive the young wide receiver had a second opportunity for a 50+ yard bomb.  He missed pulling down the catch between two defenders as the ball was just six extra inches out in front of him.
Shorts showed a tendency to let the ball get close to his helmet before he tried to make a catch.  Perhaps he should work on looking back for the ball sooner to avoid this.  Maybe he can also outgrow his obsession with pulling down amazing one-handed catches. Both hands helps you bring in the ball!  He does a fantastic job of gaining separation from defenders and always fights for the first down yard marker.  This was crystal clear on a fourth and 11 where he gained the first down by spinning away from coverage.
He finished the game with six catches for 105 yards and scored Jacksonville's only touchdown of the night on 13 targets.  Keep in mind, his production was only in one half of play and with their backup quarterback, Chad Henne, at the helm.  He could have had a bigger night if he worked on his concentration and if rookie wide receiver Justin Blackmon doesn't clip a defender.   Much like the New York Jets wide receiver Jeremy Kerley, Shorts is a WR3 short-term on your dynasty team.  He could, however, morph into a WR2 with better opposite wide receiver play.  I'm not convinced that Blackmon will ever be more than a WR3 either, but maybe they can help each other.  Of course, it would help if Jacksonville ends the Gabbert experiment.
Chris Ivory, RB NO
In his second game of the season, Ivory was the spark plug that the Saints offense needed to defeat the 8-0 Atlanta Falcons.  He had the biggest play of the day as he burst thru the Falcons defense for a 56 yard touchdown run.  On this scamper, he broke a few defenders' ankles (not really, but almost), cut outside hugging the sideline then darted back towards the middle of the field while finally stiff arming a defensive back to reach the end zone.
Ivory was a very determined runner on the day.  He would dip his shoulders and run between several defenders.  By using his big powerful arms, he swiped his would-be tacklers away from his body.  On a few of his runs, he left his feet to gain additional yardage.  He does a good job of getting small in the hole and not giving the defense much to hit.  Ivory did everything he could to keep moving including a 360 degree spin move, and kept fighting for additional yardage.  On his one target in the passing game, he used his soft hands to make a catch in the flat, made the first Falcon miss, then ran over the second defender for a 13 yard gain.
Ivory made all of his seven carries for 72 yards look amazing.  Now he has back-to-back weeks with touchdowns as Darren Sproles remains on the sidelines.  His emergence has left Pierre Thomas owners dumbfounded.  With two games in 2012, he has 17 carries for 120 yards, two touchdowns and two receptions for 15 yards on two targets.  Ivory was the talk of NFL trade discussions before the deadline and he will be a restricted free agent at the end of the season.  Buy low if you can as he could become a RB2 in the right situation or he could be stuck in New Orleans for one more year.
Mark Ingram, RB NO
There is no one more happy about the return of interim head coach Joe Vitt than Ingram.  On his first 12 carries, he was running straight ahead, bursting through the line, and smacking around the Atlanta front seven.  I saw a much more confident back who was making good decisions, reading his blocks, and put his foot in the ground downfield.  He shrugged off several defenders and got small in the hole, not giving the defense much to hit like Ivory.
Ingram did a good job picking up the blitz.  He was only targeted once, but it is nice to see that he can be a three down back if pressed into action there.  There seems to be a confidence growing within him as he ran with more power and looked to punish defenders in his way.  His final stats for the game are not all that impressive with 16 carries for 67 yards as previously discussed the last four carries were to keep the clock moving and went nowhere.
Ingram has a paltry 70 carries for 245 yards, a single touchdown and just three receptions for 22 yards on five targets for the year.  The encouraging statistic is every game that he has touched the ball over eight times, he has been productive.  He is a RB4 for the immediate future unless more injuries strike or the coaching staff leans towards a permanent feature back role for him, which is unlikely.  He is a stash and hope project as he still has a lot of talent.  The trouble is how long do we have to wait for him to get over ten touches consistently?