In my weekly column, we take a long look at two rookies. I will compare their performance to date against my original expectations of them. Let's continue this series by looking back at Indianapolis Colts wide receivers T.Y. Hilton and LaVon Brazill after their week ten games.
T.Y. Hilton, WR IND


My original thoughts of him in college: Small Florida International University is not a place where world-class athletes usually go, but Hilton made the most of it. His most impressive trait is the ability to make people miss. This elusiveness alone got him a ticket into the NFL. In college, he made quite a name for himself as a returner. He sees the field quite well and makes quick decisions to avoid contact. There is a certain toughness to him as he plays through pain and injury. If he lands on a team with a strong-armed quarterback, he may develop into a terrific deep threat.
Hilton does have some detriments. He is an adequate route runner and only gets minimal separation from defenders. When it comes to finding the ball and making the difficult catch, he is just an average player. It was surprising to see he had issues with maintaining his balance. His size limits his upside as he is only 5′ 9″ 183 lbs. This lack of physicality shows up in many facets of his game. While he is good at avoiding would-be tacklers, once someone gets a hold of him, it's all over. He goes down like a sack of potatoes. He needs to play in the slot as he cannot handle being pressed directly off the line of scrimmage and struggles in any attempt to block.
Here is what I saw from Hilton against the Jaguars: To say his game was underwhelming would be an understatement. He was targeted officially once out of Andrew Luck's 26 pass attempts. On his unofficial target, he ran a deep route that ended with his cornerback coming down with an interception. This turnover ended up being reversed due to a roughing the passer penalty. I was a bit surprised that he was lining up on the outside as opposed to only in the slot.
Hilton made his biggest contribution in the running game which is quite unusual. At the end of the game, he had two carries for 30 yards. Both of these touches were reverses that caught the hapless Jags by surprise. He took advantage of the defenses over commitment to the run and used his speed/quickness to hug the sidelines for his two first down runs. His ability to take the best ankle breaking angles were in full force on the NFL Network.
As it now sits, Luck sees Reggie Wayne as his first, second, and third option in the passing game. This was absolutely clear when you look at Wayne's 11 targets compared to Hilton's single official target. It's not to say that he isn't getting his chances. After nine games played, he has 24 receptions for 355 yards and two touchdowns on 45 targets. His two carries for 30 yards against the Jags bring his rushing totals up to four carries for 31 yards.
I am not convinced that Hilton will ever be more than a third wide receiver for his NFL team. On the fantasy side, he should be a solid WR4 for the next few seasons. He has the upside for more, but not the tools to be a dominant fantasy producer. If you find an owner who sees it differently, please sell if there is good value to be found.
LaVon Brazill, WR IND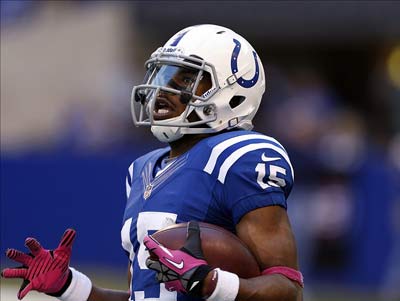 My original thoughts of him in college: First off, I admit I have a soft spot for Mid-American Conference ("MAC") players. I graduated from Bowling Green State University and I have many siblings and cousins who went to MAC schools. Brazill is as tough, gritty receiver who plays with pain. Much like Hilton, he isn't a big, physical guy at 5′ 10″ 192 lbs. He was a significant playmaker who ignited the Bobcats offense.
When you first watch Brazill, his route running is in a word, immaculate. He excels at finding the ball in the air and bring it down with ease despite a defensive back being in his hip pocket. His crisp routes, natural soft hands, and fantastic field vision make him an instant offensive weapon for the right team. Hopefully, he will find himself on a team with a quarterback that can take advantage of his ability to make big plays down the field.
Coming from the MAC, Brazill is no stranger to squaring his hips and blocking down the field effectively when his team decides to run the ball. He gets good separation against defensive backs so he tends to not have to make many contested receptions. Despite his size, he does a good job of securing the ball once he makes the catch.
Brazill needs to work on his elusiveness to get away from the defense. He has decent balance and power that make him a dangerous weapon once he gets the ball in his hands. He may have issues with more physical defenders as he hasn't faced tough coverage during his college career.
Here is what I saw from Brazill against the Jaguars: There was not a lot to gleam from his two targets. He did make the most of his first opportunity, a quick slant. He brought the ball in quickly and darted up the field for a 21 yard gain. By taking a good angle, he took advantage of the defense and made the first defender miss. On his second target, he dropped an easy catch that would have converted a third and five in the middle of the field. It appeared that he heard "footsteps" and lost concentration.
With the spectacular year that Luck is having, most of Brazill's owners were hoping for more than six receptions and 79 yards on 11 targets. He needs to make more of his opportunities; because in my opinion, he is a much better receiver than his fellow rookie, T.Y. Hilton. While I graded Hilton a fantasy WR4, I see Brazill as more of a WR3 with upside to eventually become a WR2. Wayne won't be playing at his amazing level for another three years as his body won't hold up for that long. I'd buy him cheaply now as his six receptions for 79 yards year to date won't impress most of his dynasty owners.