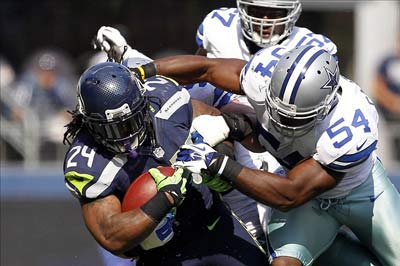 IDP leagues can be won with some preemptive in-season pickups or trading for players who are on the rise, but the masses have not picked up on it. Each week, we'll detail a handful of IDP players or trends that are essential for dynasty players to be aware of.
Often, things like quarterback hurries, quarterback knockdowns, or snap counts don't appear in the box scores. These are huge indicators of potential value changes that may be forthcoming as they show a particular player is getting after the quarterback and a string of sacks may be on the horizon or a linebacker may be coming off of the field more than originally expected.
Here are some players to keep an eye on based on week nine performances:
Bruce Carter, DAL ILB
It must seem like we have a Bruce Carter fetish given how many weeks he's been the subject of this article, but this should be the last time he's mentioned unless he flops. This past week against the Falcons, he racked up nine tackles, an assist, and a pass defended. As the Cowboys defensive signal caller, Carter appears to be morphing in to a top linebacker option. Against the Falcons he looked more comfortable and continues to develop into a dominant defender.
David Sims, PHI SS
With Nate Allen out, Sims started at strong safety and was targeted often by Drew Brees. That led to a six tackle and two assist performance. While Allen will regain the starting role once he returns, Sims did have several instances where he made a nice open field tackle. He also had other brutal instances where Jimmy Graham and Brees toyed with him. Overall, this performance showed that the third-year safety has capable physical ability and a nose for the ball. He may be worth a stash in deeper leagues as he would be a viable short-term fill in should Allen or Kurt Coleman miss time going forward. Before he was traded to the Eagles from the Browns this summer, there were reports he was pushing for playing time in Cleveland, as well. Keep an eye on him.
Da'Quan Bowers, TB DE
Bowers returned from a torn Achilles in week eight, but only played limited snaps. In week nine, Bowers totaled two tackles and a sack playing 50 percent of the team's snaps. He is extremely talented and showed tremendous ability down the stretch in 2011. Now is a great time to target Bowers as he hasn't broken out yet in 2012, and he should continue to see a larger share of the team's snaps. He has the potential to be a startable defensive end with defensive end one upside.
Leonard Johnson, TB CB
Johnson first caught my attention in week eight against the Vikings with two tackles, an interception and three passes defended. After playing 68 percent of the team's snaps in week eight, this past week he played 91 percent of the Bucs' snaps and posted five tackles, an assist, an interception, and two passes defended. It looks like Johnson will be a solid option in corner-required leagues. The rookie corner rule will be in full effect with Johnson.
Fletcher Cox, PHI DT
Cox got his first start in week eight and tallied five tackles. He has played a lion's share of the snaps at defensive tackle all season even when he wasn't starting, but given his production early in 2012, it looks like Cox will be an elite defensive tackle option for several years. He's played extremely well as a rookie thus far, especially defending the run. As he continues to mature and sees more snaps, his production and fantasy value will only increase . As it is,  he's already a top 15 defensive end option playing  up to 60 percent of snaps.
Da'Norris Searcy, BUF SS
Earlier in the year, it looked like Searcy was starting to steal some snaps from George Wilson. That ended, though, and Wilson played 100 percent of the Bills' snaps from week four through week seven. Things started to change again in week nine, as Searcy appeared to steal some snaps from Wilson. In fact, Searcy's share of snaps over the last two weeks has increased. With the Bills struggling, expect to see Searcy continue to see opportunities going forward.
Mark Herzlich, NYG MLB
With Chase Blackburn injured, Herzlich started and played one snap short of every down. He also played snaps over Mathias Kiwanuka who typically plays in sub-packages for the Giants.  Herzlich finished with six tackles and two assists. He continues to struggle in pass coverage, but Herzlich has the talent to be a starter at this level and be a productive fantasy option.  In the immediate short-term, if Blackburn continues to sit with the injury, Herzlich can be a viable option depending on league depth. At worst, he's a stash in deeper leagues.
Jonte Green, DET CB
Over the last three weeks, the rookie corner has played 96 percent, 98 percent and 79 percent of the Lions' snaps. While last week was the first week where he was active in the box score with five tackles, he's played well over the last four weeks. In two of those four weeks, he started with Jacob Lacey out due to injury. Green relinquished the starting spot to Lacey this past week, but he showed enough with Lacey out that he could be a productive fantasy option in the future. The one thing to point out is that the Lions were in sub-package formations much of the day in week nine and that may not continue going forward, which would limit Green's opportunities. Ultimately, Green should be watched over the next few weeks to see how he's used and if he starts to take snaps from Lacey in base packages. At this point, I wouldn't add him, but he should be monitored.
Kamerion Wimbley, TEN DE
After a slow start, Wimbley has put together four straight weeks of solid play. In particular, over the last three weeks, he's tallied two and a half sacks and seven tackles. He also hurried the quarterback 13 times over that  period. He now leads 4-3 defense ends in hurries and is ahead of Cameron Wake by eight hurries – that's a tremendous stat and a clear indication that the sacks should continue through the end of the season given how much he's getting to the quarterback.
Sen'Derrick Marks/ Mike Martin, TEN DTs
Marks posted five tackles, a hit and a hurry playing 86 percent of the team's snaps in week nine. Typically, the Titans rotate their defensive tackles, but after two costly penalties by Mike Martin early in week nine, he appeared to be benched playing only eight snaps. While Marks has put up decent fantasy stats over the last two weeks, Martin has outplayed him thus far in 2012 and is the better long-term option. If anything, Martin's benching presents an opportunity to acquire him cheaply in defensive tackle required leagues.
Players and Trends to Watch
Akeem Dent, ATL MLB – Don't get too excited with Dent's week nine performance. With Sean Weatherspoon out, Dent started and played every down and finished with six tackles. It's a solid long-term sign that he's played well in the two games he was forced to play in sub-packages, but with Stephen Nicholas and Weatherspoon around, he's unlikely to assume a sub-package role in the near-term.
Charles Johnson, DE CAR –He continues to get to the quarterback with 13 hurries and five sacks over the last two weeks and remains a top defensive end option. Considering his slow start, from week four forward, Johnson has been a top five defensive end in most formats.
Danny Trevathan, WLB DEN – Week nine was the second straight week he played more than 40 percent of the team's snaps. He continues to be a nice stash for the future in deeper leagues.
Philly DEs – The massive rotation continues with snaps as Brandon Graham and Phillip Hunt are playing roughly 40 percent of snaps, while Trent Cole and Jason Babin are playing about 60%. As the Eagles continue to lose, we're likely to see more snaps for the younger players like Graham and, ultimately, Vinny Curry. In week nine, Graham registered an impressive strip sack as he continues to exhibit the ability to get to the quarterback.
KJ Wright, SLB SEA – Wright left Sunday's game with a concussion in the first quarter. Michael Morgan replaced Wright and Leroy Hill assumed Wright's every down role. It's unclear what the long-term impact of the concussion is for Wright.
Dannell Ellerbe, ILB BAL – In his second start playing an every down role, he posted a sack, two quarterback hits, two hurries, five tackles, and an assist. So far, following Ray Lewis' season ending injury, Ellerbe is overshadowing Jameel McClain who is also playing an every down role.
Pat Angerer, ILB IND – Again, Angerer only played a small volume of snaps coming back from his broken foot (14 snaps).
Terrell Suggs, DE BAL – Unlike Angerer, Suggs' snaps were up to 79 percent in week nine after playing 55 percent in his first week back in week seven.
Julian Stanford, SLB JAX – Fellow rookie Brandon Marshall was recently released by the Jaguars and Stanford is seeing more snaps. The Jaguars ultimately see Stanford as a starter. Currently, he's playing on the strong-side which will limit his fantasy prospects, but keep an eye on Stanford to see if he continues to get more snaps as he has in recent weeks. Especially since he started the last two weeks due to injuries among the linebackers.
We'll see you next week for our Weekly IDP Watch.  FollowSteve on Twitter.