Whether you enjoy college football or just want to gauge the talent pool for next year, we've got you covered.  The purpose of this article is to provide information that can help you better assess the trade value of your first or second rounders as the season progresses. This way when you make a trade that involves rookie draft picks, you have a better idea of what those picks are worth.
Here are my notes from the prospects' games I had the opportunity to watch.
* denotes player NOT eligible for 2013 draft.
LSU at Texas A&M
Players spotlighted: Christine Michael, RB Texas A&M; Johnny Manziel*, QB Texas A&M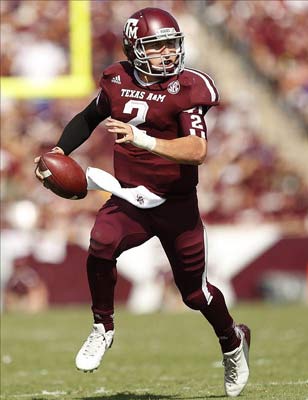 Christine Michael is one prospect I have been very disappointed by this year. Here is a guy who barely missed making my preseason top 12. In fact, immediately after writing that piece, I felt that I may have missed something and that he belonged on the list.
Well, things got off to a rocky start for Michael and placed him in the new coaching staff's doghouse. Already suspended for an unspecified violation of team rules, Michael inexplicably tweeted during the game, "Man run the ball." Never a good idea to criticize the coaching staff publically and it's double trouble if you do it while serving a suspension. Suffice to say he hasn't done himself any favors.
I wanted to tune in to check the temperature of the situation and see with my own eyes what was going on. Is it getting better with the new coaching staff or is this going to be a season long thing? Well, now Michael is serving as the number two running back and particularly in this game, he played very little. He did get a goal line carry that he took in for a touchdown, but other than that it doesn't look promising. The lack of playing time will affect his draft stock and it's hard to put any positive spin on it.
Coming into the season he was heading in the direction of going in the third round of the NFL draft. Now, he's going in the direction of the fifth or sixth round. He's talented, but has dug himself a big hole.
Michael's game line: 8 carries for 27 yards and 1 TD
There's been a lot of buzz on Texas A&M freshman quarterback Johnny Manziel*. The dual threat quarterback taking over for the NFL departed Ryan Tannehill came into the game having thrown for 1,680 yards and a 14/3 TD-to-Int ratio. He had also rushed for over 100 yards in four of his games and added an additional ten rushing touchdowns – very impressive stats.
Early on I was very impressed with his accuracy and playmaking ability. He showed great poise, accuracy and, of course, his running ability. Of course, all of that was in the first quarter. As the game went on, and the LSU defense got more comfortable, his youth and inexperience became more apparent.
When he decided to run with the ball I thought he was indecisive and picked poor running lanes. He left a lot of plays out there by not diagnosing the lane and just taking off. When he decided to run, his indecision kept his speed down and gave the defense time to recover and bring him down. I thought he had very questionable pocket presence and was unaware of his surroundings within the pocket. His tendencies became predictable for the LSU defense and they pretty much suffocated the Texas A&M offense.
Having said all that, I understand he's only a freshman and he was up against one of the best defenses on the country. He's got a lot of growing to do but the skills are there. The question is will how much he will develop those weaknesses. The raw talent is there.
Manziel's game line: 29/56 for 276 yards 0 TDs and 3 Ints.
Stanford at California
Players spotlighted: Stepfan Taylor, RB Stanford
Taylor didn't waste any time getting his game going against California. Early in the first quarter, he burst through the middle on a 39 yarder. On the play he saw a hole and hit it. He broke a tackle and bolted down the field until the safety brought him down.
A few little things happened on this run that I loved and illustrates why I hold him in such high regard. Upon receiving the handoff, there was no juking. He just diagnosed the running lane quickly without pause and took off. Towards the end of the run, a defender was gaining on him and at full speed Taylor stiff armed the guy in pursuit. The result was an additional ten yards before the other safety was able to drag him down. The play showed off his instincts, balance, vision, and his tough running style. Taylor leaves very few plays on the field.
Taylor's game line: 28 carries for 189 yards and 1 TD
Weekly Rankings
I've digested enough tape where I now feel comfortable releasing my top 30 overall prospects. Keep in mind this is a fluid process and as I learn more about the prospects the list will be updated each week. Below are my top 30 dynasty prospects as of 10/27/2012. If a player's standing changed up or down, I included their previous week's ranking in parenthesis to show the movement.
1. Geno Smith, QB West Virginia
He struggled against a physical Kansas State defense. First time he's looked human this season but still holding the number one spot…for now.
2. Sammy Watkins*, WR Clemson
3. Marcus Lattimore, RB South Carolina
4. Justin Hunter, WR Tennessee
5. Keenan Allen, WR California
6. Marqise Lee*, WR USC
7. Todd Gurley*, RB Georgia
8. Stepfan Taylor, RB Stanford (9)
9. Giovani Bernard, RB North Carolina (12): Continues to impress every week with his uncanny ability to manipulate a defense into over pursuing and running them into blockers.
10. Andre Ellington, RB Clemson
11. Robert Woods, WR USC (8)
12. Knile Davis, RB Arkansas (11)
13. Eddie Lacy, RB Alabama
14. Marquess Wilson, WR Washington State
15. DeAndre Hopkins, WR Clemson (16)
16. Ameer, Abdulla*, RB Nebraska (17)
17. Tavon Austin, WR West Virginia (18)
18. Terrence Williams, WR Baylor (19)
19. Cardarrell Patterson, WR Tennessee (15): Run after catch skills are there but he needs to improve his route running.
20. T.J Yeldon*, RB Alabama (24)
21. Tyler Wilson, QB Arkansas (20)
22. Matt Barkley, QB USC (21): His limitations as a passer have been more exposed in his senior season.
23. Da'Rick Rogers, WR Tennessee Tech (22)
24. Logan Thomas, QB Virginia Tech (23): Want to love him, but he's still way too inconsistent.
25. Jonathan Franklin, RB UCLA (24)
26. Tyler Eifert, TE Notre Dame (27): Looking more and more like a legit TE1 prospect.
27. Duke Johnson*, RB Miami, FL (25): He's battling turf toe and foot issues and perhaps a little bit of that freshman wall.
28. Mike Gillislee, RB Florida (Not Ranked): Time to give credit to a running back that is steady as can be—under the radar.
29. Dennis Johnson, RB Arkansas
30. Joseph Randle, RB Oklahoma State (Not Ranked): Still don't like him as much as most because he's a straight line runner but he's a great athlete.
Dropped out: Le'Veon Bell, RB Michigan State; Christine Michael, RB Texas A&M
Paymon Shokoohi is an NCAA/NFL skill position analyst, Senior Writer for DLF and can be found on Twitter @setmyroster and in the forums as dlf_paymons.