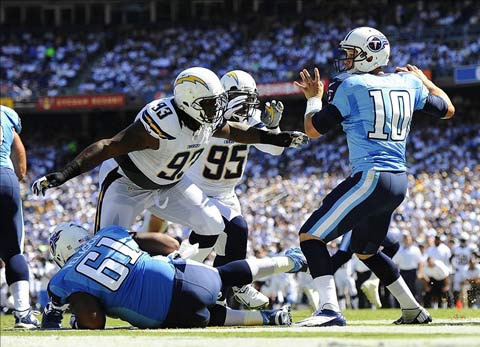 We unveiled the Dynasty Price Checks series last week. Based on the number of questions and comments we continue to get in regards to all kinds of player values for this season and beyond, we've decided to expand the series to touch upon a number of subjects in order to not limit the amount or type of information we can provide. This weekly series will hereby be known as "The Dynasty Stock Market." This column will not only feature regular price checks, but it will provide player features, draft projections, trade values or a variety of other relevant topics each week to make sure we're covering everything our premium content followers are demanding.
This week, we're featuring some buy and sell candidates.
Making the right trade and the right time can instantly turn your fantasy season around and pay dividends for fantasy seasons to come. Today, I'll take a look at some players you may see traded in your dynasty league. Some of them are coming off a career best game, while others are being cursed as they, once again, cost dynasty owners an important matchup. Based on some owners lack of patience, this could be the time to either pounce or unload.
Buy Low
Jake Locker, QB TEN
The Tennessee Titans quarterback has struggled through his first two career starts, averaging only around 200 passing yards with a 1:1 touchdown to interception ratio, giving his fantasy owners only 14 fantasy points per game early this season. For some reason, Locker has yet to take advantage of his running ability, which has proven to be a valuable asset in college and his very limited playing time in his rookie season – this was one factor that owners placed great faith in as they drafted him highly in startup drafts. His entire team has struggled as injuries and suspensions have limited his receiving corps and running back Chris Johnson is famously off to a terrible start. Look for Locker to improve as wide receivers Kenny Britt and Nate Washington return to full strength and Johnson improves. Now is the time to buy Locker from the panicked owner in your dynasty league. Many other young quarterbacks are also off to a poor start, but I would look to move Joe Flacco, Andy Dalton, or Sam Bradford for Locker if possible.
Matt Forte, RB CHI
In Thursday's game against the Green Bay Packers, the Bears elite running back suffered a high ankle sprain and will be out of action for the next few weeks. Forte has been a true stud runner, especially in PPR leagues, and was off to a great start in 2012, with 200 yards and a score in less than six quarters. Take this chance to make an offer for Forte. A couple of factors that could help you pry him away are if the Forte owner is now desperate for help at the position and if he does not own Bears running back Michael Bush, who will replace Forte as he recovers. I would gladly give a player like Ahmad Bradshaw or Mark Ingram in a package that involves Forte.
Jon Baldwin, WR KC
Kansas City Chiefs wide receiver Jonathan Baldwin is way off the radar of many owners following his zero catch performance, or lack thereof in week one. He did respond with a respectable 62 yards from three catches in week two against the Buffalo Bills. Considering how the Chiefs have played early this season, it is fair to assume they will be playing from behind much of the time, a factor that has led to big receiving numbers from top wideout Dwayne Bowe in past years. Bowe remains quarterback Matt Cassel's top option, but Baldwin will continue to steal targets, especially with the very likely possibility that Bowe will find a new team following the season. Baldwin could step in as the number one receiving option a year from now. You are really buying for 2013 and if you have the space to make a move, it could pay off in a big way.
Jermaine Gresham, TE CIN
The Bengals starting tight end is another player off to a poor start, but at only 24 years old, he has many years ahead of him and should be a large part of Cincinnati's young offense. It is a concern that quarterback Andy Dalton has been looking at other receiving options ahead of Gresham, but you had to expect that as he and top wide receiver AJ Green made up nearly the entire receiving offense in 2011. Gresham can still prosper and be a starting quality fantasy tight end even as the third option on that offense. With only seven catches for 67 yards through two games in 2012, now is a great time to buy.
Sell High
Matt Cassel, QB KC/Carson Palmer, QB OAK
Both of these veteran quarterbacks are off to terrific statistical starts to their 2012 season. In four point passing touchdown leagues, Cassel is currently the QB6, while Palmer comes in as the QB8. They are both outscoring Cam Newton, Tony Romo, Philip Rivers, Aaron Rodgers, Tom Brady, Matthew Stafford and many others being counted on as starters for fantasy teams. While we have yet to see any significant injury to a quarterback, many owners may be concerned if they are trotting out one of these underperforming signal callers. Both Cassel and Palmer could be out of a job in a matter of months, or even weeks, if their teams struggle. Getting anything for these players would be considered a bonus. If attempting to move them, I would look for a second round rookie pick, or possibly a younger prospect such as Ryan Tannehill or Christian Ponder.
Alfred Morris, RB WAS
I know it's tempting.
One of the best parts of fantasy football is finding a star on the waiver wire – that gives us a sense of pride. I don't think that "pride" will last long with Morris, though. We all know head coach Mike Shanahan's penchant for rotating running backs on a whim, and there are two other running backs behind Morris who are young, healthy and have had a small amount of success in the league. Although Morris did have a small letdown in week two following his explosion in the opening week, he still posted 89 yards on 16 carries. He will continue to gain value as long as he is getting the majority of the carries, but we're just not sure how long that will last. I would certainly sell Morris for a future first round rookie pick, or possibly even package him in a deal with one of those other aforementioned running backs for an injured Matt Forte.
Danny Amendola, WR STL
This is an easy one. Amendola exploded for fifteen catches for 150 yards in week two and is currently the top wide receiver in PPR leagues through two weeks. Amendola has never been a player who consistently performs for his fantasy owners and the St. Louis Rams offense is not one I want to rely on for weekly fantasy points. If you can move Amendola for a future first round pick or a solid prospect, I would strongly consider that.
Jermichael Finley, TE GB
The Packers tight end continues to disappoint with his drops and recurring displays of poor effort. As I have mentioned often, Finley is not a player I would count on and is wildly inconsistent as a fantasy tight end. He still has substantial dynasty value based on name value alone, along with the big games he sometimes puts up. I would look to acquire younger and more consistent options such as Kyle Rudolph, Vernon Davis or even injured Patriots tight end Aaron Hernandez.
Check back next week for another edition of The Dynasty Stock Market.  Follow Ryan on Twitter @RyanMc23.
Latest posts by Ryan McDowell
(see all)