Every year, players break out and some we drafted just a few short weeks ago are cut to make room for the player we swear is "the next big thing!" whose situation was somehow overlooked all pre-season and is now fantasy gold, or he's always flashed the ability and this is the year he puts it all together.
I call it the "Devery Henderson Effect."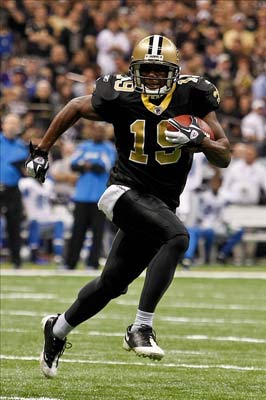 In week one against the Green Bay Packers last year, Henderson caught six passes for 100 yards and a touchdown – more than anyone on the field that night. On the other side, a guy in a similar situation also caught six passes and a touchdown, but for only 77 yards. He was in a battle to be a featured option behind Greg Jennings – that guy was Jordy Nelson.
Two guys both on explosive offenses and most likely on the waiver wire at the beginning of last season because their teammates were being hyped and projected to be the winner of the competition. In New Orleans, we kept hearing about Robert Meachem, Lance Moore, and the emergence of a young tight end named Jimmy Graham. In Green Bay it might have been even worse. Jennings was the clear cut number one wide receiver and Donald Driver had long been the unquestioned second, but expectations for their own tight end, Jermichael Finley, were growing to be astronomical. Then they added an explosive rookie to the mix, Randall Cobb, and Nelson was competing with James Jones for whatever scraps were left…so we thought.
After week one last year, the race to the waiver wire was on. The hot names were the resurgent Steve Smith in Carolina and Randall Cobb. Nelson and Henderson were being picked up as potential fliers.
The top ten PPR wide receivers after week one last year were Steve Smith (CAR), Wes Welker, Kenny Britt, Calvin Johsnon, Reggie Wayne, Cobb, Andre Johnson, Henderson, DeSean Jackson, and Greg Jennings.
The top ten wide receivers through week two last year were Miles Austin, Britt, Steve Smith, Welker, Mike Wallace, Jeremy Maclin, Andre Johnson, Eric Decker, Vincent Jackson, and Calvin Johnson. So after one week, we have five new faces. A 50% turnover.
The top ten wide receivers at the end of the season were Welker, Calvin Johnson, Roddy White, Victor Cruz, Percy Harvin, Jordy Nelson, Larry Fitzgerald, Steve Smith, Marques Colston, and Brandon Marshall.
Only Steve Smith, Wes Welker, and Calvin Johnson finished the year in the top ten – that's a 70% failure rate.
Depending on where you were at in the waiver wire order last year, there was just as good a chance you ended up unhappy as you did happy.
This isn't even taking into account the week one success of Cam Newton, Darren Sproles, Reggie Bush, or Mike Tolbert. If you were rewarded with Randall Cobb, you weren't happy because he didn't catch another touchdown the rest of the season. Devery Henderson might have been even worse. In week two, he caught three passes for 103 yards and another score. A free agent gem, right? Wrong! That was the last touchdown he caught last year and he only topped 60 yards twice the rest of the way, including nine games where he posted less than 20 yards and even worse, he ended three of those games with zero catches. If you ended up with Steve Smith or if you had to "settle" for Jordy Nelson, I don't need to tell you that you were the one to find the free agent gem.
That is all a lot of reminiscing, but my point is simple. We drafted guys where we drafted them for a reason. Again, 70% of the week one All-Stars did not end the season as a top ten player at the position, whether it be because of performance or injury. Of the year end top ten, the only truly "off the radar player" was Victor Cruz. Am I saying to ignore the breakout guys from week one? Am I saying to stick to plodding veteran that you drafted in the final few rounds?
Nope.
To borrow a line from Michael Keaton in The Other Guys, "Don't go chasing waterfalls."
Seriously, we're seeing it already after the Giants-Cowboys game. People are rushing to pick up Kevin Ogletree and I've already seen Austin Collie, Josh Gordon, and Alshon Jeffery get dropped for him in DYNASTY LEAGUES!!!!
To me that's insane and I'm not alone. Granted, he looked awesome last night, but there was a lot of smoke and mirrors involved, too. Let's see what he does against a Seattle secondary next week with a healthier Jason Witten.
After seeing the guys being dropped for someone who only has a 50% chance of remaining in the top ten after next week, a 30% chance of remaining there at the end of the year, and will always be the fourth best receiving option on his own team, I will gladly sit back and creep up the waiver order. In dynasty leagues, I would much rather have Collie and his concussions or a talented rookie like Gordon or Jeffery.
The real waiver wire gems aren't even on the waiver wire yet. They're the guys who are going to get dropped by impatient owners looking for the next Victor Cruz. Don't take blind stabs in the dark. Be patient and make calculated risks. If you bet on Dwayne Harris in Dallas as the WR3, swing away. If you're dropping a rookie in a good situation like Alshon Jeffery who hasn't even played a snap yet, you're probably going to regret it.
What you're most likely to see is Kevin Ogletree's name right back out on waivers before October, just like Devery Henderson last year.
Follow me on Twitter @OlingerIDPGuru
Latest posts by Eric Olinger
(see all)