DLF's Weekly Impact Events
Editor's Note: We have no less than FIVE articles posted today in the free and premium content, so make sure you check everything out.  
We're through the off-season and you should be paying attention to give yourself every advantage in your dynasty league. For most of us, we do well to steal some time away from our families and jobs to watch the games on Sunday. It becomes difficult to monitor the daily happenings around the league, and even more demanding to process how that news affects your dynasty team.
That's why we're here!
Here is a quick look at the events of the past week and how they impact the players on your team.
Ryan Mathews, RB SD
The Chargers starting running back suffered a shoulder injury that forced him from the team's first preseason game against the Green Bay Packers. Early reports from Chargers beat writers claim Mathews suffered a broken clavicle and will miss the next 4-6 weeks – this puts him out of action throughout the preseason and possibly into the regular season. The Chargers will likely have to lean on veteran Ronnie Brown early this season, although the team has several young backs battling for carries, such as Curtis Brinkley and rookies Edwin Baker and Michael Hayes. There were some reports last week that Hayes was outplaying both Brinkley and Baker. It's anyone's guess how the snaps will be divided as the season nears.
Dwayne Allen, TE IND
Colts rookie tight end Dwayne Allen is expected to play in multiple formations and has even lined up in the backfield. The rookie's hands have been impressive and he should share starter's snaps with fellow rookie Coby Fleener. This may be a case where Fleener has been overrated and Allen underrated this off-season as Allen's cost has been much cheaper. With two rookies, a rookie quarterback in Andrew Luck and an entirely new offense thanks to offensive coordinator Bruce Arians, it is difficult to predict how this will play out.
Brock Osweiler, QB DEN
Osweiler has been working as the Broncos' number two quarterback in camp ahead of veteran Caleb Hanie. While potentially beating out the below average Hanie is not all that impressive, it is a feat for Osweiler, called "raw" and "a project" coming out of college this past spring. The backup quarterback will have some very good dynasty value considering the recent injury history and age of starter Peyton Manning, as well as the offensive weapons that have been collected by Denver, specifically wide receivers Demaryius Thomas and Eric Decker. If Osweiler is still sitting on your dynasty waiver wire, now is the time to take a shot on him.
Donnie Avery, WR IND
ESPN's John Clayton has called free agent signee Donnie Avery the surprise of Colts camp. After reliable veteran Reggie Wayne, the depth chart is wide open for Indianapolis, so Avery will certainly have the opportunity to earn significant playing time. With Arians new offense and Luck's talent, the Colts are expected to have a pass happy offense that will benefit all pass catchers. Avery's struggle has always been remaining healthy and that will likely continue to plague him. If he can stay on the field, he could be a surprise for the Colts. Avery remains on waiver wires in most dynasty leagues and should stay there unless you are in a deep league. Of course, we focused on him way back in July as our Colts sleeper in the premium content. Avery will be behind Wayne, Austin Collie and rookie tight ends Fleener and Allen for targets.
David Wilson, RB NYG
The rookie running back for the New York Giants has been impressing onlookers thanks to his speed and shiftiness. Wilson will be the backup to starter Ahmad Bradshaw to begin the season, but Bradshaw's health is always a concern. Wilson will get his share of carries for the defending Super Bowl champions. He has consistently been going in the mid first round of rookie drafts and presents great value in a deep rookie class. I actually would prefer to own Wilson over Bradshaw in dynasty leagues.
Keshawn Martin, WR HOU
Fourth round rookie wide receiver Keshawn Martin has been one of the most impressive players in camp and according to many, has passed DLF favorite Lestar Jean for the third wide receiver's role behind starters Andre Johnson and Kevin Walter. Martin's talent and his ability to man the slot helps his cause. He has been a hot waiver wire pickup in dynasty leagues the past week.
Phillip Tanner, RB DAL
The Cowboys' third strong running back suffered a broken hand and will likely miss two weeks. Tanner is firmly behind running backs DeMarco Murray and Felix Jones on the depth chart, yet many dynasty owners are still holding onto him with hopes he can find a substantial role in "Big D." This hurts his case to maintain his role with the Cowboys recently signing undrafted free agent Ed Wesley as competition for the backfield job. If you are one still holding Tanner, I would take this chance to drop him and add another young high upside player.
Steve Smith, WR STL
The Rams veteran wide receiver has been another player creating a lot of positive buzz this preseason. ESPN's John Clayton reports that Smith's career appears on the verge of a rebirth. Smith suffered a serious knee injury almost two years ago and has flourished under new offensive coordinator Brian Schottenheimer. Smith is still battling several other wide receivers and none have been able to really separate themselves from one another. Much like last season, St. Louis will have some tough choices deciding which wide receivers to keep. Last season, the team released Laurent Robinson, who went on to have a breakout season for Dallas. Currently battling Smith for depth chart position and a spot on the team are Danny Amendola, Brandon Gibson, Greg Salas, Brian Quick, Danario Alexander, Chris Givens and Austin Pettis. With eight wide receivers competing for six spots, preseason games will play a huge roles in determining the week one roster.
Greg Childs, WR MIN
One of the biggest and saddest news items for dynasty owners this week involved Vikings rookie wideout Greg Childs, who tore the patellar tendon in both of his knees. He had previously suffered the same injury in his right knee, but this injury ends his season and possibly his career. This is sad news for such a young, promising player and is also a hit to the Vikings wide receiver depth chart. Free agent acquisition Jerome Simpson is now almost guaranteed a starting role once he returns from his suspension. Childs can be dropped in all formats.
Mario Fannin, RB DEN
Broncos running back Mario Fannin suffered a torn achilles and was placed on injured reserve, ending his season before it began. Fannin is another player that many owners placed a lot of hope in as a sleeper running back, but this kills any value he might have had, even in deep dynasty leagues.
Adrian Arrington, WR NO
Saints wide receiver Adrian Arrington, who is battling for the team's fourth wide receiver position, missed the team's Hall of Fame preseason game and reportedly will visit famed surgeon Dr. James Andrews for a consultation on his knee injury – any visit to Dr. Andrews is bad news for athletes. While this injury may not cost Arrington his season, he will certainly lose ground to Joseph Morgan, and possibly rookie Nick Toon, though he too is battling injuries and missed the preseason game. Arrington is another player I feel has been overrated this offseason and this may be the time to drop Arrington and add Morgan.
Travaris Cadet, RB NO
Possibly the most impressive player in the Hall of Fame game was undrafted rookie running back Travaris Cadet from Appalachian State. Cadet, a small back, did not carry the ball well, but caught eight passes out of the backfield for eighty yards and looked explosive against the second and third team defense of the Cardinals. It would not be wise to base much judgement on one preseason game (in fact, he had just 55 total yards on 15 touches last night), but Cadet is one to watch as the exhibition games continue. Cadet is still obviously behind Mark Ingram, Pierre Thomas, Darren Sproles and likely Chris Ivory as well.
Terrell Owens, WR SEA
The Seattle Seahawks signed veteran wide receiver Terrell Owens to a one year deal after he posted an impressive workout for the team. This comes as a surprise to many after Owens' failed stint in the Arena league. It is an interesting move for Seattle following the recent signing of Braylon Edwards. This could be a sign that the Seahawks are concerned about the health of Sidney Rice. Owens will likely be behind Rice, if he is healthy and Doug Baldwin on the depth chart and will compete for snaps and targets with Golden Tate, Ben Obomanu and Edwards. Owens will likely be a hot waiver pickup as owners envision a 2008 version of the controversial wideout.
James Starks, RB GB
Reports out of Green Bay paint a bad picture of presumed starting running back James Starks and his off-season performance. Local beat writers say that Starks is not practicing well and has not performed as a receiver out of the backfield. Starks is now facing true competition from sophomore Alex Green. I have never been a believer in Starks talent and ability to be a starting running back. If you are in a shallow league where Green may be available, grab him now. Assuming he is gone is nearly every active dynasty league, now is the time to buy him before the price goes up.
Trent Richardson, RB CLE
The Browns superstar rookie running back Trent Richardson underwent an additional left knee surgery. The surgery is being called very minor and Richardson is even expected back by week one. While there is no reason to doubt the reports, any knee surgery has to be somewhat of a concern for a running back. While this will not greatly affect Richardson's value, it could cause him to drop a bit in start-up drafts. Richardson owners might be in a rush to acquire backup Montario Hardesty, but be leery of his injury history as well and do not overpay for a player you may never start.
Michael Vick, QB PHI
Eagles starting quarterback Michael Vick injured his thumb in last night's preseason game against the Steelers. Although x-rays were negative, there is concern on how serious this injury might be. Vick is no stranger to the injury list and the Eagles backups are not reliable at this point. In his replacement, backup Mike Kafka struggled, but rookie Nick Foles shined, throwing two long touchdown passes. Watch the news closely for updates on Vick's injury status and consider acquiring either Mike Kafka or last night's star Nick Foles based on the results.
Check back next week for another update on the week's impact events!
Follow Ryan McDowell on Twitter @RyanMc23.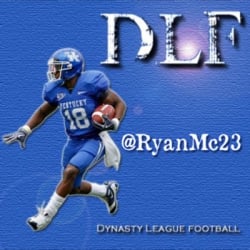 Latest posts by Ryan McDowell
(see all)